2012 Republican Nominee Will Be …
With co-frontrunner Mike Huckabee out, Mitt Romney looks stronger than ever.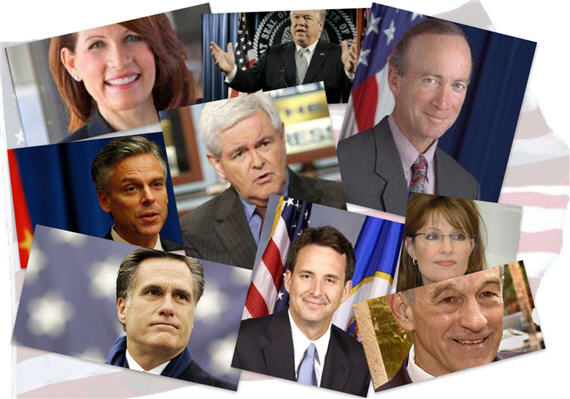 On Sunday's "This Week" roundtable, George Will declared the 2012 contest "the most open scramble on the Republican side since 1940, when Wendell Wilkie came out of the woodwork and swept the field." Rejecting the notion that the race is off to a slow start, he proclaimed "I think we know with reasonable certainty that standing up there on the west front of the Capitol on January 20th, 2013 will be one of three people. Obama, Pawlenty and Daniels."
While Mike Huckabee's announcement he was not running would seem to make last cycle's other also-ran, Mitt Romney, the frontrunner, Will dismissed his chances, saying, "The Romney of 2012 cycle is hostage to the Romney of the 2008 cycle. When he changed on an array of social issues, stem cell research, gay marriage, right to life, all that stuff."
That would indeed seem to be Romney's main obstacle to the nomination, along of course with having signed something that looks a whole lot like the reviled ObamaCare–are, to be precise, vice-versa–into law while governor of Massachusetts. But Ramesh Ponnuru argues that Romney can overcome all these problems by allying himself with Michele Bachmann. Sort of.
Like Bob Dole in 1996 or John McCain in 2008, Romney is an establishment-oriented candidate with serious vulnerabilities on his right flank. To get the nomination, he needs (as they needed) to prevent the emergence of a single candidate to his right. So Dole made a tactical alliance with Pat Buchanan in Lousiana, helping to eject from the race the one candidate who could theoretically have denied him the nomination by consolidating voters to his right: Phil Gramm. McCain made a tactical alliance with Mike Huckabee against the candidate against whom both of them were competing and whom both of them hated: Romney.

Which candidate does Romney most need to worry about? In my view, it's Tim Pawlenty. He can run to Romney's right, but with establishment support, in a way that I don't think Daniels or Huntsman can or want to.

The candidate who could play the Buchanan/Huckabee role this time is Michele Bachmann. Like her '96 and '08 counterparts, she cannot win the nomination but can prevent anyone to the establishment candidate's right from getting it either. (I think she has greater potential strength in the primaries than Santorum, but if he took off he could play the same role.) So watch for Romney to start making a lot of positive comments about Bachmann.

I don't believe Romney could win a Romney-Pawlenty contest. But he would almost certainly win a Romney-Bachmann race, and could well win a Romney-Pawlenty-Bachmann race. So to the extent he can boost her, it makes sense for him to do so. Having been on the losing end of this maneuver, Romney, I assume, knows how it's done.
I've long thought something like this would happen organically, although I originally thought it would be Huckabee and Sarah Palin splitting the right wing vote and allowing the more Establishment Romney to benefit. But with Huckabee definitely out and Palin looking increasingly less likely to run, there are currently no frontrunning candidates to Romney's right.
The most recent RealClearPolitics average still has Huckabee in the race–and in a virtual tie with Romney (16.4 to Romney's 16.6) for the lead. Trump, whose numbers are plummeting, is third (12.9), followed by Palin (10.6). All the other candidates are in the single digits: Gingrich (7.7), Paul (7.3), Bachmann (4.3), Pawlenty (3.6), Daniels (3.3), and Santorum (2.0).  Jon Huntsman doesn't register.
So, the most recent available polling has Romney with more support than Pawlenty, Daniels, and Bachmann combined–with a Bachmann to spare. The notion that we "know with reasonable certainty" that either Pawlenty or Daniels will win is nonsense–unless Will figures that no other nominee has a shot against Obama. But there's no reason to think Pawlenty and Daniels have more national appeal than Romney.
The question now is who will fill Huckabee's slot as the favorite among Evangelicals. It won't be Gingrich, who's changed religions as often as he's changed wives. Bachmann has a chance, I suppose, but she's largely unknown.
UPDATE: Daniel Larison identifies the most likely explanation for Will's analysis:
This has nothing to do with their actual viability, and everything to do with what George Will hopes will happen. Several of the "plausible" candidates that Will identified earlier were not very plausible at all, but they are all acceptable to Beltway Republicans. I suspect that Will would like to see the Republican nominee be someone he would not be too embarrassed to support, and as of right now his list of acceptable candidates has been reduced to two.
Granted, I'm likely somewhat guilty of this myself, in that I've dismissed the chances of the more extreme candidates out of hand. But I've at least got the advantage of polling data being on my side.