2016 A Close, Noncompetitive Election?
Once again, only six or seven states are likely to matter.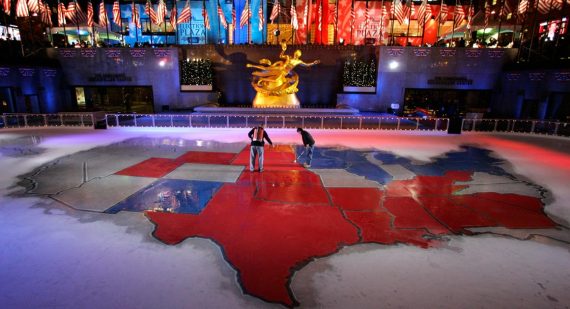 The late humorist Lewis Grizzard said of the NBA that they play a 82-game regular season just to eliminate the Sacramento Kings from the playoffs. Increasingly, because of the vagaries of the Electoral College, our presidential elections are the opposite.
Larry Sabato and friends argue that only seven states (Florida, Ohio, Virginia, Colorado, Nevada, Iowa, and New Hampshire) are toss-up states at the outset of this contest. And, frankly, that's using an extremely conservative approach:
[W]e considered starting Pennsylvania and Wisconsin as Toss-ups to reflect how close they could be in a tight national election. However, given that both states have voted Democratic even in years when the Democratic nominee has lost (2000 and 2004), and because neither state has shown a clear pro-Republican trend in recent presidential elections, we could not justify portraying either state as a coin-flip to start.

We also debated what to do with Arizona, Georgia, and Missouri, states that have consistently voted Republican presidentially since 2000 yet have yielded very close results (Missouri) or have demographic trends favoring the Democrats (Arizona and Georgia). They are certainly not Safe R — or not the way they used to be, at least in the case of the latter two — but if the GOP nominee is losing any of them, he is almost certainly on his way to a large national loss. Therefore, Likely R is the logical place for them.

Indiana was easier. Barack Obama's 2008 win was something of a fluke; it was only the second time since the end of the World War II that the state voted Democratic, and Mitt Romney strongly restored it to the GOP column in 2012. So we've started it as Safe R.

Finally, after a vicious argument that resulted in bloodletting, New Hampshire was designated Toss-up instead of Leans Democratic, for reasons we explain more fully below.
While New Hampshire was a reliably Republican state during the same time that was true for California, they've voted for the Democratic nominee in 1992, 1996, 2004, 2008, and 2012. They 2000 contest was the lone recentish exception, and they went 48% Republican, 47% Democrat, with most of the remaining 5% going to Ralph Nader. If New Hampshire goes Republican, the GOP is going to win the election in a landslide.
As Sabato and company note,
[T]he Electoral College has been very stable over the past four presidential elections. Remarkably, 40 of 50 states have backed the same party from 2000 to 2012, a whopping 80%. Of the other 10 states, five have gone with one party 75% of the time and the other five have split their results evenly between the two parties in that period. We've discussed how much more rigid this map appears compared to previous periods.
The last time we were this polarized was the aftermath of the Civil War:
From 1876 to 1888 — four bitterly contested elections — 30 of 38 the states that existed at that time (79%) backed one party in all four elections, as shown in Map 3. Six others supported the same party in three of four elections, while just two were 50%/50% states. And the number of 100% same-party states would be higher if not for the 1876 race, when Florida, Louisiana, and South Carolina backed Republican Rutherford B. Hayes in that disputed election; with the end of Reconstruction, Democrats regained hegemony in those final ex-Confederate states to produce what became known as the "Solid South."
The rest of their longish post goes through various gyrations as to pathways to 270 Electoral Votes for both parties. While they maintain that we should view the race as a toss-up this far out, the fact of the matter is that it's going to be next to impossible for Republicans to win without both Ohio and Florida–and taking back Virginia and North Carolina, too. Indeed, they see Virginia as the key state:
In 2008 and 2012, Virginia's presidential result was closest to the national outcome. Virginia's 52.63% for Obama in 2008 was 0.23 points less than Obama's national percentage of 52.86%, and its 2012 percentage of 51.16% for Obama was 0.15 points greater than Obama's 51.01% nationally. While traditional big-time swing states Florida and Ohio are slightly more Republican than the nation as a whole, Virginia has been precisely where the country has landed the last two presidential cycles.

However, 2012 marked the first time since 1944, FDR's final reelection, that Virginia's result was more Democratic than the nation's as a whole. On top of this, Virginia Democrats won every statewide election in 2012, 2013, and 2014, though Sen. Mark Warner had an extremely close call that few saw coming in 2014's low-turnout midterm. Nonetheless, Warner won despite a poor environment that saw Democrats lose Senate seats in swing states like Colorado and Iowa, the former having another Democratic incumbent who entered office at the same time as Warner (now ex-Sen. Mark Udall). Gov. Terry McAuliffe's (D) 2013 victory broke a run dating back to 1977 of the president's party losing a gubernatorial race in Virginia. The "presidential curse" was a somewhat coincidental streak that would eventually be broken; what's important is that, on the whole, Democrats have been very successful in recent elections in the Commonwealth. The demographic shifts and massive growth in Northern Virginia have been almost the sole driver of the state's move to the left, though improved Democratic performance in the entire "Urban Crescent" — Northern Virginia, Hampton Roads, and Greater Richmond — has made Democrats the stronger party in recent statewide contests.
The machinations through which the authors go—whether Republicans can carve out enough white voters to take back the Midwest or Democrats can somehow make inroads in Appalachia—further my longstanding view that the Electoral College is not only an undemocratic anachronism but unhealthy. Aside from the fact that we're likely to have yet another relatively close contest and face the danger of the popular vote winner again losing the election, we're essentially relegating citizens of most states as bystanders in the election.