60% Of Americans Disapprove Of Obama's Handling Of The Economy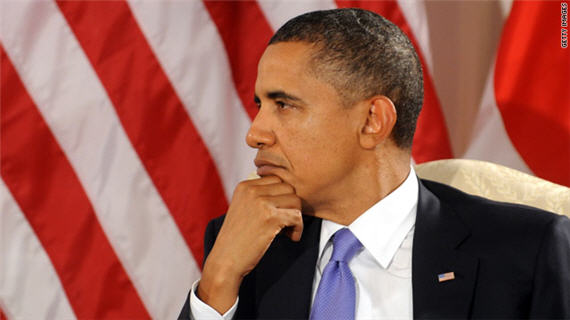 The President's job approval ratings when it comes to the economy have been fairly bad for quite some time now. Indeed, according to the poll averages, his disapproval number on this issue slipped over 50% some time before the end of his first year in office and has stayed above 50% ever since then. The latest Gallup Poll, though, provides and even starker number for the White House, and lays bear the risk the President faces if the Presidential election ends up being a referendum on the economy after all:
PRINCETON, NJ — Three months before the election, President Barack Obama gets good marks from Americans for his handling of terrorism, fair marks for education and foreign affairs, but poor marks on immigration and three big economic issues: the federal budget deficit, creating jobs, and the economy generally.

These ratings, from a Gallup poll conducted Aug. 9-12, are similar to Americans' previous ratings of Obama's performance on each issue, as measured in 2011 and early February 2012. Only his approval on terrorism (58%) is down slightly from the peak level (63%) seen last fall after the killing of Libyan President Moammar Gadhafi. Also, his approval on education, at 49%, is up slightly from 41% last August.
Yes, the numbers have been consistent, they've been consistently bad and, from an historical point of view, don't exactly portend well for the President's political future:
Obama's ratings on the economy are significantly worse than all three prior successful presidential incumbents at this same point in their first term, according to the available Gallup trends. His 36% approval rating on the economy is well below George W. Bush's rating in August 2004 (46%), Bill Clinton's in August 1996 (54%), and Ronald Reagan's in July 1984 (50%). Still, in terms of comparisons to presidents who lost, Obama's economic rating is substantially better than that of George H.W. Bush in July 1992 (18%). Gallup did not measure Americans' approval of Jimmy Carter on the economy in 1980.

Obama's single worst rating of the seven issues measured in the current poll is for the federal budget deficit. However it is unclear how problematic this will be for him. His 30% approval rating on the deficit falls about halfway between Clinton's in August 1996 (43%) and Reagan's in July 1984 (23%).
All of this makes one wonder why the Romney campaign seems intent on turning this election into a "big picture" election, or talking about issues like Medicare. Clearly, it's on the economy where the President is most vulnerable and, with numerous economic reports set to come out over the next three months, it's unlikely that the public's perception of him on this issue will improve much, if at all. This is what the Romney campaign should be focused on like a laser beam.