Democracy will Win
Regardless of one's preferences in terms of endgame in Wisconsin, democracy will win out.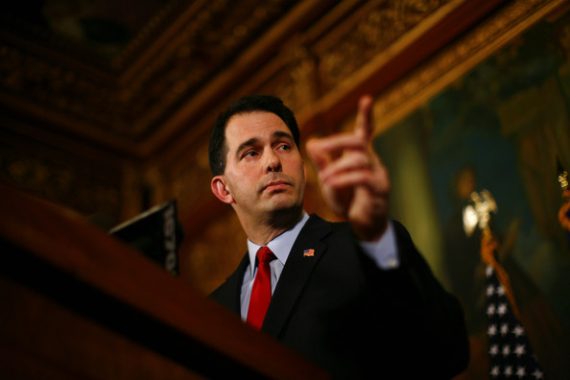 I have seen several stories over the last several days about how Democrats and their allies in Wisconsin are out-hustling and out-organizing Republicans and their allies in regards to pending recall attempts in the state.
See, for example, HuffPo: Conservatives: We Are Being Outworked And Out-Organized In Wisconsin Recall Campaigns
Both national and Wisconsin-based Republican operatives tell the Huffington Post the party is being dramatically outworked and out-organized by Democrats in the recall campaigns being launched against state Senators.

The operatives, who raised their concerns out of hope it would jar the GOP into assertiveness, argue complacency has taken over after Governor Scott Walker successfully shepherded his anti-collective bargaining bill into law. While the Wisconsin Democratic Party, with major assists from progressive groups and unions, has harnessed resentment towards the governor into a full-throttled effort to recall eight GOP Senators, neither the enthusiasm nor organizational acumen exists on the Republican side of the aisle.
Byron York, in a column earlier this week (Unions vs. the little guy in Wisconsin recall fight ) cast the Republicans in the role of a slow-moving underdog:
If you're a Republican, it's a scenario straight out of "Alice in Wonderland." Fourteen Wisconsin state senators, all Democrats, flee the state for three weeks, bringing government to a halt in an effort to stop Gov. Scott Walker's budget bill. After three weeks, the fugitive Democrats return in failure. And then, when a rich and highly organized effort to punish lawmakers is launched, it's directed not at the Democrats who ran away but at the Republicans who stayed home and did their job.

That is precisely what is now happening in Wisconsin. Local and national labor organizations, enraged by the successful Republican effort to limit the collective bargaining powers of public employees unions, are pouring money and manpower into petitions to recall GOP state senators. At the same time, Republican drives to recall runaway Democrats, while rich in volunteer spirit, are working with far less money and organized support.
I find that metaphor to be amusing (and, indeed, problematic) given that, to date the Republicans are, to borrow a Sheenism, winning! So, to paint the Reps as the downtrodden underdogs is to pitch a battle with reality to date.
If, as appears to be the case, that Democrats are more organized this is likely because their side of this particular political ledger are more motivated and hold more intense views on this issue than does the Republican side.
That's the way it works in processes that requires mobilization of the public whether it be in terms of protests, petition drives, or elections. There is a reason, for example, that we talk about turn-out (and specifically which side will be most effective at turn-out) every electoral cycle.
Politics is like physics:  for every action, there is a reaction (although unlike in physics, that reaction may not be equal and opposite, but is sometimes more powerful and perhaps heads off on a tangent).  As I wrote a week ago:
As all of that plays out we will get a better picture of what Walker has wrought:  either a boost to the GOP or a boost to the Democrats.
We are about to find out who gets the boost.  Given the rules of the game in Wisconsin, which includes a recall provision, Walker and his allies should have taken into consideration the potentiality of a recall campaign.  Further, they should have included in their calculations the fact that a) the state has a strong pro-union, progressive political tradition and b) 2010 was driven by political currents (e.g., the recession, the Tea Party, etc.) that likely were not permanent changes in the political fabric of Wisconsin.  In other words, Walker and friends may have over-interpreted their mandate.  And, indeed, to return to the basic point of the post:  turn-out matters.  To wit:  2010 was a mix of depressed Democrats and energized Tea Partiers, a recipe that helped Walker and the GOP–but is also a recipe that may not be baked into post-2010 politics.
Now, we really do not know how the recall process will play out.  It is historically difficult to successfully recall politicians,* so in that regards, the GOP may not be such the underdogs after all, but by the same token this situation appears to be an intriguing one in terms of its scope, which may make past examples less useful as a guide.  For those of us who find elections and democratic institutions to be fascinating, this will be an intriguing process.
At a minimum, recalls require the collection of signatures (which requires a great deal of volunteer work and general organization) and then success at the ballot box.  This is what we call in the trade:  democracy.
Likewise, it is worth underscoring that recall process is being motivated by the results of the legislative process which, in turn, occurred because of success at the ballot box by the Republicans in term of control of the state legislature (both chambers) and the governor's office.  This is, also, what we call in the trade:  democracy.
As such, if one can step away from one's policy preferences for a moment, one can see that, in fact, the system it working and the democratic process will settle this issue one way or another.
——————
*Mike Alvarez has a round-up of scholarly research on recalls here (h/t: the Monkey Cage).