A Foreign Policy Election?
A competent leader versus a lunatic would seem an easy choice. Alas.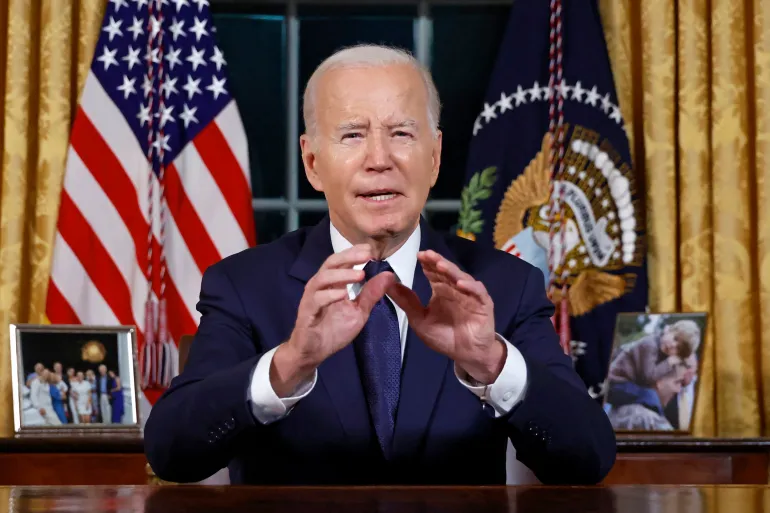 When I saw the POLITICO Playbook headline "Biden tries to make it a foreign policy election," my instinct was to laugh. It's been a long time since an American presidential election hinged on foreign policy and even longer since it did when American troops weren't directly at war.
Regardless, here's the setup:
THE POLITICS OF A FOREIGN POLICY PRESIDENCY — The good news for JOE BIDEN this week is that he's suddenly very popular.

The bad news is that this burst of support for the American president is in Israel.

Since the shocking 10/7 attacks by Hamas, there have been four national polls in the U.S. that show Biden stuck where he's been for a while now, with an approval rating averaging about 40%.

These numbers come as the news has been dominated by two stories playing out in splitscreen for two solid weeks: (1) a Republican party arguably showing itself at its worst in the House and (2) Biden arguably showing himself at his best in his response to the war between Israel and Hamas.

And so far the polling data shows … nothing has changed.

To be fair, CNN's Harry Enten notes that voters are giving Biden good marks for his handling of both Israel and Ukraine, the two issues he addressed last night in his second primetime speech from the Oval Office. Maybe that speech and his successful trip to Israel a day earlier will start to soak in and move Biden's stubborn approval ratings.
It won't.
The speech itself was fine:
Biden lacks the dynamism that Ronald Reagan, Bill Clinton, and Barach Obama had as President but that's no surprise. For those listening live and inclined to judge him on his advancing age, they'll likely have those concerns reinforced. Relatively few people watched the speech, though, and will at most get a sound byte here and there.
Moreover, the message itself was quite strong. Not so long ago, it could have been given by a Republican President. Indeed, I can imagine George W. Bush reading it without edits. Alas, we are no longer in that world.
Playbook points us to Michael Hirsh's piece "How Biden Is Betting on the Politics of War." It begins,
For Sen. Chris Coons, one of President Joe Biden's closest allies in Washington, the president's wartime mission to the Middle East and Republican dysfunction in Washington — all of it happening at the same time — offered the starkest of split-screens. In an interview with POLITICO Magazine, Coons was emphatic that Biden's lightning-fast trip to Israel was not about the 2024 election. But in the same breath, Coons laid out in lavish detail just how telling it was that while Biden was in Tel Aviv assuring the Israelis that America had their backs, the GOP was literally falling apart on Capitol Hill.

"The contrast with Republicans could not be sharper," Coons (D-Del.), a co-chair of Biden's re-election campaign, said Wednesday. He then rattled off a well-honed critique of GOP disarray: how a paralyzed House of Representatives can no longer function on critical issues like aid to Israel and Ukraine; how former President Donald Trump's comments praising Hezbollah as "very smart" and criticizing Israeli Prime Minister Benjamin Netanyahu just hours after the deaths of more than 1,400 Israelis were strongly denounced by presidential contenders former Vice President Mike Pence and former New Jersey Gov. Chris Christie and other Republicans; and how American voters will come to realize, at such a dangerous moment, they can't afford an "erratic" president "who's a disruptor."

"I don't think your average American wants that," Coons said, emphasizing that Biden has far more experience than any candidate in dealing with key leaders such as Netanyahu, Russian President Vladimir Putin and Chinese President Xi Jinping. "Having a president who is presidential, solid and trusted around the world is important to the American people and will play an important role in their [2024] decision."

The president's political advisers are not oblivious to those dynamics. They are leery of appearing to politicize the Middle East crisis with the lives of American and Israeli hostages at stake, but in multiple conversations with key figures in Biden world, both on and off the record, it becomes clear they see the opportunity presented by an unexpected crisis to feature Biden's strengths.
Coons is surely right on the contrast. And, with perhaps a few quibbles, I think Biden is playing the Ukraine and Israel hands about as well as he can with the cards available to him. Again, I think it's more or less how a John McCain or Mitt Romney or a Jeb Bush would have played a similar hand.
I am just skeptical that folks who were giving Donald Trump a serious look will back away on the basis of Biden's Ukraine and Israel policies. That's just not how American presidential elections have played out, especially in the post-Cold War era.
The most recent election in which foreign policy was a central theme was 2008. The fact that he was the sole plausible candidate who had opposed the Iraq War from the outset doubtless contributed mightily to Obama's winning the Democratic nomination over early frontrunner Hillary Clinton. And it helped him somewhat in the general against John McCain, who was pushing the continued relevance of the war. Then again, the Great Recession was crashing down on the Bush administration throughout the campaign. Ultimately, that was more decisive than the war.
Before that, the Iran Hostage Crisis was surely a major issue in the 1980 contest between Jimmy Carter and Ronald Reagan. But, again, the economy was also in a shambles.
There hasn't been another contest in my memory where foreign policy was more than a peripheral point of contention. The only other one in my lifetime—and I'm pushing 60—was 1968, when Vietnam was a central issue.
Beyond that, all the examples I can think of in the television era where it moved the needle was when the incumbent party badly misplayed its hand. I can't think of a single instance in which good foreign policy was rewarded by the voters.
Then again, it's worth noting that neither of the POLITICO stories quotes Biden or anyone on his team claiming that they will make this election primarily about foreign policy. Given that Biden knows more about running presidential campaigns than I do, I'm rather confident that he's not going to try and do that.