A Look At The Final New Hampshire Polls, Plus Projections
Unless the polls are very wrong, it looks to be a good night for Bernie Sanders and Donald Trump. Beyond that, there's a lot that's still up in the air.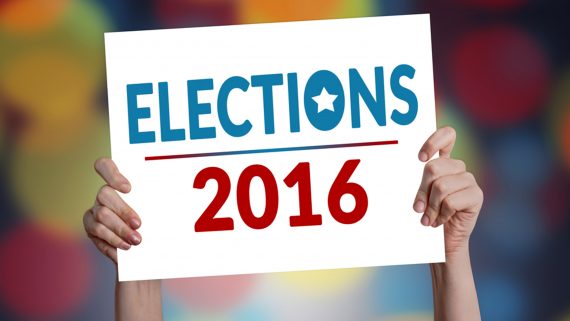 With voters heading to the polls in New Hampshire since early this morning, and some having already voted in small hamlets like Dixville Notch, where Bernie Sanders and John Kasich ended up pulling off the big but largely symbolic wins shortly after midnight, it can be said that the 2016 campaign for President feels like it has officially begun. Yes, we heard from voters in Iowa last week, but in many ways the New Hampshire primary ha always felt more like the traditional beginning of the quadrennial race for the White House, in no small part because it is the first time that voters actually have a chance to head to the polls rather than participating in an arcane caucus system. More importantly, even though it is hardly representatives of the nation as a whole, it's clear that New Hampshire voters take their role in the process seriously. Between Democrats and Republicans, it is expected that more than 60% of New Hampshire's eligible voters will turn out to vote today, a sharp contract to the less than 20% of voters who, on average, participate in the Iowa Caucuses. Additionally, once we put New Hampshire behind us, the race truly begins in earnest, with Republicans and Democrats both headed to Nevada and South Carolina, albeit on different days for reason that are utterly incomprehensible, ahead of the big stretch of candidates headed into March.
So, with the whistle officially blown to begin the voting in the Granite State today, let's take a look at the final polling data and make a few projections.
Democrats
Of the two races this one would seem to be the easiest to project. Bernie Sanders has led in New Hampshire for several months now with the exception of a few periods during which Clinton managed to close the gap for a brief period of time. Sanders has also led in every poll since the start of 2016 with the exception of one, and has largely kept a double digit lead for several weeks now. More importantly, unlikely eight years ago, there are no signs that Clinton has significantly closed the gap this time around, never mind making any moves that would suggest that she has even the slightest shot at winning the state. The final reports of the tracking polls from the University of Massachusetts and CNN/WMUR both show him continuing to hold on to that lead heading into Primary Day. Additionally, a final poll from Emerson shows Sanders with a twelve point lead. The one outlier seems to be a the tracking poll from ARG which is showing Sanders with a nine point lead, but even that seems like a lead solid enough to overcome any last minute surge by Clinton. All of this leaves Sanders with a lead of 13.3 points in the RealClearPolitics poll average, According to Pollster's broader average that includes non-traditional polls, Sanders holds a slightly larger 14.1 point lead.
The one caveat in the Democratic race is that the numbers suggest that there still appears to be some five to six percent of the voters who are undecided. This could end up undercutting Sanders' eventual margin, or it could indicate Independent voters who may end up being inclined to cross the aisle and vote in the Republican primary instead.
In any case, here's my projection for the Democratic race:
Bernie Sanders — 58%
Hillary Clinton — 42%
This would put Sanders winning percentage just a bit above his current lead in the RealClearPolitics average, but it would be consistent with most of the recent polling. In all honestly, though, anything above a 10-12% margin, which seems to be within reach, will be seen as a great night for Sanders and another humbling for Clinton.
Republicans
With the polls ahead of the New Hampshire primary showing the same Donald Trump lead that they final Iowa polling did, and the final results in Iowa showing Trump failing to meet those polling projections, it would be understandable to project that Trump will again fall short of the standing suggested by the polls. This is especially true given the fact that Trump still doesn't seem to have invested as much in traditional ground game operations as the other candidates, something that suggests that we could be looking at Trump falling short yet again, and event that would clearly call the genuineness of his campaign into question. At the same time, though, there are plenty of reasons to believe that what happened in Iowa isn't necessarily a likely guide for the outcome in New Hampshire. For one thing, given the different nature of the voting methods, it's often far more difficult to to poll a caucus than a primary. Voting today in New Hampshire asks far less of voters than voting in the caucus did on February 1st, so when voters tell pollster that they are indeed likely to vote it's more likely that they will actually follow through on that intention. Additionally, as I note above, voter participation in the Granite State's Presidential Primary is traditionally quite high and there's every reason to believe that tradition will continue this week. Finally, it's worth noting that there were some indications in the final hours before the Iowa Caucuses that Trump's numbers in the Hawkeye State were slipping while Marco Rubio's were rising. Many people, myself included, dismissed those polls as outliers but they clearly had picked up on a trend in the final days before the caucuses that carried through to last Monday night.
Keeping all that in mind, the numbers heading into today on the Republican side all continued to show Donald Trump with a double digit lead over the rest of the field. The tracking polls from the University of Massachusetts and CNN/WMUR give Trump a twenty-one and fourteen point lead, while other polls such as Emerson (Trump +15), Gravis (Trump +11), and ARG (Trump +16) show similarly large leads. All of this combines to give Trump an average 17.2 point lead in the RealClearPolitics average, and a 17.2 point lead according to Pollster, one of those rare times when the two poll averages agree with each other, Additionally, Trump has led in  75 consecutive poll in the State of New Hampshire, a fact which indicate that his lead seems to be both real and his support strong enough to believe that his supporters will indeed show up at the polls today.Given all of this, Trump failing to come in first place would be a massive surprise for everyone and would call polling of all kinds into question. While this is possible, it certainly doesn't seem likely.
Beyond Trump, though, the rest of the field is entirely unclear. Nominally, Marco Rubio is in second place but Ohio Governor John Kasich has surged in recent weeks and seems to be on Rubio's heels. Additionally, there hasn't been nearly enough time for pollsters to determine what impact Saturday's debate, universally seen as bad for Rubio, may have had on the race. It's also unclear how voters will reach to the clump of "establishment" candidates in the middle of the pack. Will New Hampshire Republicans stay loyal to their man, or will they jump to the candidate seen as most likely to be able to carry a noteworthy win in New Hampshire forward to other states? Another unknown is what New Hampshire's independents, who can choose to vote in either the Republican or Democratic primaries will do. Will they get behind the mavericks in either race and back Trump or Sanders, or will they perhaps go for the message of a candidate like John Kasich, who has seemingly spent more time than anyone else in the state? Additionally, as I noted yesterday, there's the possibility that the Republican race could end up with a number of candidates clumped together with only small percentages separating them and all of them having a legitimate argument for staying in the race going forward. As one pollster puts it, below first place the outcome of New Hampshire on the Republican side is entirely up in the air.
Keeping that in mind, here's my projection on the GOP side:
Donald Trump — 28%
John Kasich —- 17.5%
Marco Rubio — 16.5%
Jeb Bush — 14.5%
Ted Cruz — 13.5%
Chris Christie — 6%
Carly Fiorina — 3%
Ben Carson — 1%
Jim Gilmore < 1%
Putting Kasich in second is a bit of a wild guess on my part but it's based on polling that has shown him polling strongly in the Granite State, where he has campaigned relentlessly since August, as well as something of a negative impact for Rubio from the debate. Jeb Bush finishing fourth is a bit of a guess too, but it's based on his own recent strength and the fact that Ted Cruz seems to have largely disappeared from the state in recent days while the Governors, especially Kasich and Bush, have gotten generally positive press. Christie could do better than sixth place but it's going to require his actual voter turnout to be better than recent polling and Ted Cruz's to be much worse. Whether Christie performs well enough to be able to make a credible case to continue in the race after tonight is an open question. Carly Fiorina and Ben Carson, meanwhile, should get the message already and get out of the race.
Feel free to make your own predictions, and we'll see where things end up by the end of tonight.