"A Republic, not a Democracy" Redux
The Strzok hearing provides a return to this timeworn favorite.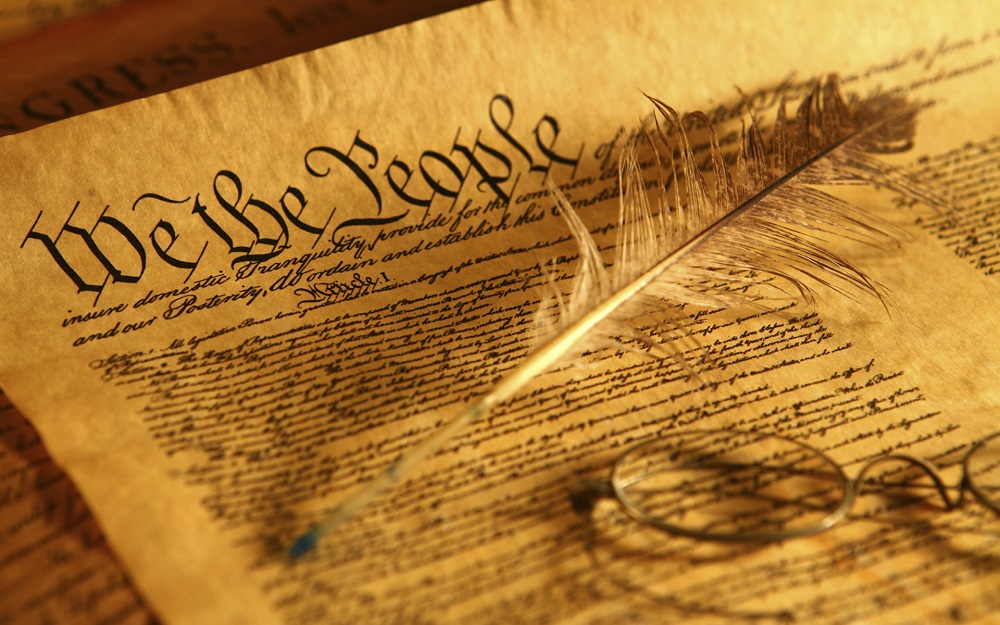 To be honest, the clip of Representative Paul Gosar that I wanted to write about wasn't the dentistry one that I have already commented upon, but rather the one below.  The previous post does also give my general views on the Strzok testimony, so this post can focus on the ever popular, "republic, not a democracy" bit.
Here is a U.S. congressman who felt the need to say that "WE ARE NOT A DEMOCRACY" during the #PeterStrzokHearing. 🤔 pic.twitter.com/wnuHirwIzc

— Matt Rogers 🎙 (@Politidope) July 12, 2018
Of course, regulars to OTB are aware that this phrase is akin to fingernails on a chalkboard to me.  I will note that his stumbling attempt to get out his thought on this is, I think, indicative of the fact that he is sloganeering and not engaging in some deep (or even shallow) understanding of the cliche he is deploying.
Some of my previous writings on this topic include:
Let me note two facts (which are discussed at length in several of the items listed above):
Our system is "republican" at a fundamental level because it has no monarchy and no aristocracy (power is not handed down in hereditary fashion).  That is what Article IV, section 4 of the US Constitution means when it states "The United States shall guarantee to every State in this Union a Republican Form of Government."  We have an elected government that derives its legitimacy from "We the People" not the bloodline of a certain family. That makes us a republic.
When Madison made the distinction between a "democracy" and a "republic" in several places in the Federalist Papers (again:  see the above links) he was making a distinction between small polities (in size and population) wherein all citizens participated in government, i.e., direct democracy, and larger polities (in size and population) that would require representative democracy (i.e., an elected government).  I cannot stress enough that by that definition, every single current country in the world called a "democracy" is a "republic" (even the ones with figurehead monarchs).  The issue is one about who governs and how they get into government in the first place.
If one wants to get into a broader political science/political theory discussion, one could address things like the use of the word "republic" over time (dating back to the ancient Greeks), as well as its more modern usages, many of which are not democratic at all (e.g., "The People's Republic of China," the "Union of Soviet Socialists Republics," the "German Democratic Republic," and/or the "Democratic People's Republic of Korea").  One could also get into the fact that we get the word "republic" from the Latin and the word "democracy" from the Greek and that therefore a lot of this discussion over time has revolved around translations and usages as much as definitions.  We would also need to get into the difference between the way the words have been used since the late 1780s when modern democratic governance was being born, and then evolved over the next two centuries (and, really, is still evolving), as opposed to how they were used prior to that time.
I can say with some authority that for those who study comparative democracies, the phrase, "the US is a republic, not a democracy" is so fraught with problems as to make it nonsensical.  It is a slogan used by people who almost certainly don't really understand what the words mean.
When it comes to American political discourse, I would argue that people use this phrase for most of the following ways:
A comment on simple majority rule:  They think they are making a point about the fact that our system is not one in which all that matters is the majority.  But, as I note in several of the posts above, there is no democratic system in the world that only takes into account majority preferences at the ongoing and total expense of the minority. No democracy is a zero-sum system where 50%+1 gets everything at the expense of the rest.
A phrase to hand-wave away things like the Electoral College:  Most people, in my experience (and to include, IMO, Gosar), are simply trying to explain away weird elements (in comparative and historical terms) of the US constitutional order that really do not take majority will into account.  As such, if one wants to defend the notion that Vermont, and its ~600,000 persons is equivalent to the ~18,000,000 in Florida you can say "we have a republic, not a democracy" firm in the understanding that one of the Framers said something along those lines somewhere, so you don't have to do any heavy intellectual lifting.
That our institutions create a special kind of consensus.  This is the most charitable possibility.  That somehow letting states be more important than people creates some kind of representational balance.  The problem becomes proving that that is what is happening, especially with the kind of disjuncture we see between the largest population states and the lowest population states.  To what degree are we really seeing a worthwhile balance of interests that foster consensus, cooperation, and just outcomes versus to what degree are we seeing distortions of the public interest in government?  It hard, for example, to look at the outcome of the 2016 election and say it produced consensus.  Indeed, quite the opposite.
A more sophisticated statement endorsing minority rule.  I have been meaning to write about this for some time, and it probably deserves its own, long, post. But one can make an argument, that yes, the constitution did not establish a "democracy" if by that term one means a system that 1) derives sovereign power the people, 2) derives members of government via free, fair, and competitive elections, 3) seeks to represent the views of the public, in its various forms, in that government, and 4) seeks to protect a series of key rights that would protect the numeric minority from the numeric majority at a given moment in time (e.g., freedom of expression, freedom of conscience, etc.).  Instead of such a system, one could argue that the US Constitution established a system of government that eschewed monarchy and aristocracy but was still designed to empower the minority (just a bigger minority than the monarchies if Europe empowered).  It was a system that empowered white males with a certain amount of wealth, especially as tied to land ownership.  Such a system could be broadly "republican" but still give power to less than the whole mass of persons in the country.  This would certainly not be a democracy.  It would be a kind of pluralistic authoritarianism.
In regards to option #4, one could argue, if one were so inclined, that the Electoral College and the Senate continue to conserve the power of privileged classes and only include others slowly (if at all) over time.  Now, most Americans believe, or at least give lip service to, the notion that our ideals are aspirational, that we are ever moving to a place where "We the people" means the whole of the people (regardless of social class, color, ethnicity, religion, gender, etc.).  However, one can take a view that change should be slow and that the established elites are elite for a reason and so their power should either not diminish, or if it has to, that it should do so slowly (see, e.g., the work of Edmund Burke or even that of Russell Kirk).  If one is a white male (especially from a rural part of the country) one might think, either implicitly or explicitly, that that is what "a republic, not a democracy" means.  I do, however, think it unlikely that too many people would publicly defend such a position. Indeed, much of the tension in the entire conversation is based in the question of whether one thinks our government should be inclusive or not.  Should our government be representative of the population, in terms of the various interests of the country, or should it not? To be honest, I think a lot of people don't want a broadly representative government for fear that they would personally lose power to some degree or because taxes might be raised.
What ideals are being spoken by this formulation? is a question that all who hear it should ask.
Let me note a bottom line here:  I keep writing about this not because of the academic esoterica associated with parsing the meanings of words over time (although, sure, there is some of that.  I am, after all, an academic).  But a key, if not fundamental, reason I think it is worth focusing on in a general forum like OTB is that this discussion gets to the root of what defines America and what our ideals mean. Are we evolving towards better representation and more inclusion, or are we really trying to maintain existing power structures? A belief in democracy is a belief that popular will can sometimes reorganize power.  If one wished to maintain power, one might not actually like democracy, despite the lip-service one may pay to it.
When you start your constitution with the words "We the people" you need to figure out what that really means.  This conversation gets to the heart of the question.  Does it mean what it meant in 1789?  If so, it means "We, the white males with some level of wealth."  If it no longer means that, and I think that is doesn't, then what does it mean?