A Wave, Or A Tsunami?
The GOP is headed for big gains on Tuesday. The only question now is how big they're going to be.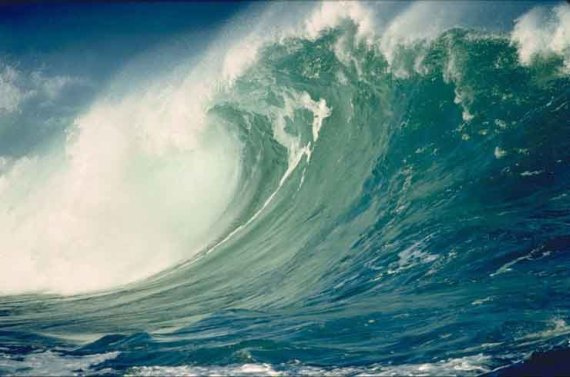 Depending on who you listen to, the Republican wave is either solidifying, or it's gaining strength and we could see far more substantial gains that have been predicted to this point.
First, there's the final Gallup poll, which shows Republicans with the largest lead in their Generic Congressional Ballot in generations:
PRINCETON, NJ — The final USA Today/Gallup measure of Americans' voting intentions for Congress shows Republicans continuing to hold a substantial lead over Democrats among likely voters, a lead large enough to suggest that regardless of turnout, the Republicans will win more than the 40 seats needed to give them the majority in the U.S. House.

The results are from Gallup's Oct. 28-31 survey of 1,539 likely voters. It finds 52% to 55% of likely voters preferring the Republican candidate and 40% to 42% for the Democratic candidate on the national generic ballot — depending on turnout assumptions. Gallup's analysis of several indicators of voter turnout from the weekend poll suggests turnout will be slightly higher than in recent years, at 45%. This would give the Republicans a 55% to 40% lead on the generic ballot, with 5% undecided.

Gallup models the number of seats a party will control based on that party's share of the national two-party vote for the House of Representatives, using historical voting data in midterm elections from 1946 to 2006. The model takes into account the majority party in Congress entering the elections.

Gallup's historical model suggests that a party needs at least a two-point advantage in the national House vote to win a majority of the 435 seats. The Republicans' current likely voter margin suggests that this scenario is highly probable, making the question of interest this election not whether the GOP will win the majority, but by how much. Taking Gallup's final survey's margin of error into account, the historical model predicts that the Republicans could gain anywhere from 60 seats on up, with gains well beyond that possible.

It should be noted, however, that this year's 15-point gap in favor of the Republican candidates among likely voters is unprecedented in Gallup polling and could result in the largest Republican margin in House voting in several generations. This means that seat projections have moved into uncharted territory, in which past relationships between the national two-party vote and the number of seats won may not be maintained.
It's worth noting that there have been problems with the Gallup Generic Ballot poll this year, but those numbers have been reinforced  elsewhere, including the final NBC News/Wall Street Journal poll:
Republicans remain on course to make substantial midterm gains across the country and to win control of at least one chamber of Congress, according to the final NBC News/Wall Street Journal poll before Tuesday's elections.

Nearly 50 percent of likely voters prefer a GOP-controlled Congress, which is virtually unchanged from the poll taken two weeks ago; a plurality of all registered voters say it would be a "good thing" if Republicans were in charge of both the U.S. House and U.S. Senate; and almost two-thirds — including about half of Democrats — want to see a significant amount of change in the way President Barack Obama has been leading the country.

(…)

According to the poll, 49 percent of likely voters prefer a Republican-controlled Congress, versus 43 percent who want Democrats to remain in charge.

Among the larger universe of registered voters — a less reliable gauge of those who will participate in a midterm election — the GOP edge shrinks to two points, 46 to 44 percent. But that's a reversal from two weeks ago, when Democrats held a two-point advantage with registered voters.

Republicans also continue to enjoy an edge in enthusiasm, with high-interest voters preferring the GOP by 12 points, 53 percent to 41 percent.

These numbers are consistent with other polls that have led political analysts to predict sizable gains for the Republican Party. Currently, the Cook Political Report is forecasting the GOP to net between 50 and 60 House seats and six to eight Senate seats, while the Rothenberg Political Report is projecting between 55 and 65 House seats and six to eight Senate seats.
And we see the same thing the RCP poll average: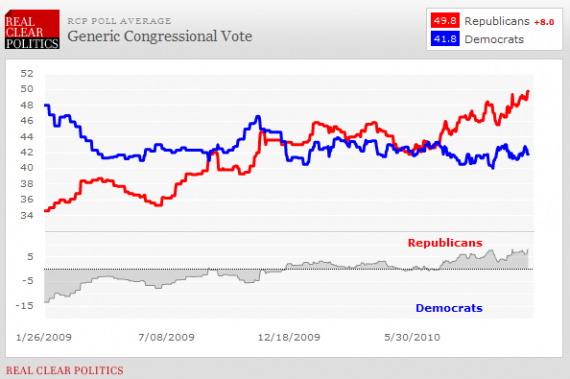 So, it seems fairly clear that the Republicans are headed for substantial victories tomorrow. The most likely outcome remains the 55-or-so seat pickup in the House that most pundits were talking about last week. However, if turnout breaks substantially in the GOP's favor in the right states then that GOP wave could become a tsumani.