A White Guy in His 70s Will Be President in 2021
The women, minority, and non-geriatric candidates have been all but eliminated from the race.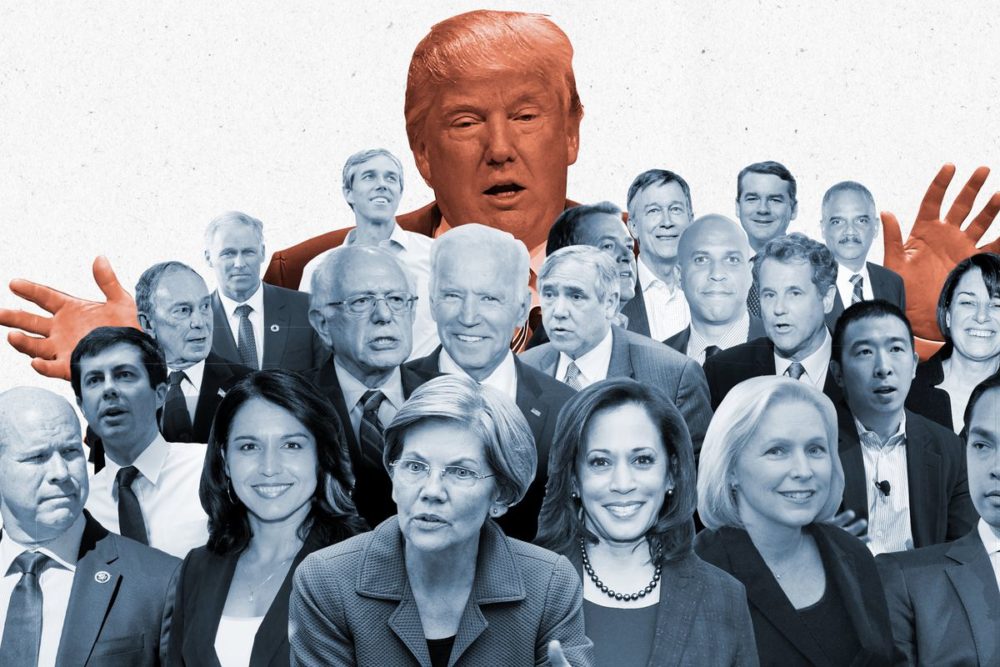 WaPo's Karen Tumulty quips,
A year ago, Democrats were tantalized by the prospect of fielding the most diverse array of presidential candidates ever. Among the upward of two dozen people running for their 2020 nomination were African Americans, Asian Americans, a Latino, a half-dozen women and a married gay man.

Who would have predicted that, as the race rounds the bend into Super Tuesday, the party's choices would come down to three white guys, whose ages range all the way from 77 to 78? Now they are trying to figure out which of that trio from the Silent Generation has the best chance of beating another septuagenarian, President Trump, in November.
That a white person in their 70s would emerge as the Democratic nominee has been a near-certainty since the campaign began. Joe Biden, Bernie Sanders, and Elizabeth Warren were the only three candidates in the top three throughout the year-plus campaign leading up to Iowa.
The only surprise is that Biden and Warren started so slowly that Mike Bloomberg entered the race and plunked down half a billion and counting to displace Warren from the top three.
There was never much of a chance that a non-white candidate would win the nomination.
There was a brief Kamala Harris boomlet after she successfully took on Biden's past stance on criminal justice in an early debate. But it lasted exactly one week before she came crashing back to earth. She was out of the race before Iowa.
Cory Booker is brilliant and highly qualified but never caught on. It's perhaps exasperating that the much-less-experienced Pete Buttigieg came out of nowhere and captured so much attention from the NPRs and elite podcasts of the world while his fellow Rhodes Scholar got ignored. But, regardless, Booker was out before Iowa.
Their fellow former mayor, Julian Castro, never had a serious shot at the nomination. Ditto Tulsi Gabbard.
Andrew Yang, like Buttigieg, brought up his name recognition considerably with his run. Like Buttigieg, he generated enthusiasm with the intelligentsia. But he never had a serious shot at the nomination.
It was quite conceivable for a while that Warren would win the nomination. Biden's star seemed to be falling and she's rather obviously smarter and more capable than Sanders. But, for whatever reason, she fell behind him well before Iowa and has fared so poorly in the four contests thus far that she is now an afterthought despite two straight solid debate performances.
Amy Klobuchar never caught on. We've already discussed Harris and Gabbard. And I'd forgotten Kirsten Gillibrand even ran before selecting an image for the post.
So, that leaves us, as Tumulty notes, with three white guys between 77 and 78 facing off for a chance to run against Trump, who turns 74 this summer. Yes, I'm presuming none of them will die between now and November.
In my ideal world, Bloomberg, who entered the race to ensure Sanders didn't win the nomination in the event Biden's freefall continued, would now drop out and put his resources behind electing Biden. But that's almost certainly not going to happen until at least Wednesday.
Trump is easily the oldest man ever elected President for the first time (Ronald Reagan was slightly older when he was re-elected in 1984). It's quite likely that he'll be the younger man in the race this November.
Is that bizarre? Absolutely. But it's likely the reality.
Now, a brokered convention is still a possibility—even a likelihood. But, absent tragedy, Sanders and Biden will almost certainly enter the convention with far and away the most delegates, with Bloomberg probably third. It's not inconceivable that Warren somehow becomes the compromise candidate, on the theory that she'd be more likely to keep the Bernie Bros than Biden or Bloomberg. But I'd bet a whole lot more money on a Biden-Bloomberg-Buttigieg coalition winning the day.
My guess is that Harris or Warren—likely Harris—will be the Vice Presidential nominee.