After 300 Days, Donald Trump Sees No Accomplishments And Dwindling Job Approval
Donald Trump has been President 300 days and the record reveals no real accomplishments and increased dissatisfaction with the job he's doing.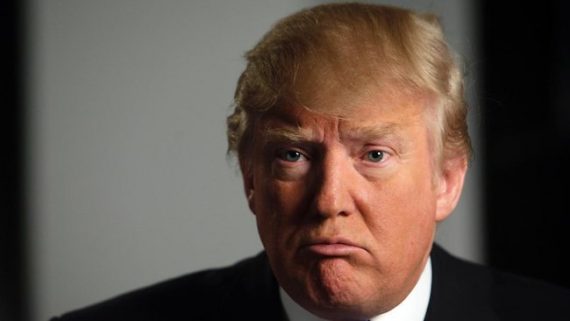 As I noted earlier on Twitter, today marks Donald Trump's 300th day in office, and while this is not treated as a significant albeit artificial milestone in quite the same way as the so-called "first 100 days," it does provide us with an opportunity to review exactly what we've seen from the Trump Administration so far and what that might mean for the rest of his first term. Not surprisingly, the verdict is not very good at all. With the exception of a handful of bills that have repealed regulations enacted by the Obama Administration, the Administration cannot point to any significant legislative gains over the past 300 days. An effort to 'repeal and replace' the Affordable Care Act ended in September after the Senate failed to pass the final bill that was before it in that regard, although it is now trying to resurrect that effort as part of the ongoing tax reform effort. On the Executive Branch action side, Trump's efforts to ban travel from Muslim nations, along with efforts to punish so-called 'sanctuary cities.' have been blocked by the courts. In the foreign policy arena, the Administration seems to be doing very little but creating chaos and doubt among American allies. The only success that can be pointed to is the confirmation of Neil Gorsuch to replace Antonin Scalia on the Supreme Court, and that is largely attributable to Senate Majority Leader Mitch McConnell's decision to eliminate the filibuster for Supreme Court nominees. But for that move, Trump wouldn't even have that accomplishment to point to today, or he would have had to find a nominee who would have been acceptable to enough Democrats to get to sixty votes in the Senate.
In addition to this lack of accomplishment, the past 300 days have shown the rather remarkable phenomenon of a newly elected President who is at unpopularity levels that typically aren't seen absent a major economic downturn, and which typically don't manifest themselves until the end of a President's term in office. Since taking office, Trump has been upside down in his job approval, with disapproval far outpacing approval across the group with nearly all relevant demographic groups with the exception of self-identified Republicans. Polling has also shown that the Amerian public as a whole continues to give the President failing grades when it comes to leadership and trustworthiness and his favorability numbers have generally stayed as negative as they were when he was running for President.
If a new Quinnipiac University poll. is any indication, things are only likely to get worse:
Only four in 10 registered voters believe President Donald Trump is fit for office, according to a Quinnipiac University poll released Tuesday.

The 40 percent mark is a new low for respondents to the Quinnipiac survey, which asked the same question in September and October. Fifty-seven percent of respondents to the latest poll said Trump is not fit for the office he holds.

While 86 percent of self-identified Republicans said Trump is fit to serve, an overwhelming 93 percent of Democrats said the opposite. And nearly 60 percent of independents agreed with Democrats who said Trump is not fit to serve as president.

Ninety-three percent of people who identify as black and 70 percent of people who identify as Hispanic said Trump is not fit to serve. White voters, however, were largely split on the question of Trump's fitness for office: 49 percent said he is fit; 48 percent said he isn't fit.

Trump's approval rating has slightly fallen to 35 percent, nearing the lowest point of his presidency — 33 percent in August. Nearly six in 10 respondents said they disapprove of the way Trump is handling his job as president.

Eighty percent of Republicans approve of Trump's job as president, while 91 percent of Democrats and 63 percent of independents disapprove. Ninety-one percent of black, 70 percent of Hispanic and 50 percent of white voters, respectively, disapprove of Trump's job as president.

And a majority of registered voters said Trump is not honest (58 percent), does not have good leadership skills (59 percent) or care about average Americans (59 percent), is not level headed (65 percent) and does not share their values (62 percent).
Looking at the poll averages, we see that Trump's numbers are similarly bad across the board. In the RealClearPolitics average, Trump's overall average job approval stands at 38.1% and disapproval stands at 56.6%. On the economy, where Trump's numbers had actually been positive for most of the year thanks to a relatively healthy economy, the President's job approval on the economy alone stands at 44.9% approve and 45.1% disapprove. On foreign policy, meanwhile, it stands at 37.1% approve and 56.2% disapprove. At Pollster, the numbers aren't much better, with Trump's approval standing at 38.9% and his disapproval standing at 55.0%. As has been the case since the start of the year, the President gets overwhelmingly negative reviews from self-identified Democrats and overwhelmingly positive reviews from self-identified Republicans. Among independents, the numbers remain worse than they do for the American public as a whole, with 34.8% approving of the job the President is doing and 55.8% disapproving. Finally, FiveThirtyEight's job approval index, which is weighted to account for pollster accuracy and other factors, puts Trump's job approval at 38.1% and his disapproval at 55.7%.
As the RealClearPolitics chart shows, the trend over the past 300 days has been overwhelmingly negative and only shows signs of staying that way, or possibly getting worse: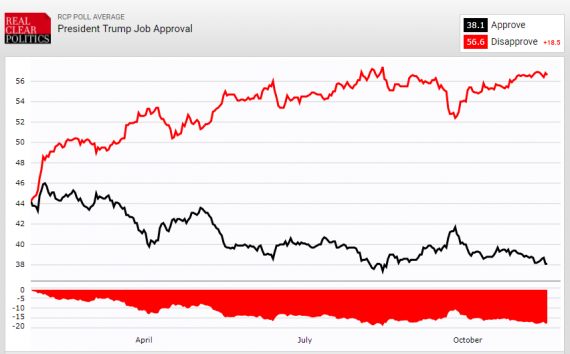 So, as we stand here less just over two months from the first anniversary of Trump's inauguration, we see an Administration that has accomplished next to nothing led by a President who is historically unpopular, who is on the record lying at what appears to be a record-breaking pace, and who seems to spend most of his time watching cable news and tweeting. Meanwhile, the world looks at the United States as an increasingly unreliable partner in both the diplomatic and economic respects, and worldwide public opinion about the nation is down significantly from where it was before President Trump came into office. Yes, it's true that the economy here at home has been growing, but for the most part, that rate of growth is consistent with where it was in the years before Trump entered office and job creation is actually averaging slightly below where it was for the final three years of the Obama Administration. Given that, Trump's first 300 days in office don't seem to be any more successful than his first 100 days, and by all indications, nothing is likely to change for the better in the immediate future.