All Tied Up In Michigan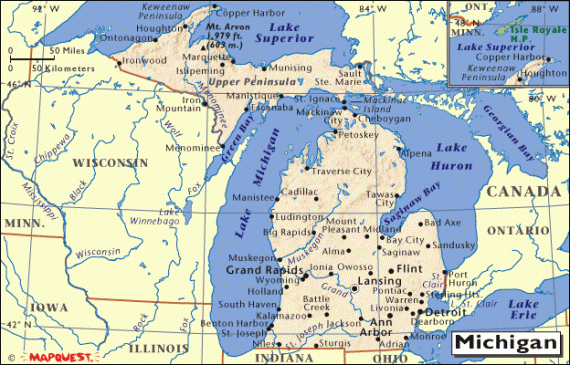 With the final debate before the election just hours away, the latest NBC News/Marist poll shows that the race in the Wolverine State is essentially a statistical tie:
Less than a week before Tuesday's crucial Republican presidential primary in Michigan, a new NBC News/Marist poll shows Mitt Romney and Rick Santorum locked in a statistical tie, while a separate NBC/Marist survey shows Romney comfortably leading in Arizona, which holds its primary the same day.

In Michigan – which has turned into a make-or-break contest for Romney – the former Massachusetts governor gets the support of 37 percent of likely GOP primary voters, including those who are leaning toward a particular candidate.

Santorum, the former Pennsylvania senator, gets 35 percent, and he's followed by Texas Rep. Ron Paul at 13 percent and former House Speaker Newt Gingrich at 8 percent.

"Michigan is neck and neck," says pollster Lee Miringoff, director of the Marist College Institute for Public Opinion, which conducted both surveys.

(…)

In Michigan, Santorum leads Romney among self-identified Tea Party supporters, 48 to 29 percent, and those who describe themselves as "very conservative," 59 to 20 percent.

And among those who have already voted absentee in Michigan – 16 percent of likely GOP voters – Romney leads Santorum, 49 to 26 percent.
This is all consistent with several polls we've seen since late last week, all of which suggest that Sanoturm's initial massive jump in the polls last week may have been an anomaly, and that the more voters learn about Rick Santorum, the less they like him: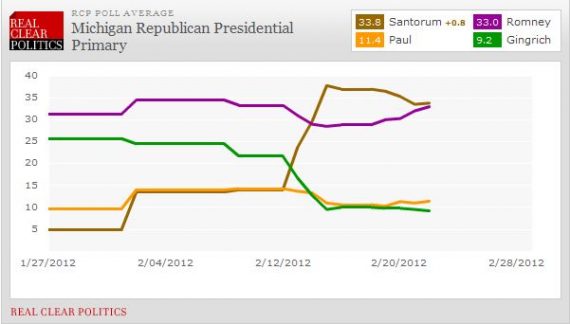 Much will depend on tonight's debate, of course, but at this point it's looking like Michigan will end up being close regardless of who ends up winning, meaning that it's not going to mean the end of anything, and we'll be heading into Super Tuesday (which Santorum has an advantage in the Southern states) with this race still in chaos.