Americans Divided On Israel's Actions In Gaza
A new poll shows that Americans are divided over Israel's actions in Gaza, but this most likely will not impact relations between the two countries.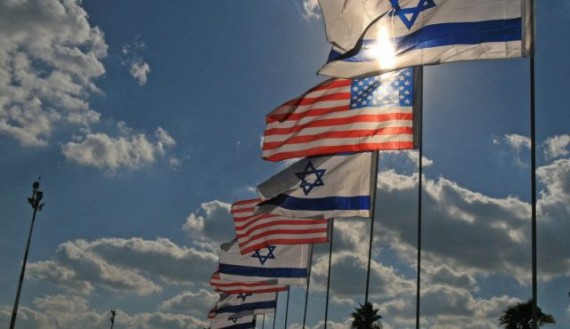 With the conflict between Israel and Hamas showing no sign of ending and the United States trying mostly in vain to negotiate a cease fire, a new Gallup poll finds that Americans are split on whether or not Israel's actions are justified, with the deepest divides on the question mirroring the same partisan an demographic divides we've seen on so many other issues:
PRINCETON, NJ — Americans are divided in their views of whether Israel's actions against the Palestinian group Hamas is "mostly justified" or "mostly unjustified," but they widely view Hamas' actions as mostly unjustified. Those results are similar to what Gallup measured 12 years ago during another period of heightened Israeli-Palestinian violence, and they are consistent with Americans' generally more positive views of the Israelis than of the Palestinians.

The latest escalation of violence in the Middle East occurred after the militant Palestinian group Hamas captured and killed three Israeli students and a Palestinian teen was subsequently murdered in an alleged revenge killing. The tensions erupted into bombings, missile attacks, and armed conflict. The two sides have not agreed to a cease-fire so far despite the international community's efforts to end the fighting.

Americans do not view the current round of violence as substantially worse than the 2002 fighting, when Israel invaded areas under Palestinian control while Palestinian suicide bombers targeted Israel. A separate question in the new July 22-23 Gallup poll underscores the finding that Americans' see the current round of fighting as no worse than usual: 45% of Americans say the current Israeli-Palestinian conflict is "more serious than past conflicts between them," 43% about as serious as past conflicts, and 3% as "less serious."
This chart compares the numbers today with those of a poll taken at the time of the 2002 conflict: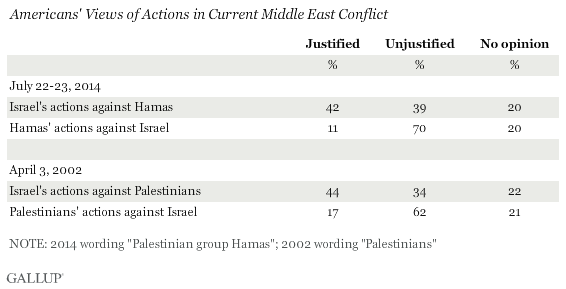 Of more interest, perhaps, is the extent to which public opinion on this conflict is divided along partisan and other lines. For example, here's the party breakdown: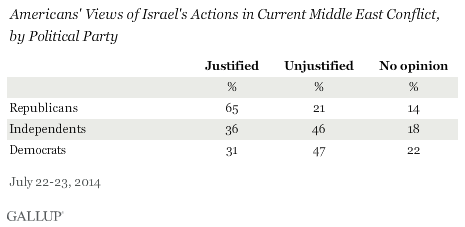 The differences between Republicans and others in this poll isn't entirely surprising, of course. Just last week, I made note of a Pew Research poll that showed thatRepublicans tended to be more supportive of Israel in general than Democrats or Independents. With that difference in opinion informing both sides of the partisan divide, the fact that Republicans tend to support Israel's actions in Gaza more than others makes sense. Additionally, the difference we see here is probably reflective of the general support for a more strident military policy toward terrorism that we see from people who tend to self-identify as Republicans and conservatives. If they support a strong U.S. policy against terrorists, then they would be likely to do so with respect to Israel as well even after taking the issue of civilian casualties into account.
Also of interest are the demographic divides on the question, which also mirror many of the divides we see among these groups on other political issues: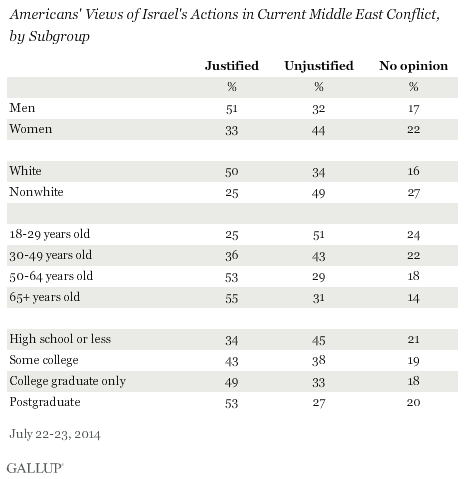 Women, non-Whites, people under 50, all of these groups are less likely to approve of what Israel is doing than Men, whites, and people 50 and older. Given that the first set of groups tend to more likely identify as Democrats and Independents than Republicans, it makes sense that we'd see a demographic breakdown like this. The one demographic breakdown that doesn't fully track with the partisan one is on education, where a higher degree of education correlates with more support for Israel's current actions, but I'm not sure what the explanation for that might be.
Looking at these same numbers, both Daniel Larison and Guy Benson suggest that it may have implications for broader American support for Israel outside of the circumstances of this particular conflict, although Benson mostly focuses on the question of whether it will lead the Democratic Party to become less supportive of Israel in the future. I'm not sure that this poll can tell us anything in that regard, though. As the first chart above indicates, American public opinion on this conflict isn't all that different from public opinion regarding the 2002 conflict. I suspect that if we were to look at similar date for the other periods of Israeli military incursion into Gaza in 2006 and 2012 we would see similar numbers. Despite those numbers, the American public has remained generally highly supportive of the State of Israel. Absent some major change in the situation on the ground, or a change in the way Americans view the world that I really don't see coming, I don't see that happening any time in the near future.
As for the fact that Americans are split on whether or not the current Gaza conflict is a good idea, that's likely as much a reaction to the daily images of conflict and death that we are seeing as it is anything aimed particularly at Israel. Potentially, of course, that means that Israel ought to be considering its international reputation if it pushes further into Gaza, but as things stand right now it doesn't seem to me like something they ought to be overly concerned about as a threat to the relationship between Israel and the United States.