American's View Of Obama More Polarized Than Ever
Gallup reports that American's views of President Obama are more politically polarized than they have been for any previous President, although George W. Bush isn't very far behind:
PRINCETON, NJ — Thus far in October, an average of 90% of Democrats, and 8% of Republicans, approve of the job Barack Obama is doing as president. That 82-percentage-point gap in approval ratings by party is on pace to be the largest Gallup has measured for a recent incumbent president in the final month before Americans vote on his re-election. George W. Bush had an 80-point party gap in approval, while the October gaps for other presidents were less than 70 points.

Gallup did not routinely ask presidential approval in October for presidents prior to Ronald Reagan. But Obama's ratings throughout his first three years in office have been among the most polarized Gallup has measured for any president.

Obama's already highly polarized ratings are becoming even more so in his fourth year in office. Thus far, his ratings have averaged 85% among Democrats and 10% among Republicans, for a 75-point gap. That compares with gaps averaging 68 points during his second and third years in office and 65 points during his first.

That is not unexpected, as Gallup has typically found presidents' ratings to be most polarized by party in their fourth year in office, which is normally the year they seek re-election to a second term. But ratings of recent presidents are far more politically divided than those of less recent presidents.
Indeed, President Obama and his predecessor have had the most polarized job approval numbers of any recent President, including Nixon: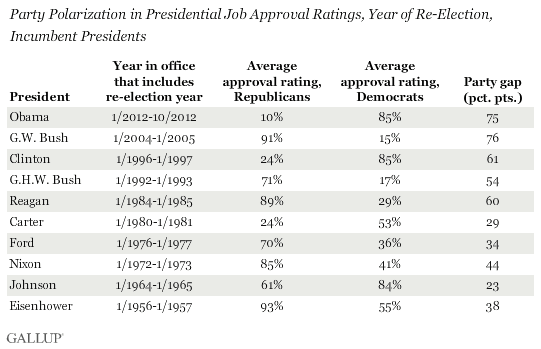 Lyndon Johnson's numbers are interesting, only a 23 point gap between Republicans and Democrats on average, but I suspect a good deal of that can be ascribed to the fact that he was President during a war that Republicans were generally supportive of so they were willing to cut him some slack when it came to social programs and other matters.
As for Obama, and Bush, I think this gives us our best example yet of just how much each side of the political battle have dug themselves into their own trenches. If Obama is re-elected, you can guarantee that Republican attitudes toward him will remain the same, and if Romney wins you'll see Democratic opinion about him reach the same low levels it did during the Bush Administration. Bipartisanship? Don't even try to pretend it exists.