Anthony Weiner To Plead Guilty
The Anthony Weiner saga comes to an ignominious end.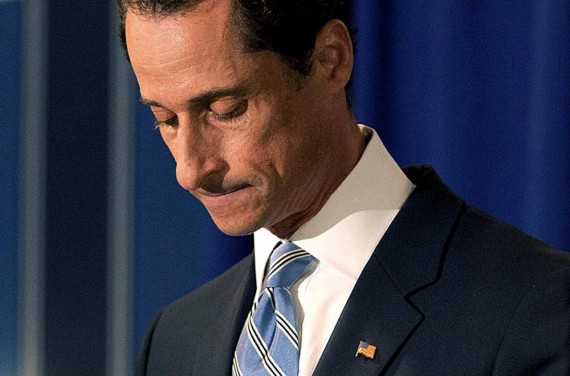 Anthony Weiner, the disgraced former Congressman who was forced to resign from office after being caught up in a sexting scandal in 2011, will plead guilty to a charge of sending sexually explicit material to a minor:
Anthony D. Weiner, the former Democratic congressman whose "sexting" scandals ended his political career and embroiled him in a tumultuous F.B.I. investigation of Hillary Clinton before the election, is to appear in a federal courtroom in Manhattan on Friday to enter a guilty plea.

The information has not been made public but was related by two people who have been briefed on the matter and asked not to be identified.

Mr. Weiner will plead guilty to a single charge of transferring obscene material to a minor, pursuant to a plea agreement with the United States attorney's office in Manhattan, one of the people said. Mr. Weiner surrendered to the F.B.I. early Friday morning.

The federal authorities have been investigating reports that, beginning in January 2016, Mr. Weiner, then 51, exchanged sexually explicit messages with a 15-year-old girl in North Carolina.

The plea covers conduct by Mr. Weiner from January through March of last year, the person said. A likely result of the plea is that Mr. Weiner would end up as a registered sex offender, although a final determination has yet to be made, the person added.
The charges against Weiner stem from incidents first made public in September of last year when it was revealed that Weiner was under investigation for alleged contact with a fifteen-year-old girl in North Carolina that included conversations of a sexual nature and the exchange of sexually explicit pictures between the two. Eventually, that investigation was taken up by the Federal Bureau of Investigation due to the fact that the conversations took place across state lines, which made Weiner's contact with the girl a potential Federal crime. It was during the course of this investigation, of course, that Bureau investigators discovered the existence of a laptop computer that apparently contained copies of emails sent to and from the private email server that Hillary Clinton used while serving as Secretary of State. That discovery led F.B.I. Director James Comey to send a letter to Congress in late October of last year advising the heads of various Congressional Committees of this discovery and the fact that, as a result, the Bureau had reopened its investigation into Clinton's server and the handling of classified material to determine if these emails were new, or merely copies of correspondence that the Bureau had already reviewed previously in it investigation. That letter, coming as it less than three weeks before Election Day, has been seen by as one of the factors that led to Clinton's loss in the General Election in November. It was also one of the factors discussed by Deputy Attorney General Rod Rosenstein in the memorandum he prepared as justification for the decision to fire F.B.I. Director James Comey earlier this month. In some sense then you could say that Anthony Weiner's sexting may have weirdly been a decisive game changer in the 2016 Presidential election and the fate of the Director of the nation's top law enforcement agency.
The charge to which Weiner will plead guilty, 18 U.S.C. 1470, calls for a fine and a sentence of up to ten years in prison. In all likelihood, though, Weiner will be sentenced to something far less than this, and may not end up spending any time in jail at all. The ultimate sentence will be up to the Federal Judge presiding over Weiner's case and won't be handed down until both sides have had the opportunity to present pre-sentencing reports to the Judge. There may also be an evidentiary hearing in relation to sentencing if that is deemed to be necessary. Given the fact that Weiner does not have a previous criminal record and is pleading guilty to the charge against him will count as marks in his favor under the relevant sentencing guidelines, and if he is receiving some kind of counseling related to his rather obvious problems then that will likely count in his favor as well. Regardless of the sentence, though, this guilty plea will likely mean that Weiner will have to register as a sex offender for at least some period of time in the future. It also means, of course, that he has no political future, although that was frankly apparent after he left office six year ago and made even more apparent in 2013 when he attempted a comeback by running for Mayor of New York City only to find that campaign undermined by a renewed round of sexting allegations. Additional allegations of that type became public in August of last year when it was revealed that he had been caught doing so in the presence of his son, which caused his then-estranged wife Huma Abedin to file for divorce. In any case, this is likely the end of the Weiner's time as a public figure. What an odd journey it has been.