Are Mass Shootings Really On The Rise?
Obsessive media coverage makes us believe mass shootings are far more common than they actually are.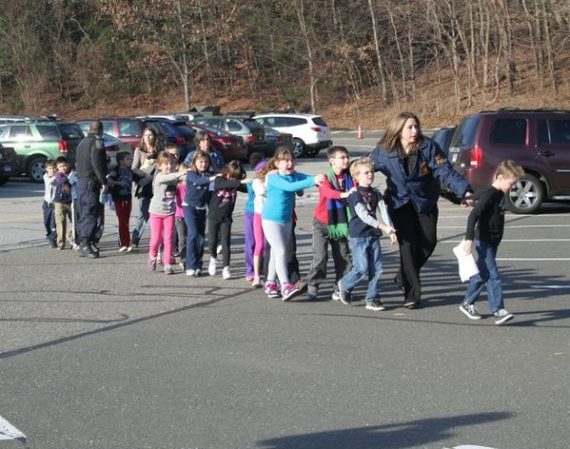 In the wake of last Friday's tragedy in Newtown, The Washington Post's Brad Plumer asserted that mass shootings of this type are on the rise:
These sorts of headlines are also becoming gut-wrenchingly familiar. Of the 12 deadliest shootings in U.S. history, six have taken place since 2007. (The Newton school shooting will likely rank second on that list.) Mass killings appear to be on the upswing — even as other types of homicides and violent crimes are becoming less frequent.

David Brooks highlighted this discrepancy back in July. For much of the 20th century there were, on average, a handful of mass killings per decade. But that number spiked in 1980, and kept rising thereafter. In the United States, there have now been at least 62 mass shootings in the past three decades, with 24 in the last seven years alone. This has happened even as the nation's overall violent crime and homicide rates have been dropping.
It sounds like we've got a serious, and growing problem and, if you confine yourself to just falling anecdotal stories, it certainly seems as though we do. Since 2007, we've seen mass shootings in Virginia Tech, Phoenix, Aurora, and now Newtown. Based on that trend it certainly seems like mass shootings are becoming a growing phenomena. The problem is that the facts simply don't bear this out:
[T]hose who study mass shootings say they are not becoming more common.

"There is no pattern, there is no increase," says criminologist James Allen Fox of Boston's Northeastern University, who has been studying the subject since the 1980s, spurred by a rash of mass shootings in post offices.

The random mass shootings that get the most media attention are the rarest, Fox says. Most people who die of bullet wounds knew the identity of their killer.

Society moves on, he says, because of our ability to distance ourselves from the horror of the day, and because people believe that these tragedies are "one of the unfortunate prices we pay for our freedoms."

Grant Duwe, a criminologist with the Minnesota Department of Corrections who has written a history of mass murders in America, said that while mass shootings rose between the 1960s and the 1990s, they actually dropped in the 2000s. And mass killings actually reached their peak in 1929, according to his data. He estimates that there were 32 in the 1980s, 42 in the 1990s and 26 in the first decade of the century.

Chances of being killed in a mass shooting, he says, are probably no greater than being struck by lightning.
James Allen Fox, quoted in the excerpt above, made similar points in an Op-Ed published  in the wake of the Aurora shooting:
The carnage has compelled many observers to examine the possible reasons behind the rise in mass murder. New York Times columnist David Brooks noted the number of schizophrenics going untreated. Gun control advocates have pointed to the 2004 expiration of the federal assault weapons ban as the culprit, while gun-rights proponents have argued that the body counts would be lessened were more Americans armed and ready to intervene and overtake an active shooter.

There is one not-so-tiny flaw in all of these theories for the increase in mass shootings. And that is that mass shootings have not increased in number or in overall body count, at least not over the past several decades.

(…)

Without minimizing the pain and suffering of the hundreds of who have been victimized in seneless attacks, the facts say clearly that the has been no increase in mass killings, and certainly no epidemic. Occasionally, we have witnessed short-term spikes with several shootings clustering close together in time.

In the 1980s, we had a flurry of postal shootings, and the 1990s included a half dozen schoolyard massacres. Other than the copycatting reflected in these cases, the clustering of mass murders is nothing more than random timing and sheer coincidence.
Fox includes this chart: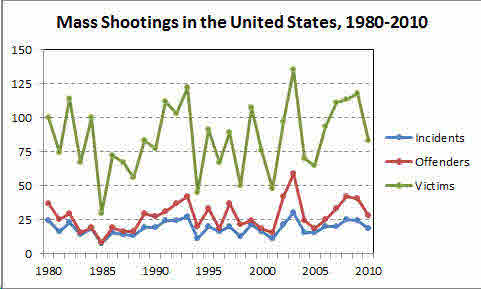 It's easy to understand why people think that these types of shootings are becoming more common. We live in an era where, when something like this happens, we get non-stop coverage from the cable and broadcast networks. As I noted the other day, the worst school massacre in American history occurred in an era before television even existed, and it didn't result in the same kind of obsessive coverage we're likely to see regarding Newtown or much of the rest of this week. When incidents like this get that kind of media coverage, it creates the impression that they are far more common than they actually are. Of course, as Jesse Walker notes, there is some good in the media coverage:
While there's a lot to object to in the media coverage of the last few days — the inaccuracies reported on the day of the massacre, the exploitative intrusions on grieving people's privacy — this feeling that the crime took place in our backyard isn't a bad thing in itself. It represents empathy, and when the press amplifies our empathy, it's doing good. But it's also important for the press to give people a context for that empathy, lest those natural feelings for the victims and the people who loved them turn into an irrational fear that the next victims will be our own children or ourselves. Look at the ways so many schools locked down after Columbine: the increase in inflexible zero-tolerance policies, the speed-up in the school-to-prison pipeline. Those changes made a lot of students less secure, not more. And they were driven by contextless, free-floating fear. Empathy sí, paranoia no.
Now it goes without saying that one of these incidents is one too many, but it is, important to get the facts right before we have this "national conversation" that the media tells us we're supposed to be having. Mass shootings like what happened in Newtown get a lot of attention when they happen both because of the horror that they evoke and because they are, in reality, rather rare. Before we go making social policy, perhaps we need to ask ourselves if we want to base changes in the law on events that don't happen very often.