Are our Problems Based in Leadership or Institutions?
Where should we look to understand the failings of the government?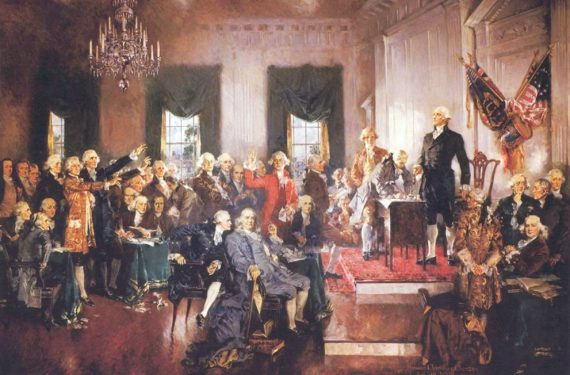 Conor Friedersdorf asks an interesting question (and one that I have seen in various iterations of late):  Is America Suffering from Rogue Leaders or Broken Institutions?
For someone like me, whose academic area of study is institutions, this is a rich and intriguing question which spawns a number of possible responses (which means picking a place to start is difficult).  Let me lay out here a basic description of the problem as I see it (and as I think it is being discussed elsewhere) and suggest some initial responses to the the question.
First, there is some vagueness to this basic discussion.  In a general sense it seems to be asked as a general proposition founded in the fact that the economy currently is running rather poorly, which creates an overall feeling of discontent with government (and frustration from various political factions who think that the solution to the problem is more of whatever it is that they like).   Further, we find that we ask questions like "is the government broken?" when the economy is involved in a long-term downturn.*  There is also, however, a specific set of examples of perceived failings, a partial list of which follows:
Bush administration policies on enhanced interrogations/torture, warrantless wiretaps and the like that did not result in significant hearings or investigation.
The Obama administration and Libya  (and its seeming contravention of the War Powers Act).
The Obama administration's killing of Anwar al-Awlaki and at least one other US citizen (Samir Khan) via drone attacks in Yemen.
The entire debt ceiling standoff.
The pending potential failure of the deficit-cutting joint committee.
I would note that is all of the issues linked to presidential action, one can have an opinion about whether Bush or Obama violated the law, but at the end of the day that is all that it is:  an opinion.  Absent actual legal proceedings of some kind we are left with ambiguity (and hence a legitimate critique of institutions for not adequately triggering such legal actions or leadership for failing to initiate available institutional tools).  The fiscal matters are yet a whole other set of problems (which I will leave aside for the moment).
Regarding the foreign policy/war on terror issues above, I do agree that Congress has appeared unwilling to assert itself, something I have noted (and criticized) in the past.  Such unwillingness to more seriously confront the executive branch is a failure of leadership, to be sure.  However, I would argue that, on balance, this lack of actions is founded very heavily in a lack of adequate institutional incentives and ability to adequately engage the topics at hand.
Some specifics:
The Feedback Loop.  As Madison noted in Federalist 51, "dependence on the people is…the primary control on the government."**  What this ultimately means is that candidates have to fear elections.  They have to believe that what they do in office will affect their jobs when they go before the people.  However, most of the members of Congress do not have this fear.  We have a substantial number of uncompetitive House districts in the country, many of which have been specifically engineered by state legislatures to be that way based on partisan motives.  This is an institutional flaw that damages democratic feedback.  And for those who do not believe me, we have a natural experiment coming up in November of 2012:  we will go into House elections with that chamber having remarkably low approval rates, and yet a massive number of Representatives will be re-elected.  If that is not evidence of a problem with democratic feedback, I don't know what evidence would look like.Of course, there is a broader problem, I would argue, with our electoral system, as the combination of the primary system and single member districts with plurality winners means a party system that is inadequately representative of the political interests in the country and that cements the current rigid bipolarity that dominates our politics (something a lot of gripe about, but really appear unwilling to address).  Of course, the issue of serious electoral reform is whole other discussion, but just looking at the system as it exists and judging it by its own design, the massive number of utterly safe districts (especially those gerrymandered to be safe) clearly demonstrates a problem.  Lack of competition is bad for democracy.**
Limited Options for Congress.  The truth of the matter is that the Constitution gives Congress limited options in dealing with the executive.  The only real power in question is impeachment, which is really designed for serious malfeasance ("Treason, Bribery, or other high Crimes and Misdemeanors") not policy disagreements.  Even if one thinks that the President violated the law in terms of Libya or al-Awlaki, the impeachment process is a pretty extreme (and blunt) method of dealing with it (and, given the super-majority requirement for removal in the Senate, a basically unrealistic one save in the aforementioned extreme circumstances).  Congress, Ron Paul not withstanding, is rather unlikely to use impeachment in these types of situations.  Another option, the congressional hearing, ends up being much more show than anything else.  Having said that, I personally would prefer to see more hearings, as attention is needed on many of these issues, even if the hearings themselves are flawed and are largely toothless.
As such, the main institutional tool under the Constitution to deal with a president who isn't doing what the Congress wants him to do is the calendar:  i.e., to wait out his fixed term of four years and hope that the election will change the occupant of the White House.  We have no "no confidence" vote nor the ability to call early elections.
Impasse, in general, whether it be in terms of formulating complex policies, or whether it comes in the guise of how Congress should address problems it perceives with presidential action is built in to our institutional structure (i.e., bicameralism itself as exacerbated by the internal rules of the Senate).  Let me note the obvious:  the Congress is currently split between the two parties.  As such, serious action against the president is highly unlikely (to put it mildly).
In sum: there are some serious institutional factors that very much are contributing to our policy problems at the moment.
These are just some thoughts on this complex subject.  I expect to have a few more posts on this at time allows.
—-
*We can see this question being raised in the later 1970s/early 1980s, for example, including some scholarly attention at the time to the question of whether the presidency was inadequate given the size and complexity of the of the United States.
**Of course, he goes on to discuss "auxiliary precautions" which, ultimately, means institutional design.  This is a topic for another post.
***Or, if one prefers, bad for a representative republic.