August Jobs Report Delivers Mediocre Numbers
A mostly mediocre jobs report for August.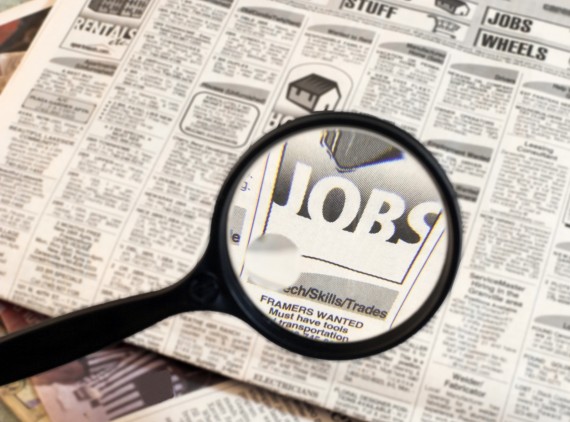 The American jobs market seems to be be somewhat schizophrenic in 2016, and it's unclear what that means when it comes to the state of the economy, how the Federal Reserve will act going forward, and what it all means for the 2016 election. We opened the year with a rather mediocre report for January that broke a pattern of seemingly decent jobs growth at the end of 2015. That was followed by a much better report for February and March that suggested that January was largely an anomaly. April and May, however, came along and it seemed as though the bottom had fallen out of the labor market for some reason thanks to two of the more disappointing reports of the entire economic recovery. Most recently, June and July returned to the previous trend of positive news with solid jobs reports for both months. Leading up to today's release of the August Jobs Report, the question among analysts, the Federal Reserve, political observers, and others was whether we'd get a third month of positive news or return to something less ideal. As if on cue, we ended up with what can only be called a disappointing report that suggests the economy is not nearly as robust as some boosters would like it to be:
Total nonfarm payroll employment increased by 151,000 in August, and the unemployment rate remained at 4.9 percent, the U.S. Bureau of Labor Statistics reported today. Employment continued to trend up in several service-providing industries

The number of unemployed persons was essentially unchanged at 7.8 million in August, and the unemployment rate was 4.9 percent for the third month in a row. Both measures have  shown little movement over the year, on net. (See table A-1.)

Among the major worker groups, the unemployment rates for adult men (4.5 percent), adult women (4.5 percent),teenagers (15.7 percent), Whites (4.4 percent), Blacks (8.1 percent), Asians (4.2percent), and Hispanics (5.6 percent) showed little change in August. (See tables A-1, A-2, and A-3.)

The number of long-term unemployed (those jobless for 27 weeks or more) was essentially unchanged at 2.0 million in August. These individuals accounted for 26.1 percent of the unemployed. (See table A-12.)

Both the labor force participation rate, at 62.8 percent, and the employment-population  ratio, at 59.7 percent, were unchanged in August. (See table A-1.)

(…)

Total nonfarm payroll employment rose by 151,000 in August, compared with an average monthly gain of 204,000 over the prior 12 months. Employment continued to trend up in several service-providing industries. (See table B-1.)

Employment in food services and drinking places continued to trend up over the month (+34,000). Over the year, the industry has added 312,000 jobs.

Social assistance added 22,000 jobs over the month, with most of the growth in individual and family services (+17,000).

In August, employment in professional and technical services edged up (+20,000), about in line with its average monthly gain over the prior 12 months (+24,000).

Financial activities employment continued on an upward trend in August (+15,000), with a gain in securities, commodity contracts, and investments (+6,000). Over the year, financial activities has added 167,000 jobs.

Health care employment continued to trend up in August (+14,000), but at a slower pace than the average monthly gain over the prior 12 months (+39,000). In August, hospitals added 11,000 jobs, and employment in ambulatory health care services trended up (+13,000). A job loss in nursing and residential care facilities (-9,000) offset a gain in July.

Employment in mining continued to trend down in August (-4,000). Since reaching a peak in September 2014, employment in mining has declined by 223,000, with losses concentrated in support activities for mining.

Employment in several other industries–including construction, manufacturing, wholesale trade, retail trade, transportation and warehousing, temporary help services, and government–changed little over the month.
The Bureau of Labor Statistics also reported that job growth in June was revised downward from +292,000 to +271,000 and that the numbers for July were revised upward from +255,000 to +27 5,000, for a net downward revision of -1,000. With these revisions and including the reported figures from August, job growth over the past three months has averaged +232,000 jobs per month, which represents an improvement over the previous three months. For the year as a whole some 1,452,000 jobs have been created since the start of the year, which averages out to 181,500 new jobs created since the start of the year, a respectable number I suppose but hardly one that is indicative of a strong, robust economy. A deeper dive into the report shows  no significant changes in the long-term unemployment or labor force participation rates, and once again the top-line unemployment figure remained unchanged, which suggests that there is still more supply than demand when it comes to the jobs market at this point. At the same time the report showed another round of small upticks in average hourly wages and hours worked, but neither change is very large, which suggests that there isn't much pressure on employers to raise wages for existing employees. All in all, this was a rather mediocre report that once again leads to real questions about where the economy is headed. The slower economic growth indicated by the Gross Domestic Product report would suggest that we're likely stuck in this pattern for the time being, though.
As The New York Times notes, this report is yet another piece of evidence suggesting the Federal Reserve is likely to hold back on a rate increase:
Capping two consecutive months of hearty jobs gains, hiring eased in August, with the government reporting on Friday that employers expanded their payrolls by 151,000 workers. The temperate performance is expected to bolster those within the Federal Reserve who favor a wait-and-see approach toward raising the benchmark interest rate when the central bank meets later this month.

The official unemployment rate, based on a separate survey of households, remained at 4.9 percent. Average hourly earnings grew only 0.1 percent, bringing the 12-month increase in wages to 2.4 percent, modest though still ahead of inflation. Revisions to the job gains previously reported for June and July found 1,000 fewer positions. Over the last three months, job gains have averaged 232,000 a month, with 271,000 in June and 275,000 in July.

This report reflects only a single month of the labor market's performance, but it offers the last major piece of economic news before the central bank's scheduled gathering on Sept. 20 and 21.

The state of the job market and the overall economy are also likely to be a flash point when Hillary Clinton and Donald J. Trump meet in the first presidential debate a few days later.

How to handle a recovery that has delivered what Ken Esch, a partner at PricewaterhouseCoopers, an accounting and consulting network also known as PwC, labeled "steady, not spectacular growth" is a key issue between the two candidates.

Since the financial crisis, Fed policy makers have raised the interest rate range just once, last December, from its near-zero level. Betting that low rates encourage businesses to borrow and invest, Fed policy makers are now split between those who worry that reducing the economic stimulus by lifting rates would derail a fragile economy and those who fear that waiting could allow inflation to take hold.

The jobless rate has been halved in the last seven years and consumer spending remains strong, but wages have only recently begun a slow climb. In 2016, monthly job gains flip-flopped, plummeting to 24,000 in May and swelling to more than 10 times that number in June.

Average monthly totals so far this year have fallen below the rate in the previous two years. But economists say that it is natural for the jobs machine to slow as the unemployment rate shrinks. Other note that the number of new entrants into the labor force is also slowing.

Still, record numbers of workers remain out of the labor market altogether, widening the gap between the haves and the have-nots and depressing wage growth.

"A lot of people are still on the bench that could come into the labor market," Mr. Esch said before the jobs report was released on Friday. "Until more people are participating, I don't see the inflationary pressures, and our data says we don't expect to see much over the next 12 months."

A recent PwC survey of private companies found fewer than half of respondents planned to increase their head counts in the coming year, a decrease from the first quarter of 2016. Mr. Esch pointed out that "companies expect to increase wages less than 3 percent."
Given reports like this and the recent GDP report, it seems unlikely that the Federal Reserve will raise rates at its upcoming meeting and, as I've noted before, historical precedent suggests that they are unlikely to raise rates prior to the election absent absolute necessity, which is not manifesting itself in either the economic data or the inflation reports. Instead, we're likely looking at another possible modest increase in December like we got last year, but given the fact that this increase doesn't appear to have had much of an impact at all it's possible that the board will demur for a longer period of time. On the political side, a weak report like this is likely to play into Republican arguments that economic growth is not nearly as strong as it needs to be. As I have noted before, though, the Trump campaign has had the strange habit of failing to take note of any of the economic data that is being released even when it is arguably something that would be in support of the arguments they're making, which is just another sign of how badly run that campaign actually is at this point. In any case, this report reinforces the argument that the current recovery continues to be weak, and may be getting weaker. Whether that means we're in danger of tipping over into recession in the near future is another question, but it's certainly something worth worrying about at this point.