Bad News For Hillary Clinton, Or Much Ado About Nothing In New Battleground Polls?
Polling in three battleground states shows Hillary Clinton slightly trailing three top Republicans, but it means far less than you might think.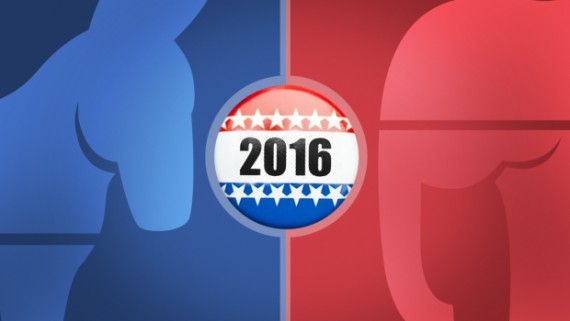 A group of new polls from Quinnipiac shows Hillary Clinton trailing several top Republicans in states that are likely to be key battlegrounds in 2016, but it's not at all clear that this actually means anything:
Hillary Clinton is in trouble in three key swing states, according to new Quinnipiac University polls released Wednesday.

In Colorado, Iowa and Virginia, the former secretary of state trails in hypothetical general-election matchups with three leading Republican candidates: former Florida Gov. Jeb Bush, Florida Sen. Marco Rubio and Wisconsin Gov. Scott Walker.

Clinton trails Rubio in Colorado, 38 percent to 46 percent; in Iowa, 36 percent to 44 percent; and in Virginia, 41 percent to 43 percent.

Matched up with Bush, Clinton trails 36 percent to 41 percent in Colorado; 36 percent to 42 percent in Iowa; and 39 percent to 42 percent in Virginia.

Clinton is also behind Walker in Colorado, 38 percent to 47 percent; in Iowa, 37 percent to 45 percent; and in Virginia, 40 percent to 43 percent.

The polls — which show Clinton trailing despite national surveys that give her an early lead over GOP hopefuls — found Sen. Bernie Sanders (I-Vt.) and Vice President Joe Biden similarly behind the three Republican candidates in hypothetical matchups.

Voters in all three states gave Clinton low marks for honesty and trustworthiness, with 62 percent of Colorado voters saying she is not honest or trustworthy, compared to only 34 percent who think she is. In Iowa (59 percent to 33 percent) and Virginia (55 percent to 39 percent), Clinton earned similarly low numbers.
On some level, I suppose, these polls should be a message for Republicans as the battle for the GOP nomination continues. As we stand right now, the strongest candidates against Hillary Clinton are Jeb Bush, Scott Walker, and Marco Rubio. This has been true for awhile now, of course, but these numbers would seem to cement that fact. Given that, if Republicans actually want to win in November, then perhaps they ought to concentrate on these candidates rather than on the bloviating populism of Donald Trump or the ideological rigidity of Ted Cruz, Mike Huckabee, and Rick Santorum.
As for the match-ups with Hillary Clinton themselves, though, these polls tells far less than they appear to.
Since there hasn't been any head-to-head polling in any of these states since April, it's hard to tell if these numbers from Quinnipiac are an outlier or a reflection of an ongoing trend. In each case, the previous polling had shown Clinton with a lead over each of the named Republicans by roughly five percentage points or more, which is consistent with the leads that we've seen in head-t0-head polling in other likely battleground states such as Ohio, Nevada, and Florida. Additionally, it's worth noting that Clinton continues to lead all of her Republican challengers on a national level, and has been recorded as leading most of them in state polls by other pollsters. It's possible, then, that we're looking at something of an outlier here influenced largely by the current news cycle and the fact that most Americans aren't really paying attention to the Presidential race at this point.
When looking at these poll numbers, it's worth paying attention to the calendar. We are, as of now, just about fifteen months and two weeks away from the General Election. At roughly this same time four years ago, several prospective Republican nominees were polling precariously close to President Obama, and of course he ended up beating Mitt Romney easily. In September 2011, a poll showed President Obama in trouble in Virginia, a state he ended up winning easily. An October 2011 poll found Obama losing to a "Generic Republican" and tied with candidates such as Rick Perry and Mitt Romney. Even as a late as February 2012, the President's job approval was negative in 40 out of the 50 states in the Union and he was behind every Republican except Newt Gingrich in Iowa. Going further back that 2012, we can find plenty of examples of early poll numbers that turned out to be entirely different from the ultimately result of the election:
In August 1999, Texas Gov. George W. Bush led Vice President Al Gore by 55% to 41% in a Gallup trial heat poll. That race ended up in a virtual dead heat, with Gore ultimately winning slightly more of the national popular vote than Bush.
In August 1995, Kansas Sen. Bob Dole was slightly ahead of President Bill Clinton in a Gallup poll, 48% to 46%. On Election Day 1996, Clinton beat Dole by eight points.
In August 1983, President Ronald Reagan was ahead of Democrat Walter Mondale by only one point, 44% to 43%. Reagan went on to beat Mondale in a 59% to 41% landslide in the November 1984 election.
In August 1979, incumbent President Jimmy Carter was tied with former California Gov. Reagan — each getting 45% of the vote. Reagan ultimately defeated Carter by 10 points.
These Quinnipiac polls could go down in history as being as inaccurate as those listed above, at the very least one can say that head-to-head polling this far away from a General Election is essentially useless and tells us very little about how the 2016 election will turn out. In some sense, I suppose, they suggest that the election will be a closely fought one whose outcome will be decided in roughly a half dozen or so battleground states. We already knew this, though, since this is essentially how every Presidential election since 2000 has gone, and it's likely how they will continue to be decided absent some significant political realignment that results in a Reagan-style landslide for one party or another. As we sit here today, that doesn't seem likely for either party