Battle for the Suburbs
There is a lot of anger out there.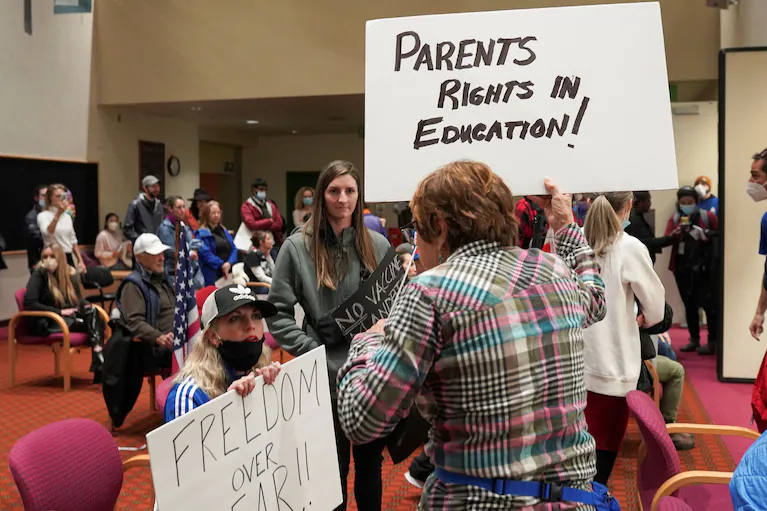 The above photo accompanies Dave Weigel's excellent WaPo report "Not just Virginia: From county to county, an off-year battle for the suburbs." Here's the opener:
In the Philadelphia suburbs, a Democrat running for sheriff is promising to "fund the police." In Long Island, Republican ads link a Democrat's support for cash bail policy changes to a gruesome murder. And in rural Colorado, MyPillow founder Mike Lindell appeared via Zoom to oppose a mandatory masking policy — moments before a member of a school board supporting it resigned.

"There's more science than you guys even know of!" Lindell said, joining a local conservative activist who'd campaigned against the new policy. He added, falsely: "The masks are related to suicide and addiction. They're directly related."

Next week's elections in Virginia have grabbed the national spotlight, but the same issues roiling those races — crime, the coronavirus and school curriculums — are shaping local elections across the country. Democrats who made deep inroads into once-Republican suburbs and cities are trying to hold their seats. Republicans are trying to win back voters, and find new ones, with messaging that fits a race for school board just as easily as it can fit into a 2022 campaign for Congress.

"This new coalition of 'school board moms and dads' is leading a political awakening against Democrat policies and leftist overreach that has gone way too far," said former Ohio GOP chair Jane Timken, a candidate for U.S. Senate, explaining why she donated to dozens of Republican-backed school board candidates. "I believe the 'red wave' we'll see in 2022 starts with a flood of freedom-minded school board candidates winning on Tuesday."

In much of the country, Republicans are starting from behind. Democrats won a string of victories in Trump-era off-year elections, starting four years ago. They swept the GOP out of power in places like Chester County, Pa., outside of Philadelphia, and Westchester County, N.Y., a onetime Republican stronghold that produced politicians like Fox News host Jeanine Pirro. They captured city hall in Albuquerque, after eight years of Republican control, and broke a Republican grip on Manchester, N.H.

Those trends kept up through 2020, pointing to the narrow suburb-focused majorities that would give Democrats control of Congress and the White House. Conservatives kicked off the 2021 cycle with a focus on school board elections, which Republicans now universally see as a way of defeating left-wing ideas at the local level and keeping activists motivated to knock on doors and vote. The party has become fixated on those races, as shown by everything from Lindell calling into a hyperlocal meeting in Colorado to a Senate hearing this week at which Republicans asked whether the Department of Justice viewed parents as "domestic terrorists."
The photo encapsulates the weirdness of it all. In a room where few are wearing masks, one woman is defiantly wearing hers wrong while holding up a FREEDOM OVER FEAR sign. Meanwhile, an old woman in a hideous shirt is holding up a PARENTS RIGHTS IN EDUCATION!! sign at what one presumes is a meeting of a democratically-elected school board while demonstrating that she lacks command of elementary punctuation.
Silliness aside, though, there does seem to be a pent-up rage against school boards, in particular. While some of it is the conservative outrage machine and its hyperventilating over Critical Race Theory, I think most of it is in response to the over-cautious response to COVID that robbed kids of nearly two years of schooling while forcing parents to find ways to accommodate new demands. And the same outrage machine has made mandatory vaccination of children against this one particular disease key terrain in the culture wars, despite widespread acceptance of the requirement to get a dozen or so other vaccinations to attend school. The requirement for fully-vaccinated kids to wear masks all day is a bit absurd but the sheer outrage over it is rather bizarre.