Call him the MiAutogolpe Guy
Mike Lindell's behavior is both farcical and dangerous.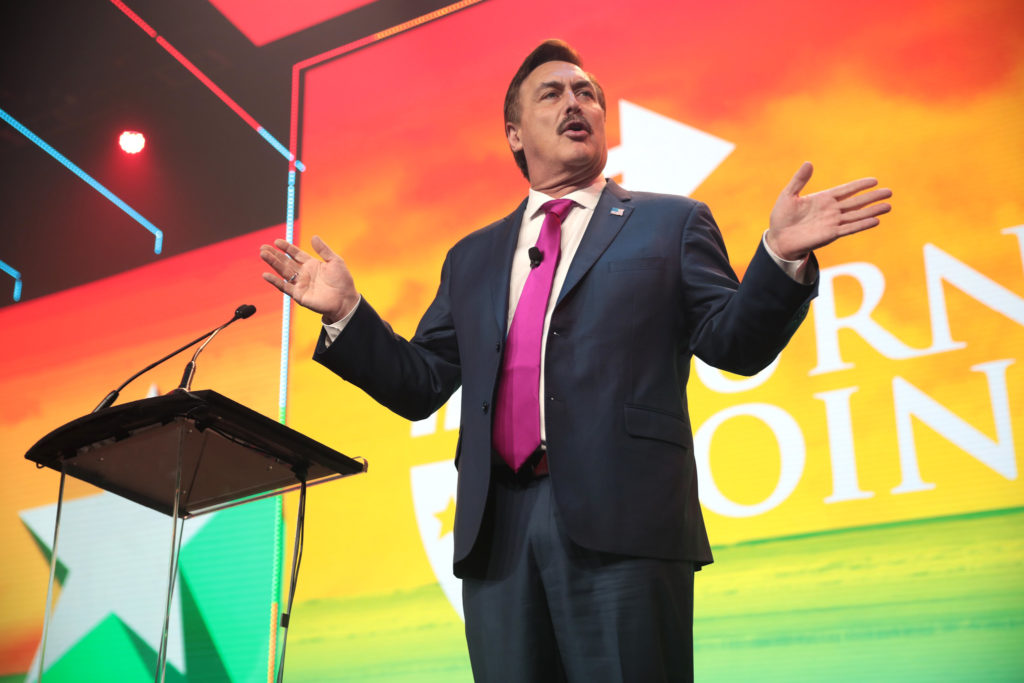 Look, it is hard to read the sentence "President Trump, isolated and watching the clock count down on his time in the White House, spent a few minutes of it on Friday with the C.E.O. of MyPillow, Mike Lindell, who brought some notes with him" (source) and not find it to be some level of amusing.
Likewise, this headline does not strike one as serious, but rather as surreal (via WaPo): A pillow salesman apparently has some ideas about declaring martial law.
But here's the bottom line: a CEO of an American company, who has cultivated a following in right-wing media via both his commercials and as a frequent TV guest/commentator showed up at the White House with a plan for the president to engage in an autogolpe (a self-coup) to stay in power by reshuffling key offices (such as CIA Director) and by instituting martial law.
Note that Lindell helped finance the March for Trump bus tour (via Reuters):
Another important player and financier of the post-election protest movement was Mike Lindell, founder and CEO of the My Pillow company, whose advertisements and political commentary are a fixture on conservative media. Lindell – a self-described former cocaine addict and alcoholic who says he found sobriety through Christianity – helped sponsor a two-week March for Trump bus tour that ended in Washington on Dec. 14 and spoke at five stops.

My Pillow is a major advertiser and sponsor of the Right Side Broadcasting Network, a conservative media group that went along on the tour to provide daily coverage.

Lindell said his financial backing of the bus tour ended in mid-December. He emphasized to Reuters that he did not help finance subsequent trips to promote the Jan. 6 rally that would devolve into riots. He said he did, however, attend the rally before the march to the Capitol that day, and he spoke the day before during rallies at Freedom Plaza, near the White House.
And here is Lindell trying to downplay the capitol insurrection:
The video is a super weird combination of downplaying the actions of the crowd while at the same time calling it a "battle." The Antifa lie is just galling and his assertions of "God's hand" being at work ranges from insulting (that God would be on the side of lies and violence) to just plain kooky (I can't conjure an appropriately academic-sounding word, TBH).
His promise that Trump will "100% be president" is delusional.
But, hey, his nieces and some Minnesotans were down there, so I guess that forgives breaking into the building, disrupting a constitutional process, causing the Vice President to have to flee for his life, and the death of a police officer (but I digress).
Now, the good news is, as per the NYT report on the meeting, is as follows:
White House officials said nothing came of the roughly five-to-ten-minute meeting between Mr. Lindell and Mr. Trump, which Mr. Lindell said came after he'd been asking to get on the president's calendar for days.
That Lindell's meeting with Trump was quite short and that he had been having trouble getting on the calendar are both good things. That Lindell has been helping to bankroll lies and that he was able to get into the White House at all are both very bad things.
Setting aside the MyPillowness of it all, the nation is in a bad place where a person holding these ideas and suggestions a) spends substantial amounts of money on promoting those ideas, b) has an ongoing platform to spout those ideas on national television, and c) had any ability whatsoever to see the President of the United States.
---
On the comedic/absurdist side of all of this is stuff like this: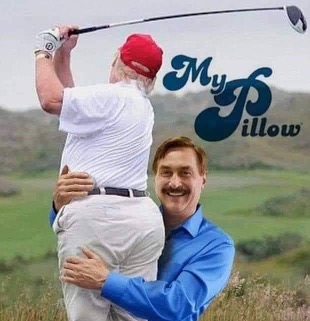 Although my favorite is political scientist Larry Sabato's self-deprecating humor concerning his resemblance to Lindell.