Ben Carson Loses Top Campaign Advisers In Shakeup
Further signs that Ben Carson's Presidential campaign, which has been in a death spiral in the polls for some time now, is in real trouble,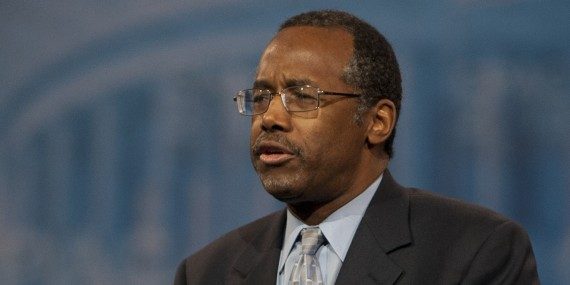 Ben Carson's campaign troubles continued on the last day of 2015 as two of his top campaign advisers abruptly resigned, raising questions about just how much longer the retired neurosurgeon's campaign can continue:
Ben Carson's campaign manager and top communications aide resigned on Thursday, throwing the retired neurosurgeon's presidential run into chaos, with conflicting reports emerging about who will take over the struggling operation.

Campaign manager Barry Bennett and communications director Doug Watts both resigned, effective immediately, after weeks of speculation about a shakeup. Carson last week indicated such a move, saying that "everything" was "on the table" as far as changes with his campaign, though he later walked that back and said, "I think the people that I have are spectacular.

Armstrong Williams, a close Carson confidant, told POLITICO he expects Bennett's replacement to be General Robert Dees, a top foreign policy adviser.

"General Dees is going to run the organization," Williams said, rejecting reports that veteran political adviser Ed Brookover would be taking over. "Brookover's a good guy. Very responsive, people like him … You have no idea what General Dees is going to ask of Brookover or anybody else."

Williams said Dees would bring more than foreign policy heft to Carson's campaign leadership. "This guy has managed many operations around the world. He's managed people. He knows how to lead," he said

Williams also suggested that Mike Murray, a consultant handling much of Carson's direct mail operation, would become more involved in the campaign's financial side. And he said Carson is ready for a fresh start. "Dr. Carson is a new man. He's at peace today," Williams said. "He's very comfortable … He understands people move on. He has a mission, and that mission is going to go into high gear."

Though the campaign revealed on Wednesday that it had raised $23 million in the quarter that ended Thursday — likely setting the pace among Republican candidates — the operation had been beset by staff-level dysfunction and exorbitant spending on small-donor fundraising efforts. The announcement also comes as Carson has struggled to halt a dramatic slide in his poll numbers amid doubts about his grasp of foreign policy issues after the Paris terrorist attacks and the accuracy of his personal narrative.

"Barry Bennett and I have resigned from the Carson campaign effective immediately," Watts said in a statement. "We respect the candidate and we have enjoyed helping him go from far back in the field to top tier status." Bennett, a veteran campaign operative with long connections to Ohio Sen. Rob Portman, did not immediately respond to requests for comment.
It was just a week ago, of course, that Carson hinted at major changes to his campaign in an interview with The Washington Post only to seemingly walk back those comments in subsequent comments. Carson's campaign has been relatively silent since then, other than the press release reporting that the campaign's next round of reports to the Federal Election Commission reports would show that the campaign had raised more than $23 million in the final quarter of 2015, although it's unknown how much actual cash on hand Carson actually has. This last point is an important question because, in the past, Carson has raised a significant amount of his donations via direct mail campaigns, which are among the most costly way for a political campaign to raise money. In the end, that $23 million haul could result in Carson having significantly less cash on hand than candidates who raised less money than he did, and as we head into the first round of primaries it's cash on hand that's going to matter the most. This was was one of the reasons why as The Wall Street Journal noted earlier this month, that Carson's campaign was burning through cash at an extraordinary rate.
In any case, these resignations are being spun by the campaign as restructuring but, as I noted last week, this just another sign of trouble that the Carson campaign has been experiencing since the beginning of November. From revelations that demonstrated a rather odd relationship with the truth, especially with regard to the personal biography on which he has built his campaign, to a demonstration that he seemingly lacks basic knowledge about public policy issues and that he has really hasn't demonstrated any coherent understanding of foreign policy, the scrutiny that Carson received as he rose in the polls demonstrated that he was seriously lacking as a candidate. As a result, he's seen himself dive in the polls from a position where he was in a strong second place behind Donald Trump nationally, and even briefly leading him in Iowa, to the point where he is now in fourth place and falling in the national polls, as well as in state polling in Iowa, New Hampshire, and South Carolina. Given all of that, any effort by the Carson campaign to spin this as anything other than another sign that his campaign is in a death spiral is really nothing more than campaign propaganda. As it stands, Carson seems unlikely to finish in the top four in any of the early primaries and, if that happens, it won't matter how much money he raises.