Beto O'Rourke Once Again Rules Out Running For Senate
Beto O'Rourke is once again rejecting the idea of running for Senate instead of President.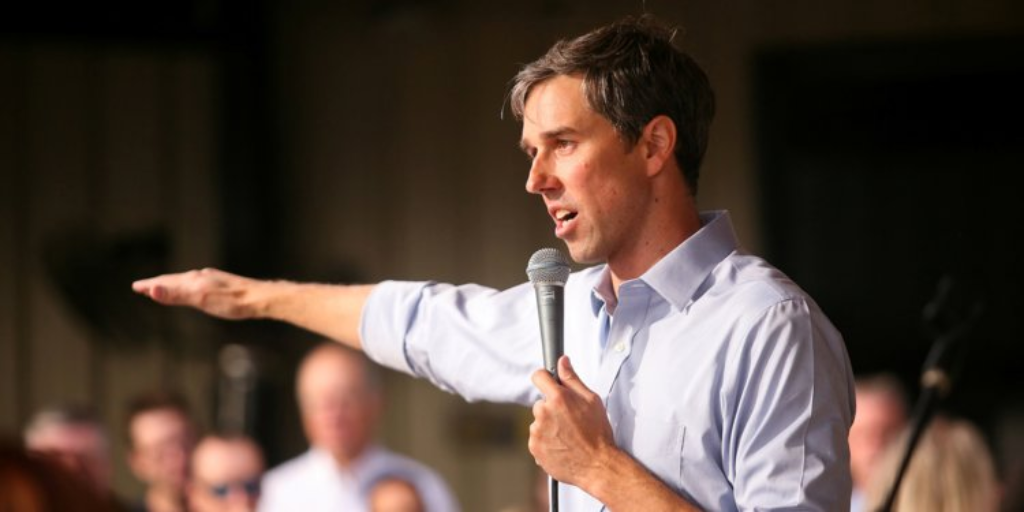 Just hours after former Colorado Governor John Hickenlooper left the race for the Democratic Presidential nomination with the idea that he may enter the race to challenge Cory Gardner for Senator from Colorado, former Congressman Beto O'Rourke is rejecting the idea of doing the same:
Beto O'Rourke has to keep finding new ways to tell people he isn't running for Senate.

On Thursday night it was MSNBC and The Last Word with Lawrence O'Donnell

"You know the question's going to keep coming up," O'Donnell told the former Texas congressman, "this question of what about dropping out of this presidential race and taking up the race for the Senate."

O'Rourke has never expressed any interest in running for Senate this year, after his near-miss loss to Ted Cruz in 2018. And it was only hours earlier, in a speech in his home town of El Paso, Texas, that O'Rourke rejected the suggestion, saying, "That would not be good enough for this community. That would not be good enough for El Paso. That would not be good enough for this country."

But politicians are not immune to changing their minds. O'Rourke himself had said last year that he would not run for president, after all. And such are the calls from some Democrats — and, over the weekend, the Houston Chronicle's editorial board — for O'Rourke to switch contests that he keeps getting the question.
For several months after the 2018 election, Democrats inside and outside Texas were publicly and privately urging O'Rourke to consider a second bid for the Senate against John Cornyn, the 3rd term Senator up for re-election in 2020. By and large, of course, this was due to the fact that O'Rourke had given Ted Cruz a hard-fought race that ended with the former Congressman finishing within 2.5 percentage points of the Senator on Election Day, the best that any Democrat had done in a statewide race in Texas since Ann Richards won the race for Governor in 1990. Even before he entered the race for the Democratic nomination in March, though, O'Rourke made clear that he was not interested in running for Senate again and he has resisted similar calls even as his Presidential campaign has fallen flat in recent months and as his performance in both the June and July Presidential debates has been largely panned.
Given his position in the polls and the fact that he has been fading while candidates such as Elizabeth Warren, Kamala Harris, and Pete Buttigieg have managed to shine, it's hard to believe that this latest reboot is going to be any more successful than the strategy O'Rourke has been following to date. As things stand and based on the overall trend, he's more likely to continue sinking into irrelevance along with Cory Booker than he is to turn things around. Theoretically at least, he could manage to stick around until at least the early contests in Iowa and New Hampshire but he's unlikely to do well enough in either race to justify continuing his campaign. At that point, of course, it would be too late for him to enter the Senate race since candidates will have to have entered the race by December 9th of this year to qualify for the ballot.
In all honesty, I can understand O'Rourke's reluctance to repeat a Senate run against Cornyn next year regardless of whether or not he's still in the race for the Presidential nomination. He ended up losing the race against Ted Cruz in 2018 notwithstanding the fact that Cruz was far less popular than other statewide elected officials in the Lone Star State. A race against Cornyn would be a far different thing, especially in a Presidential election year. President Trump won Texas by roughly 800,000 votes in 2016 and, despite the predictions of the state turning blue someday, it seems clear that he'll win the state again in 2020. As a result, it would be much harder for O'Rourke to pull off the kind of campaign he did in 2018 in a year when Republicans and Republican-leaning voters in Texas will be dominating at the polls. That energy will benefit Cornyn in his own re-election bid and will make it harder to win. From O'Rourke's perspective losing two statewide races in a row would likely be the end of his political career whereas continuing to fight for the nomination could lead to consideration as a running mate or a Cabinet position should Democrats re-take the White House. From that perspective, there's no benefit to him in running for the Senate again.