Beyonce's Inaugural National Anthem Lip-Synced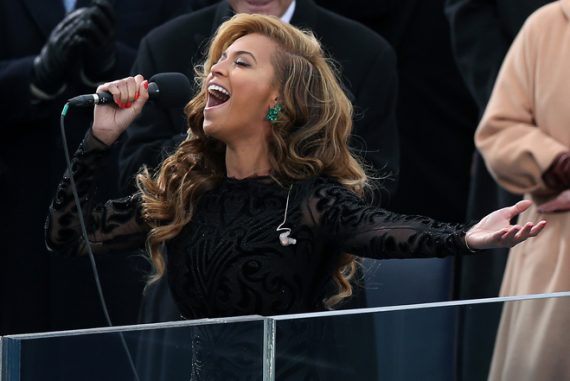 The biggest story in Washington today has nothing to do with the National Debt, immigration, gun control, or world politics. No, the biggest story today was all about the fact that Beyonce faked the National Anthem at yesterday's ceremonial Inauguration:
Obama's got his teleprompter, and Beyoncé may have had her tape recorder.

The diva lip-synced "The Star-Spangled Banner" during Monday's inaugural ceremony for President Barack Obama, CNN reported after confirming a Times of London report, which attributed a spokeswoman for the Marine Corp Band as its source.

(…)

In a statement to POLITICO, a spokesperson for the Marine Band (which accompanied the singer) wrote: "The Presidential Inaugural Committee (PIC) requested that the Marine Band accompany Beyonce Knowles-Carter in the performance of the Star-Spangled Banner at the 2013 Inaugural Ceremony. However, there was no opportunity for Ms. Knowles-Carter to rehearse with the Marine Band before the Inauguration so it was determined that a live performance by the band was ill-advised for such a high-profile event."

The statement continued: "Each piece of music scheduled for performance in the Inauguration is pre-recorded for use in case of freezing temperatures, equipment failure, or extenuating circumstances. Regarding Ms. Knowles-Carter's vocal performance, no one in the Marine Band is in a position to assess whether it was live or pre-recorded."

It doesn't appear the Grammy Award-winning singer was trying to hide it. She posted photos to her Instagram account before the performance of her in a recording studio holding sheet music for the song, as The Washingtonian noted.
Not the biggest story in the world, of course. Especially considering the fact that yesterday's pomp and circumstance was completely irrelevant legally. Per the Constitution, President Obama was sworn into office for his second term on Sunday just before Noon in a private ceremony, covered by the media, by Chief Justice Roberts. So, phony Inauguration, phony National Anthem. Seems appropriate somehow.