Biden Declares Armenian Genocide a Genocide
The President has overturned decades of US foreign policy and alienated a NATO ally for, well, reasons.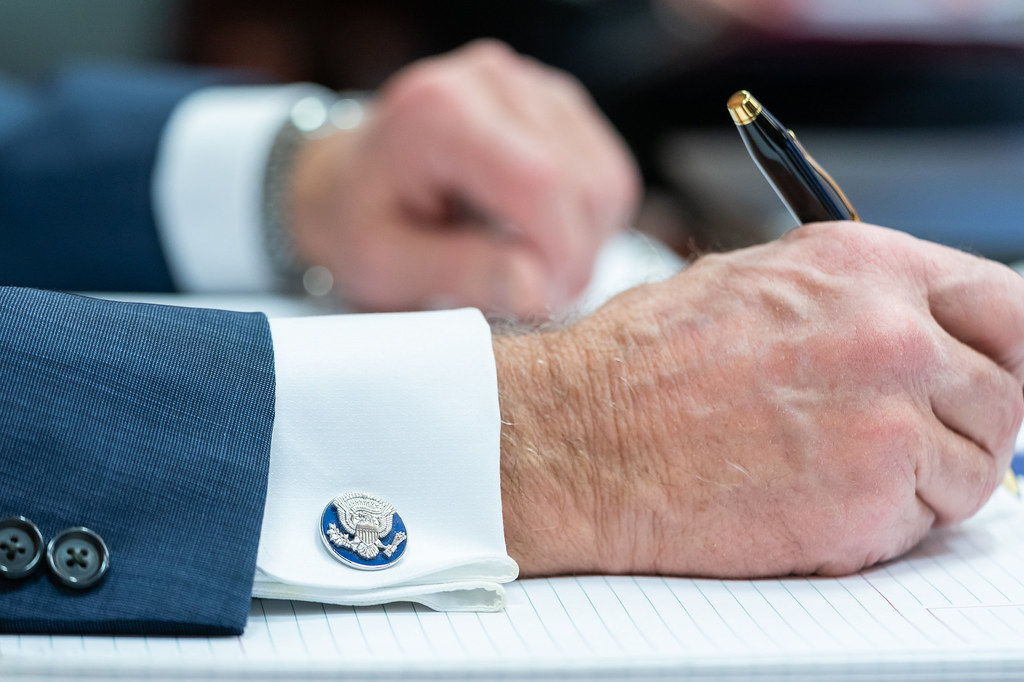 Yesterday, more than a century after the fact, President Biden issued a statement declaring the Armenian Genocide by the Ottoman Empire during World War I a genocide. It reads, in full:
Each year on this day, we remember the lives of all those who died in the Ottoman-era Armenian genocide and recommit ourselves to preventing such an atrocity from ever again occurring. Beginning on April 24, 1915, with the arrest of Armenian intellectuals and community leaders in Constantinople by Ottoman authorities, one and a half million Armenians were deported, massacred, or marched to their deaths in a campaign of extermination. We honor the victims of the Meds Yeghern so that the horrors of what happened are never lost to history. And we remember so that we remain ever-vigilant against the corrosive influence of hate in all its forms.

Of those who survived, most were forced to find new homes and new lives around the world, including in the United States. With strength and resilience, the Armenian people survived and rebuilt their community. Over the decades Armenian immigrants have enriched the United States in countless ways, but they have never forgotten the tragic history that brought so many of their ancestors to our shores. We honor their story. We see that pain. We affirm the history. We do this not to cast blame but to ensure that what happened is never repeated.

Today, as we mourn what was lost, let us also turn our eyes to the future—toward the world that we wish to build for our children. A world unstained by the daily evils of bigotry and intolerance, where human rights are respected, and where all people are able to pursue their lives in dignity and security. Let us renew our shared resolve to prevent future atrocities from occurring anywhere in the world. And let us pursue healing and reconciliation for all the people of the world.

The American people honor all those Armenians who perished in the genocide that began 106 years ago today.
As long-ago OTB front pager Robert Garcia Targorda reminded us in 2005, President Ronald Reagan issued a proclamation soon after taking office in 1981 designating April 26 through May 3 as an annual Day of Remembrance and called it what it was:
Like the genocide of the Armenians before it, and the genocide of the Cambodians which followed it and like too many other such persecutions of too many other peoples the lessons of the Holocaust must never be forgotten.
Subsequently, however, because of strong objections from our NATO ally Turkey, for whom this is understandably a sore subject, we have been Remembering the genocide without explicitly calling it one. As Doug Mataconis reminded us annually for a time, candidate Barack Obama promised to revert to calling the genocide a genocide if elected but, alas, was talked out of it. As Doug observed when Pope Francis called out the genocide in 2015, "it's good to see someone actually speaking the truth about this matter. Now, if only there were American leaders willing to do the same thing"
While I haven't written about it with much frequency, I disagree. While calling a spade a spade is my preferred policy on just about all matters, this is a case of needlessly poking a finger in the eye of an important government to appease a minor domestic constituency. I, therefore, lean toward the post-1981 practice and believe Biden has made an unforced error. As I wrote for New Atlanticist back in 2010 when Congress passed one of its near-annual proclamations on the matter:
It's difficult to gauge who's being sillier here: The Turks for being unable to admit that which has been obvious to everyone else for decades or the U.S. Congress for banging this drum every year over an incident that transpired nearly a century ago and that has zero bearing on the United States except that bringing it up alienates an important ally. If forced to choose, I'd take the latter.  While domestic politics plays an important role in explaining the idiocy in both Ankara and Washington, it's decidedly more pressing there than here.

Steve Clemons, director of the American Strategy Program at New America Foundation, is exactly right when he calls the vote a "triumph of diaspora politics over serious foreign policy."

[…]

While one would prefer politicians to keep their campaign promises, one has to make exception for damned fool promises.   It's doubtless a shame that, as [Alex] Massie laments, "Just about the only time that wee country gets a mention in Washington is when the perennial Recognize-the-Genocide issue comes up."  But it seems to me that it would be far more profitable for both the Armenians and Americans alike to focus our energies on solving problems of the current millennium.
In the intervening 11 years, we've moved well past the century mark of the controversy, making the fight even more meaningless. On the other hand, angering Ankara is less of a concern now than it was then, as the Erdogan regime has become increasingly dictatorial and Islamist—and an ally in name only.
At Vox, Cameron Peters explains "Why Biden's statement recognizing the Armenian genocide is a big deal."
President Joe Biden became the first US president to formally refer to atrocities committed against Armenians as a "genocide" on Saturday, 106 years after the 1915 start of an eight-year-long campaign of ethnic cleansing carried out by the Ottoman Empire that left between 1 and 1.5 million Armenians dead.

Previous presidents have refrained from using the word "genocide" in connection with the mass atrocities committed against the Armenian people in the early 20th century, and Turkey categorically denies that a genocide took place. So Biden's declaration marks a major break from precedent, and could signal an increase in tensions with Turkey, a longtime US and NATO ally.
Again, not strictly true: Reagan used the word in his 1981 proclamation. And, as Peters notes, President Trump stumbled in to doing so as well, although later declined to sign onto Congress' formal declaration.
The move is the fulfillment of a campaign promise for Biden, who pledged on April 24 last year to recognize the genocide if elected. It also comes on a symbolic date: April 24 is Armenian Genocide Remembrance Day, a holiday observed in Armenia and by members of the Armenian diaspora.

And it's emblematic of the Biden administration's desire to center human rights in its foreign policy agenda, even at the cost of worsening relations with Turkey.
I'm situational on the prioritizing of human rights over other policy interests but generally agree that it's the right thing to do. But this is an administration that refuses to call out the Saudis for their brutal murder of a journalist for an American paper. Grandstanding over something that happened over a century ago by an empire that ceased to exist soon afterward improves human rights not a single whit.
Biden spoke with Turkish President Recep Tayyip Erdogan on Friday ahead of the official US announcement. It was the first conversation between the two allied leaders since Biden took office more than three months ago, which some regional experts have taken as a sign of cooling relations between the countries.According to a readout of the call released by the White House, the leaders agreed to hold a bilateral meeting "on the margins of the NATO Summit in June." And according to news reports — but not the readout — Biden told Erdogan of his intentions to recognize the genocide.

Saturday's statement officially recognizing the genocide nonetheless elicited a harsh response from Turkey.

"We reject and denounce in the strongest terms the statement of the President of the US regarding the events of 1915 made under the pressure of radical Armenian circles and anti-Turkey groups on April 24," Turkey's foreign ministry said in a statement Saturday that called on Biden to "correct this grave mistake."

"This statement of the US … will never be accepted in the conscience of the Turkish people, and will open a deep wound that undermines our mutual friendship and trust," the foreign ministry said.
Now, I'm not sure how much further US-Turkish relations can deteriorate at this point. Which seems to be Biden's position as well.
As a candidate, Biden labeled Erdogan an "autocrat" in an interview with the New York Times, and last month his administration condemned "significant human rights issues" in modern-day Turkey, including the jailing and alleged torture of journalists, activists, and political dissidents.
While it's unclear exactly what the fallout from Saturday's announcement will look like, other factors have already chilled the US-Turkey relationship. In December of last year, for example, shortly before Biden took office, the US imposed sanctions on Turkey for purchasing Russian military hardware. In 2019, the US also removed Turkey from its joint F-35 stealth fighter program over the same purchase.

[…]

On Saturday, former US ambassador to the UN Samantha Power, who is also Biden's nominee to run the US Agency for International Development (USAID) and the author of the Pulitzer Prize-winning book "A Problem from Hell": America and the Age of Genocide, argued that the decision was an important step in pushing back on Erdogan's growing authoritarianism.

"Turkey is a powerful country in a critical region," Power wrote on Twitter. "It is part of NATO. Our relationship matters. But President Erdogan's success in blackmailing & bullying the US (and other countries) not to recognize the Armenian Genocide likely emboldened him as he grew more repressive."
I'll buy that it signaled to him that the United States valued the relationship enough that he thought he could get away with these things. But it's not at all clear what this proclamation gets us.
Former Ambassador Dan Fried, writing at POLITICO ("Inside America's Long Handwringing Over the Armenian Genocide") lays out his case. Basically, he argues, the existing policy wasn't working.
Why the long delay? Why did the U.S., champion of human rights, resist use of "the g-word" for so long? When I worked on this issue, my colleagues and I knew the facts of the killings. We did not deny that they were genocide. But we did not use genocide to describe them. We used terms like atrocities, mass killings, slaughter, and mass murder. Strong terms all, but not genocide.

There were two reasons why the U.S. took that position. One, long championed in the U.S. government, had to do with relations with Turkey, a staunch NATO ally during the Cold War and after. Turkey regarded any U.S. use of the word genocide as a redline in relations and made clear that using the term would trigger a harsh reaction. Given U.S. interests in relations with Turkey, particularly military and security relations, such Turkish warnings carried weight. Besides, the U.S. had for decades maintained its close alliance with Turkey despite that country's authoritarian bent, including a pattern of military rule. The U.S. didn't much like that but had learned to live with it. In that context, putting the bilateral relationship under stress for the sake of recognizing the Armenian Genocide, something some in the U.S. government regarded as a historical dispute, was simply not seen as worth it.

[…]

The U.S. government saw an opportunity for Turkey to make peace with its neighbors and at home emerging in the early years of the 21st century. And it wanted to give Turkey the opportunity to own its history, not to have to react to a U.S. government statement acknowledging the Armenian Genocide.

Starting in 2001, non-governmental Turks and Armenians joined in a reconciliation effort to try to deal with the past and build a better future. In 2002, the new AK Party swept to power in free elections and promised a deepened democracy and "zero problems with neighbors," as the Turkish saying then went. Soon, the Turkish Foreign Ministry opened a confidential channel to Armenia, with Swiss help and quiet U.S. support, to pave the way for reconciliation, diplomatic relations, an open border, and a commission of historians to examine the past, including "The Great Calamity," as the Armenian Genocide is often called in the Armenian language. By 2008, the Turks and Armenian negotiators had reached agreement on a text; by 2009, thanks to the able efforts of the Obama administration, they had signed it.

But in the end Turkey — by far the stronger country — could not bring itself to ratify the agreement or otherwise act to reconcile with Armenia. Even though Turkish President Erdogan himself acknowledged in 2014 that the Ottoman treatment of the Armenians was "inhumane," Turkey did not then or later open its border to Armenia.

[…]

The Biden administration, with its stress on democracy and human rights as fundamentals, knew the record: years of efforts to urge the Turkish government to reach out to Armenia and to deal honestly with the Ottoman historical legacy. They would not return to the realist school calculation of the past. And temporary forbearance to encourage Turkey to do the right thing had run its course. So, they decided — finally — to do the right thing.

There will be a price in U.S.-Turkish relations. Hopefully, that will be temporary and not too costly. The US-Turkish relationship remains important. But a line has been crossed. The U.S. will no longer have to engage in elaborate linguistic contortions to remain honest with history and truth while maintaining its immediate interests with Turkey and the region. The Biden team has made a tough, potentially costly, but correct decision.
There's a bizarre juvenilism in Turkey's refusal to fully acknowledge its past. But, frankly, I'm not sure that it much matters whether they move from "atrocity" to "genocide." Armenia is a country with a population roughly that of Mississippi and a GDP estimated as somewhere between that of Mauritius and the Bahamas. Assuaging their feelings over the events of the early 20th Century surely shouldn't be a priority of US foreign policy.