Biden v. Kavanaugh
And a broader discussion of the ongoing Tara Reade story.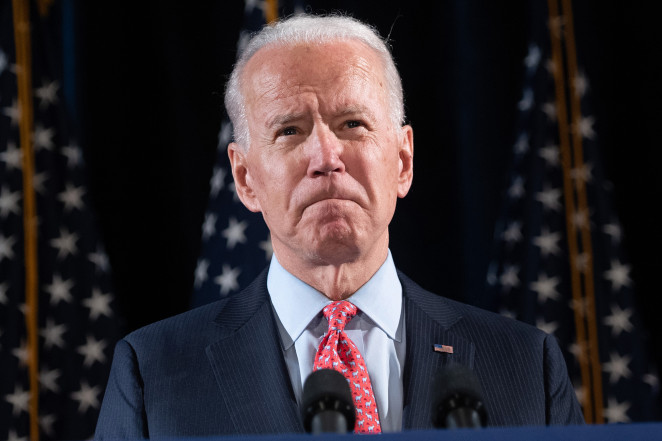 Let me start with an overarching statement. This story is steeped in partisanship, hypocrisy, and gender politics. It is fraught with pitfalls and complexities. All of those factors make it difficult to discuss dispassionately. Having said that, there are several threads to the Tara Reade story that I want to comment upon, so here we go.
Allow me, too, to provide a frame for my point-of-view. It is quite obvious to anyone who has read this site for any length of time that I believe the Trump presidency has been a disaster of historical proportions and that, therefore, I support whomever it is that runs against him in November. At a bare minimum, I want competence brought back to the executive branch.
Note, too, that I have not been a gung-ho supporter of Biden (indeed, I have not been enthusiastic about any of the Democratic choices). Biden was not my first choice and I had several reasons for preferring several other outcomes. In fact, one of those reasons (not the main one, but a reason) was that Biden's touchy-feely Creepy Joe routine was going to increase the chances of allegations of more serious impropriety.
At this point, I don't know what is true about Reade's allegation. I did note in my first post on this subject that allegations are serious, that investigation is warranted, and that Biden has to address the issue.
At this point, the allegations are being taken seriously and are being investigated. Biden has denied the claims in writing and in an interview on MSNBC.
At this point, the story continues and I expect further investigation will continue.
I will state that I do not know if Reade or Biden is telling the truth. Odds are that there will not be definitive proof one way or the other, as is the nature of these things. I certainly agree (as I did with Brett Kavanaugh) that there is certainly not enough here to convict in a court of law. I will freely admit that I prefer that Biden be the one telling the truth here (which I recognize makes me non-neutral). I will also state that I do not want a president in office who has committed sexual assault.
An obvious recent parallel here is to the Brett Kavanaugh nomination.
First, let me review my own position on Kavanaugh. My basic position was that the allegations were serious enough to warrant a more thorough investigation than the one we got and that barring that investigation his nomination should have been withdrawn and a replacement named. Ultimately I found his demeanor during the hearings to be disqualifying for the job he was seeking and that he should have returned to his life appointment on the Court of Appeals.
My two key posts on that topic are the following:
In regards to my preference for an investigation, I wrote on September 23, 2018 (the first link):
…I recognize the problem associated with denying Kavanaugh the seat solely on an allegation.  Hence, my preference would be for the FBI to take this new information and engage in a thorough investigation.  I don't think that press accounts about what Mark Judge or anyone else has said constitutes an investigation.  I just don't think that potential witnesses will behave the same in the context of the FBI than they have in informal press contacts.  An investigation, by definition, should be able to take disparate pieces of information and see if there are connections to determine if more is to be discovered.  Just having dueling testimony by Kavanaugh and Ford strike me as wholly inadequate.

[…]

The bottom line is:  either do an adequate investigation, however long that takes, or if the political clock is too unfavorable to the White House, withdraw and send up a new nomination.  This is not an unreasonable position given that we are talking here about 1/9th of one three major constitutional institutions that form our basic system of government.
(Emphasis in the original).
I would add that not only was he up for 1/9th on one branch of government but that his appointment was for life. Indeed, given his age that he was (and now is) likely to serve for over three decades in this position.
I also stated (in the second link):
I totally agree that there was insufficient evidence to criminally charge, let alone convict, Kavanaugh of anything. Further, I do not think there is anything that should lead to his removal from his previous job. The issue at hand, and a topic that was not really discussed sufficiently, was the solemn privilege of being one of nine Supreme Court Justices.
Really, that should have said, "removal from his current job" (a lifetime appointment to the second most important court in the land, the US Court of Appeals for the DC Circuit).
And my position for the withdrawal of his name was not based on the Ford allegations, but on his behavior in front of the Judiciary Committee (from the second link):
…I found his testimony about his drinking and treatment of women to be problematic.  I think that he dissembled, if not lied, because he did not want to create the possibility that he could have been too drunk at the party in question to remember it.  I, personally, find it unbelievable that he never drank to the point that he had memory gaps. I also think that he lied about a number of items in his yearbook because he did not want to look bad and risk his nomination.  That, to me, was lying for personal gain, and was, therefore, disqualifying. 
Putting Kavanaugh on the bench after that testimony helped deepen partisan divided and eroded confidence in the Court. And while defenders of Kavanaugh may point out that the Democrats are the ones who tainted Kavanaugh (although I would argue he tainted himself) the reality remains that had Kavanaugh's nomination been pulled another Federalist Society approved, young (in relative terms), staunch conservative would have replaced him. From the point of view of the long-term ramifications for Court politics, there would have been no difference. A short-term setback for the Trump administration and its allies would still have resulted a long-term win.
Turning to Biden, my position remains that investigations should go forward. At this point, that means the press as there is no role for something like an FBI investigation/law enforcement as was the case in the context of a court appointment.
Biden has spoken and I expect he will have to speak further. Certainly, whoever is picked as his running mate will have to speak on this. I found his responses in the interview linked above to be adequate for now. I think that the push to open his archive of personal papers is a fishing expedition. It is wholly appropriate to ask the National Archives to look for Reade's complaint (although an AP story today suggests that even if it is found, or even exists, it will not describe sexual harassment, let alone assault).
I reserve the right to change my mind on any of the above should new information come to light.
The politics of this situation are far trickier than with Kavanaugh. As noted, Trump was going to get the SCOTUS seat no matter what. Further, he was going to be able to fill it with a Kavanaugh-like candidate, no matter what (the only risk was waiting too long and losing the Senate in the 2018 midterms, which didn't happen and was always highly unlikely). For the Democratic Party to attempt to replace Biden at this time, based on these allegations, would not result in some 1:1 trade-off.
First, there is no mechanism at the moment to even do so. Even if Biden were to withdraw, that doesn't make Bernie the presumptive nominee. It would simply mean that the convention, months from now, would have to pick a nominee, and could theoretically be anyone qualified to be president. This would mean utter chaos for the party and for the country (during a pandemic all in the context of the already contentious Trump presidency).
Second, a replacement at this point would be swapping out a clear consensus candidate for an unknown quantity. This would be potential political suicide for the Democrats that in no way resembles what replacing Kavanaugh with another nominee would have wrought for Republicans in 2018.
Granted, if incontrovertible evidence were to emerge of Biden's behavior, or if there is a cavalcade of credible accusations on the horizon, all of this changes.
The unfortunate truth of the matter is that the worst-case scenario we face as a nation is that both candidates for president will have serious allegations of sexual misconduct on their records (which would clearly not be my preference). After all, Trump has 25 such allegations, not to mention a history of infidelity that includes paying off a porn star for silence about an affair. And, of course, this:
Trump: Yeah, that's her. With the gold. I better use some Tic Tacs just in case I start kissing her. You know, I'm automatically attracted to beautiful — I just start kissing them. It's like a magnet. Just kiss. I don't even wait. And when you're a star, they let you do it. You can do anything.\

Bush: Whatever you want.

Trump: Grab 'em by the pussy. You can do anything.
You know, standard locker room talk. And, as such, it is incredibly problematic to hear Trump-supporting Republicans talk about hypocrisy on this subject.
And while I will state again that investigations should continue, it is an interesting coincidence that Biden is being accused of what Trump claimed he frequently did.
I would conclude by pointing out that I have noted in the past in conversations with regulars here at the site that we have to remember that partisanship allows a lot of Republicans to rationalize their support for Trump. I have to admit that in the comment sections here at OTB (and in the wider world), I have seen some of that same kind of rationalization to support Biden. No one is immune.