Bush Family Member Says Bush 41 And 43 May Vote For Clinton
Are these the faces of Clinton voters? George P. Bush thinks so.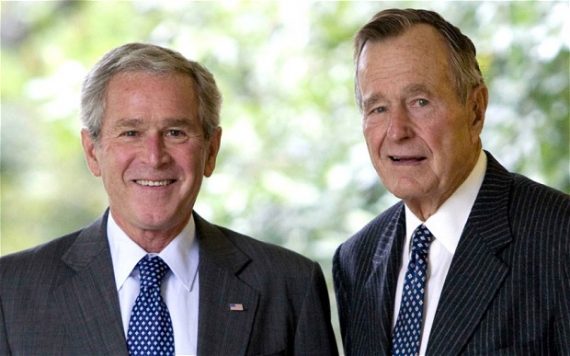 George P. Bush, currently the only member of the Bush dynasty holding political office, says it's possible that his Uncle and Grandfather, both former Presidents, could end up voting for Hillary Clinton:
George P. Bush said Tuesday that his uncle, former President George W. Bush, may join his grandfather George H.W. Bush in casting his ballots for Hillary Clinton over Donald Trump, according to the Associated Press.

The Texas land commissioner made the comments while addressing a small Republican rally in San Marcos, Texas, on Tuesday night, saying that both former presidents in the family may "potentially" vote for the Democratic presidential ticket come Election Day.

Later asked to clarify his comments by the AP, George P. Bush said that he was just "speculating" and couldn't say with certainty how they'd vote.
This comment from the younger Bush isn't the first suggestion that at least one of the two living former Republican Presidents would end up voting for a Democrat this year. Back in September, Politico reported that Kathleen Kennedy Townsend had said that George H.W. Bush told her that he would be voting for Hillary Clinton this year. The Bush family declined to comment on the report, and many people criticized Townsend for revealing the contents of what was meant to be a private conversation, but the report has never been specifically denied. Given the fact that the elder Bush has, for the first time since leaving office, declined to endorse the nominee of his party, and adding in the fact that the family as a whole has made its opposition to Trump clear simply by its silence, it would not be all that surprising if this prediction ended up being true. It's also worth noting that there has been a strong family relationship between the Bushes and the Clintons for the past decade or more, starting generally with the point at which George W. Bush asked his father and Bill Clinton to co-chair the relief effort for the devastating tsunami that struck Indonesia in 2004. Since then, the two men have been seen together quite frequently, and even George W. and Jeb Bush have seemingly been part of the circle. That's not to say that there aren't political differences between the families — after all, it wasn't that long ago that Jeb Bush himself was hoping to be the Republican who took on Hillary Clinton this year — but it seems clear that the Bush's have more in common with Clinton than they do with Trump and his ilk of supporters that have taken over the Republican Party.
What's extraordinary about the situation isn't just the prospect of a former Republican President voting for a Democrat, but the fact that this year is the first time since the end of World War II that a former President of either party has failed to endorse their party's eventual nominee. The only exception to that rule during that time period has been Richard Nixon who generally declined to endorse anyone after he left office in 1974, although in all honesty it's unlikely that a Nixon endorsement would have helped any Republican nominee for any office anywhere in the country given the circumstances of his departure from office. With respect to the Bush's, though, it's highly unusual and makes the possibility that both father and son could end up voting for Hillary Clinton all the more likely. The question it also raises is how many more 'establishment' Republicans might be joining them, but we'll have to wait until we see some exit polls after Tuesday to find that out.