Calcified Democracy
A deep dive into why our politics are so broken.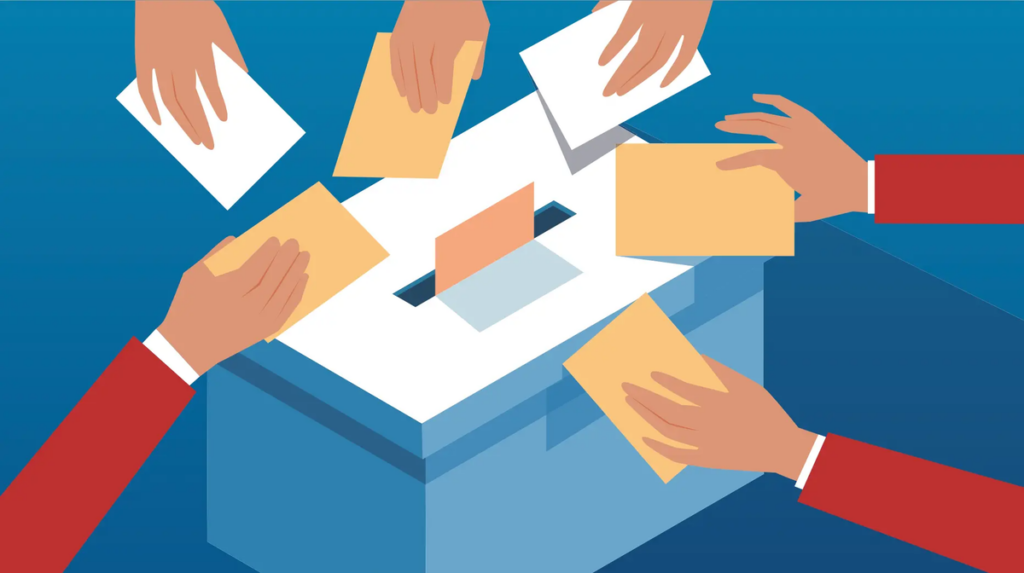 The 28 October edition of the Ezra Klein Show, "These Political Scientists Surveyed 500,000 Voters. Here Are Their Unnerving Conclusions." was excellent. It's an interview with political scientists John Side and Lynn Vavreck regarding on their latest book, which is based on hundreds of hours of longitudinal interviews with voters. It reinforces and adds nuance to some longstanding themes here but also points to ways that Donald Trump changed the American political landscape and, as usual, Klein is a subtle interviewer, probing into the right points to expand and push back.
Given the length (it's a 95-minute listen and the transcript is some 60 pages!) excerpting is perilous and likely to put off some readers. I will nonetheless try to highlight insights I gleaned from the conversation. Caveat: I don't intend to represent this as everything said on a particular issue; I frequently jump into the middle of a response to get at the meat of it.
A running theme is the "calcification" of American politics in recent years.
Vavreck:
[J]ust like it does in the human body, calcification makes our politics rigid and inflexible. And it is a long time in the making. There are a number of components to it, which I hope we'll get to talk about a little bit as we spend time together. But mostly, you can think of this as a long-sorting and reshuffling of people into the parties. Within parties, people are more alike than ever. And between the parties, there's more distance than ever.

And then more recently, we have shifted the dimension of conflict that we're fighting over from the New Deal sorts of issues and onto identity-inflected issues, which are very divisive and very personal.
And then the last component, Democrats and Republicans are in rough balance in the electorate. And you mash all that together and you get this state of politics that, despite what's happening around us, people know what kind of world they want to live in, and they don't want to live in the other side's world.
Sides:
We cite a book by the political scientist, Frances Lee, called "Insecure Majorities," which points out that whether we're looking at the White House, at the House, or at the Senate, control is up for grabs in almost every election, the same way both chambers are up for grabs in 2022. So as a consequence, you have very small shifts from election to election in what voters are doing, but you might get very big shifts in which party is in power because the balance of power is so narrowly divided.

And in fact, in some ways, we think that this partisan parity probably makes calcification even more likely because if you think that have a chance, as a party, of regaining power two years away, there's not much incentive for you, after you've lost a presidential election, let's say, to try to rethink the party's image, to rebrand, to have that kind of self-reflective process that you saw, for example, the Republicans have after they lost in 2012.
We've written a lot here over the last few years about the increased sorting and polarization but not so much about the parity issue. Indeed, Steven and I continually argue that the electorate is considerably more Democratic-leaning and electoral outcomes as tight as they are because of Republican voter suppression efforts and the weirdness of our system. Still, given the rules of the game, the fact that almost every election seems to be a toss-up skews the incentives considerably.
Klein makes a point that we've made here over and over but that's nonetheless easy to forget:
So one thing I think embedded in there is that the Republican and Democratic parties we have today are not the ones we had 15 years ago, 30 years ago, 70 years ago, 100 years ago. And I think this is pretty easy to miss. The stability of their names makes it sound like what we are describing in politics is more similar era to era than it actually is.
On the way to setting up an important point:
You all have a really striking chart in the book in which you show voters answer to the question, do you perceive major differences between the parties? And in 1952, only 50 percent did. Only half of voters thought there was a major difference between Democrats and Republicans. By 2020, it was 90 percent. Lynn, tell me a bit about that and how that changes politics.
Vavreck:
People understand. They get it. The other side is really far away. And the world they want to make is really different than the one I want to live in. And so in the past, when that other world wasn't quite so different, especially on the things that were priorities for people — size and role of government, tax rate, how involved should the government be in my life — if the other side wasn't so far away on those kinds of things, maybe you could drift in an election or two or in a race or two. You could vote for the other side.
That there's "not a dime's worth of difference" between the parties has been a talking point going back to at least George Wallace's 1968 Presidential run. Hell, it's part of the reason that some on the left voted for Ralph Nader rather than Al Gore in 2000 and some Bernie Bros voted for Jill Stein or even Donald Trump in 2016. But, increasingly, the vast preponderance of the electorate sees the outcome of each election as existential. We don't have two catch-all parties anymore but two radically different ideological parties.
Sides uses immigration policy to illustrate the point:
You go back and you look at these polls from the 1960s, into the '70s, into the '80s, into the '90s, and there's just very few differences between Republicans and Democrats in their views on this question. It's just not that polarized. And that mimics, to some extent, the way that elites were starting to vote in — especially in the 1965 bill. It just wasn't as polarizing an issue.

In the 2000s, that starts to change. And people who live through this era will start to remember, I think, that there was certainly more pushback within the Republican Party, especially from more conservative Republicans, to different kinds of proposals to reform immigration. George W. Bush tried to do this and failed. Couldn't even convince his own party to get behind it. So you start to see a gap opening up where Democrats look more supportive of immigration, more willing to increase it.

By the eve of when Trump's going to become a presidential candidate, you're talking about a difference of, say, 30 percent of Democrats want to increase immigration, 11 percent of Republican. So a 19 or 20-percentage point gap. But that accelerates so quickly once Trump becomes president. In part, we argue this is Democrats reacting to Trump's agenda. So they are updating their views on immigration in the opposite direction that they think Trump is taking the country.

And so the polarization on that question grows between 2015 and 2021, over about five or six years, grows as much, if not more, than it did in the previous two decades. It's that quick. It's that fast. And that's the shock that we think that the Trump presidency helped to create in the country in terms of moving people rapidly.
This sets up a discussion that runs for much of the rest of the interview: the degree to which directionality is not what one would think. For many, if not most, Americans, their stated views on the issues is driven by their party affiliation rather than, as would seem logical, vice-versa. It's why so many Republicans seems to turn on a dime from so many ostensibly long-held views once Donald Trump became the standard-bearer.
Klein weighs in:
And you can really see this if you go back into the rhetoric. Democrats love putting out the Ronald Reagan quote where he says, "I believe in the idea of amnesty for those who have put down roots and lived here, even though sometime back they may have entered illegally." I mean, Democrats love Ronald Reagan on immigration.

And at the same time, if you look at Bill Clinton's party platforms, they basically sound like the Republican Party under Donald Trump. I mean, they are very, very border enforcement-focused. Even if you look at Barack Obama's 2008 platform, no Democrat nationally could get away with that platform today, given, again, how focused it is on immigration as a threat, on how focused it is on enforcement.
He ties up another discussion point:
You all have some useful data about the ways in which people's feelings towards their own party haven't changed that much, but their feelings towards the other party have changed a lot.
Vavreck:
They've always liked their side. Maybe they like their side marginally a little more now. But they dislike the other side more than ever.

And they think that people on the other side are unpatriotic and immoral relative to average Americans. And so there's this summary judgment about people like that, people in that group are just not good people. And that is not new, but it is happening more now than it has in the past.
Sides:
Part of the challenge, by the way, with that, Ezra, is that these perceptions of the opposite side are basically exaggerated. When you ask Republicans to describe the demographic composition of the Democratic Party, they thought that almost half of Democrats are Black, which is about twice the actual number. And Democrats, for their part, they thought that almost half of the Republican Party was wealthy, made at least $250,000 a year, when, in fact, of course, only about 2 percent of the Republican Party is that wealthy. So part of what's happening here — I mean, Ezra — and you can see this in the way I think that our political priorities are presented to us in news coverage and elsewhere is that when people are asked these questions about the political party, the people that they tend to call to mind when they think about who is this political party I'm being asked to evaluate, they tend to be people who are more ideologically extreme, more activist, maybe political leaders themselves to some extent.
There's a whole lot more on that before Klein turns the conversation back to the topic of polarization. And Sides points to something I find fascinating on that front:
Lynn and our co-author Chris Tausanovitch designed a set of experiments where each respondent to the survey is presented with two sets of policy positions, maybe three or four positions in each set, and each position has its opposite in the other set.

So let's say the set that you got is let's have a Green New Deal, let's have a border wall with Mexico, and let's raise the minimum wage. And then the other package is no Green New Deal, no border wall, and no minimum wage increase. So the question is, which of those two do you prefer?

So you have to make a trade-off, right? Because if you're a liberal, you're not getting what you want. I mean, you don't want a border wall even though you might want to increase the minimum wage.

So we've asked people to make these choices over and over again. And we randomly assign which issues show up in each of the two packages. And they do this choice 10 different times every week of the survey. And so we're accumulating all of these experimental results.

And what you can back out of that is how important is each issue. If that issue — if that position — if increase the minimum wage is in the set, how much does that increase the likelihood that you are going to take that set? So it'll show you which are the most important issues.

When we did this in these surveys, what pops to the top are issues like do you want to impeach Donald Trump or not? And Republicans really don't want to impeach Trump, and they think that's the most important issue. Banning guns, having reparations for slavery, late-term abortions, building a border wall — those are the things that came to the top for Republicans.

Much further down are the issues that you were describing where you think, oh, there are some interesting liberal tendencies among some Republican voters. Isn't there a potential for some sort of bipartisan compromise on increasing taxes on the wealthy? No, because that's just simply not a high priority.

We saw the same thing for Democrats. To a large extent, it was kind of the same issues that would pop to the top. It wasn't the stuff that, oftentimes, even the presidential candidates were talking about. It wasn't the agenda that was focused on the Green New Deal, Medicare for All, those kinds of policies. Again, it's not that those are unimportant. It's just that they don't rise to the top.

So to some extent, our argument is that I think what helps keep the parties stuck where they are is that not only do they have different views on lots of issues, but the issues that they care about the most are also the issues on which they have the largest disagreements.
This is absolutely huge. The conventional wisdom—which is not wrong—is that Democrats and Republicans agree on way more issues than they disagree on. Which should make compromise really easy. But that's hugely complicated by radically different prioritization and saliency.
And, again, it really helps explain the thing that so frustrates most OTB readers: that relatively few longtime Republicans have turned away from the party after it radicalized. Steven did it before I did, deciding that he couldn't stomach Sarah Palin and Joe the Plumber. For me, it took Donald Trump. But neither of us prioritized, say, abortion or gun rights above all other issues.
You can absolutely condemn people for putting a desire to limit abortions or to keep their guns over the sanctity of our democracy and the rule of law. But for those who value those things above all else—and who see those who want the opposite things as existential threats to their value systems—it's perfectly understandable.
One of the things that makes Klein such a fascinating character is his willingness to challenge his own deeply held beliefs:
[W]hen I wrote my book on polarization, as you know, I have a lot in there about political psychology and the way much of politics is an abstraction — what should we think about currency manipulation in China, or what should we think about the proper policy towards Russia, or what should we think about what's going on in the broad global climate and how that will change in the future.

But one of the things I believed nevertheless was that the less abstract policy becomes, the more tangible it becomes, the more people will vote on those outcomes. So if you get a direct check from the government, that is very different than a vague sense of macroeconomic management. And if your friends and neighbors and family are dying from a pandemic, that that is the kind of thing that will break through political polarization. And that's not what we see. Why do you think it's not what we see?
Vavreck:
Yeah, it is another one of these astonishing moments of 2020 data analysis. And I think that the best way that we can describe it is to say that all of these moments in 2020 and 2021 that are unexpected and shocking — Covid, the murder of George Floyd, the social justice movement that follows, the Capitol insurrection — these unexpected events in 2020 get subsumed by this new dimension of conflict, this identity dimension.

And some of that is because Donald Trump, for Covid, goes out — for the first three weeks or so, there is partisan unity on Covid mitigation. Everybody is staying home, largely because they have to. But washing their hands more, canceling travel. Both parties, lots of support for Covid mitigation.

Trump quickly, I think, figures out that this is bad for me. If the economy doesn't come back, I lose. And so he goes out and says, hey, liberate Michigan. Take your state back. Tell your governors you want to go back to work. And in that moment, when he makes Covid about your personal rights to be able to work, it reorients right into this new dimension of conflict.
Sides (at a later point in the conversation):
There's a deep irony in that, by the way, Ezra, as far as Trump is concerned, because it's absolutely true that when his rhetoric changes between March and April 2020, Republican support for these kinds of restrictions, like travel restrictions or closing certain businesses, starts to decline following along with what he says.
We all witnessed this in real time. Theoretically, there's nothing better to unite a divided country than a shared crisis. It happened, if only temporarily, with the 9/11 attacks, for example. It seemed to be happening with COVID, with pretty much everyone taking a reasonably professional approach to the problem, listening to the experts and acting according to our best information. But that quickly changed when Trump led in a wildly different direction.
Vavreck:
And the same thing is going to happen with the murder of George Floyd and the Capitol insurrection. There are brief moments of unity followed just very quickly by the separation that already exists. And that's how powerful the separation between the parties and the parity in the electorate — that's how powerful calcification is.
I think BLM was already pretty polarized by the time of the Floyd attack but, again, the parties were much less divided on the Capitol riot on January 6 than they would be just days later. And that division has grown, not narrowed, as the Committee investigation has provided more evidence.
Sides notes that Trump's leadership failures likely cost him but only at the margins:
The irony is that the other thing that follows along is his popularity starts to decline. He had a brief moment when he started taking the pandemic more seriously in March, his approval rating actually crept up a few notches, which is not typical for him. But then it comes back down and barely recovers by the end of the fall campaign.

And when we compare Trump to other world leaders, we compared him to approval ratings of all the US governors, I mean, one of the things that emerges is that for a lot of politicians, the pandemic actually becomes a political opportunity. They're able to leverage that crisis to enhance their own political fortunes, which is, of course, the typical pattern in lots of different kinds of crises.

And so Trump, in some sense, was presented with a chance. And all he probably needed to do was just continue to maintain that level of concern and seriousness. And it might not even have mattered how bad the pandemic got. I mean, there were certainly politicians, like Andrew Cuomo in New York, who benefited politically, even as their state was experiencing some of the worst parts of the outbreak early on.

So for us, I think, one of the interesting things about Covid is it gets subsumed into these partisan battles, as Lynn was saying. And when there was a moment for Trump to act differently, it was clear it might have helped him politically. But ultimately, he wasn't able to follow through and continue in that vein. And at the end of the day, that might have been ultimately what helped keep him from leveraging the pandemic to actually maybe even get re-elected.
This is the frustrating part of the argument for me, even though I don't disagree with it. Essentially, our politics are calcified because of how polarization and parity play off of one another. But this means that the elusive "swing voter" would seem to matter way more than recent conventional wisdom suggests—even though there are fewer of them!
Klein takes us there:
I think one way of reading the story — to me, the correct, depressing way — is almost a lull nothing matters. You can govern almost as badly as you want, and it will not do you very much damage.

But because the parties are so closely matched, because the election is so close in key battleground states, Lynn, you end up with a situation where very, very small shifts — just doing a good enough job to get another point in the polls, which is nothing in terms of public opinion, might have been enough for Donald Trump to win the election. So maybe actually how he governed really, really mattered, even though it only mattered to a few people.
Vavreck:
It's I think even — I don't want to say more anxiety provoking than that — but the way I think about this is that it's not that there are no swing voters out there, persuadable voters. Of course, there are. There are probably fewer of them than there have been in the past.

But those voters who are undecided, especially in an era where 9 out of 10 people can see important differences between the parties, voters who are undecided are less interested in politics. They pay less attention. They have a harder time making sense of the political world in a partisan way.

And all of that means that the kinds of stuff you just talked about — what has this party done for me lately? How is the country doing generally? Is the economy growing or shrinking? These moments where you say, am I better off than I was four years ago? Reward the incumbent party or punish it? Those kinds of judgments, those are what these swing voters are relying on.
So, essentially, the decision is made—to the extent any given contest is competitive at all, a point continually missed in this conversation—it's made by a tiny handful of persuadable voters. But those are also the least engaged, least informed voters!
And Klein notes that it's actually worse than that:
Well, what's extraordinarily frustrating to me about that, John, is that you want politics to have larger forces of accountability than that. I mean, in many ways, Donald Trump, as a politician, does almost everything he can to turn the electorate against him. You all track how his personal comportment is quite unpopular, the way he insults people, his erraticness.

A lot of Republicans who vote for him or even say they support him for president and the job he's doing, they don't really like or admire him personally. But you might think, oh, OK, then what's going on with Donald Trump is he's a ill-tempered, competent executive. [LAUGHS] Like a C.E.O. you don't like, but you've got to admit the guy's doing a good job and running things efficiently.

But not only do people not think that, but you all have evidence in the book that Trump's policies, the things he actually pushed, as opposed to the things he would sometimes talk about doing, were very unpopular. His major legislation was less popular than the policies of really any president in the last 30-plus years. And then in addition, he does a terrible job, I think, broadly — I think this is broadly agreed upon — managing Covid. And yet ends up like a hair's breath from winning re-election.
But, again, this is a function of an otherwise fantastic discussion among incredibly bright, informed folks totally ignoring institutions. It's not just that the contest comes down to motivating unpersuadable voters to show up and that there are only a relatively tiny number of persuadable voters. It's that most of the 435 Congressional Districts, most of the 100 Senate seats, and most of the 50 winner-take-all states* and the District of Columbia in Presidential elections are essentially decided in the party primaries. That, not just calcification, diminishes accountability.
One last point worth highlighting.
Klein:
I think it is a mistake to underestimate the degree to which temperament and vibes matter, particularly given how much data you two and your discipline has assembled over time on the way that we will ultimately rearrange our specific political views to accord to the politicians who, for whatever reason, we choose to like.

Part of what's unique about this moment is the real distinctiveness between the two parties in the kind of world they want to deliver to voters and the fact that voters see that. And so I think to say that statements about policies like the wall, like abortion, like immigration are metaphors, that's just not where we are at this moment in time.
Sides:
Ezra, you started this question by asking what education means when we divide voters based on their formal education levels and compare them. What is that tapping into?

[…]

[A]t least one thing for white voters that education is doing is it's proxying values and beliefs related to minority racial and ethnic groups, much more so than it was proxying their economic situations or their economic insecurity. It didn't. The economic insecurity didn't play the same role when we tried to see if that was an explanation for this growing diploma divide.

[…]

You could also argue, I think, plausibly — I'm not actually going to disagree with you that there is a symbolic nature to the way that politicians present themselves and govern, which we could call toughness or we could link it to some other kinds of attributes. And it may be that some voters are attracted to that. So it's not in that case about, oh, I learned what that politician wants to do in terms of legislation and I voted for the politician whose legislation I like better. It's really about hearing the politicians talk and perceiving them in terms of their personas or their personalities.

I think that's perfectly plausible. I think what you've hit upon really now is just one of the limitations of our research, ours and others, in terms of our ability to really nail down these factors. It's pretty overdetermined because there are lots of ways in which Latinos who voted for Trump in 2020 are different from Latinos who didn't.
As to why Biden outperformed Hillary Clinton, Sides explains:
Part of the story is he's doing better among voters who are left-leaning. And these voters tend to be disproportionately represented among white voters who have more formal education, which is part of the diploma divide. They tend to be located in certain kinds of communities. So particularly suburban communities. You've seen the maps around Atlanta and other similar Metropolitan areas and the shifts there that were helping Biden.

So I think part of the story clearly is that these voters have reacted, I think, against Trump to some extent based on their own ideas and beliefs and ended up in Biden's camp, in the Democratic Party's camp perhaps going forward, as a consequence of Trump and the way that he framed a lot of political issues and debates that just didn't strike these voters as particularly palatable or plausible.
Vavreck adds:
One of the ways to think about this, Ezra, might be to go back and think about the way we used to think about campaigns and elections. What is this election about? So when we think about 1984, we say, oh, it was about the economy. Are you better off than you were four years ago? And we think about 2008, global financial crisis. 2012, referendum on the Democrats' performance and getting out of the financial crisis.

We tend to try to reduce it down to what was this fight about. And I think what we're saying is that the 2020 "fight," quote unquote, it could have been about Covid. That whole election could have been about Covid. It wasn't. The fight was finishing off the battle, the sorting that had started in 2016 on these identity-inflected things.

And it starts in 2016. The ideology and party nexus gets clarified during Trump's presidency, such that the 2020 election, despite all of the astonishing things that happen in the year, is really just about finishing off that sorting. And there aren't very many people left to sort. But the ones who do, are doing it on that dimension. And maybe that's kind of the way to think about the remaining moves in 2020.
All in all, a lot of confusing signals here.
________________
*Minus maybe one vote in Nebraska and Maine.