Can Jon Huntsman Revive the Party of Reagan?
Condi Rice's speechwriter thinks Huntsman can appeal to the Tea Party.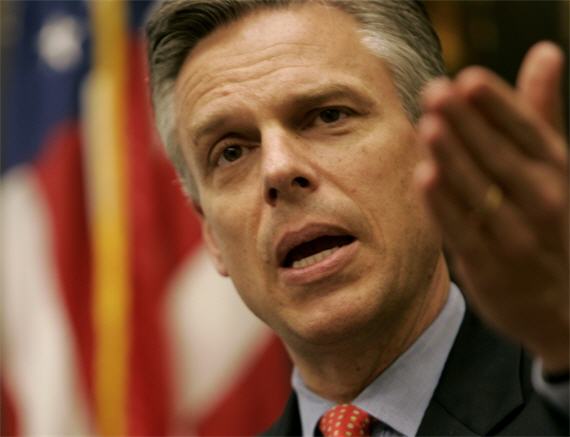 Despite skepticism from conservatives that Jon Huntsman is a squishy moderate, former NSC communications director and Condi Rice speechwriter Elise Jordan sees in him someone who can appeal to conservatives and independents alike.
Huntsman outlined a vision for America's engagement with the world that would mark a major shift from what we've seen over the past decade. He would reorder our priorities away from the War on Terror and toward international trade and economic policy. "One of the great voids in our foreign policy today is that we aren't doing free-trade agreements," he told me in an interview. "We are known for our commitment to liberty, democracy, and free trade. Open markets. That light isn't shining right now." More to the point: "The future of the United States is not going to be determined by firefights on the Hindu Kush," Huntsman said.

Not since George H. W. Bush has a Republican presidential candidate had such hands-on experience in international relations. Like the 41st president, Huntsman is a veteran Asia hand, having served most recently as ambassador to China. His informal policy advisers include former H. W. Bush national-security adviser Brent Scowcroft. Huntsman started his career under Ronald Reagan, landing his first job as a staff assistant at the White House. He's lived overseas four times, speaks fluent Mandarin, and has served as a U.S. trade representative and an ambassador to Singapore. He blends the experience of Bush with what he calls the "bold, confident, internationalist" policy of Reagan. He's a self-described foreign-policy "realist," but these views are buoyed by a "Reagan-esque optimistic view" of the world.
He continues that Reagan-Elder Bush approach in domestic politics, too.
Huntsman is the only Republican candidate to endorse Speaker John Boehner's debt-ceiling plan despite its perceived unpopularity among conservatives — a sign that just because he's running for president doesn't mean he's going to start to pander. He thinks the best way to have leverage abroad is to ensure a strong economy at home — to "get our house in order," as he puts it — and so raising the debt ceiling is a necessity.
While this is the sort of Republicanism that I grew up with and which drew me into the party, it's not exactly fashionable with the base at the moment. But Jordan thinks it could be.
Tea partiers, like so many other Americans, are fed up with the decade-long war in Afghanistan. Huntsman has made it clear he's ready to wind it down, leaving behind only a nimble and aggressive counterterrorism force. Although the Pentagon and the commanders on the ground are still pressing to keep as many nation-building troops in Afghanistan for as long as possible, Huntsman said he'll trust his own instincts. (Unlike frontrunner Mitt Romney, who said he'll do what the generals tell him to do.) "I've been engaged in that part of the world for many years, and I lived next door for the last two years," he said. "We've already had wins for the United States [in Afghanistan]. We can't wish for stability more than they want it." And though he's been portrayed as too moderate for the Republican base, he has a consistent pro-life record, is a big Second Amendment supporter, and enacted the largest tax cuts in Utah's history.
Indeed, the notion that someone could be elected twice as governor of Utah, arguably the most conservative state in the union, and be some sort of closet liberal is baffling. Then again, Ronald Reagan made many compromises that would render him a RINO in today's climate.
Still, while I like what I'm seeing in Huntsman, he's not yet a significant candidate. Indeed, he's no longer even showing up in the RealClearPolitics numbers while non-candidates Rick Perry, Sarah Palin, and Rudy Giuliani all register in the double digits.
Then again, it's pretty clear that Republican voters aren't exactly in love with Mitt Romney. He remains the presumptive favorite for the nomination but couldn't even beat a lackluster John McCain last cycle.
While the Herman Cain bubble seems to have burst, Perry, Palin, and Giuliani are all getting significant interest because the nominating electorate is looking for someone to excite them. It's probably not going to be Newt Gingrich or Tim Pawlenty. And I believe Michele Bachmann tops out around 15 percent. Perry's path to the nomination is the most plausible of the  others.
Huntsman represents an interesting alternative–a conservatism of a style that put together three consecutive national Electoral College landslides in my lifetime. I'd like to think that it could come back into vogue and, for example, once again put California into play for Republicans. But it's just wishful musing at this point.