CBO Forecast: Trillion Dollar Deficits, Slow Growth, And High Unemployment
The latest projections from Congressional Budget Office are sobering to say the least.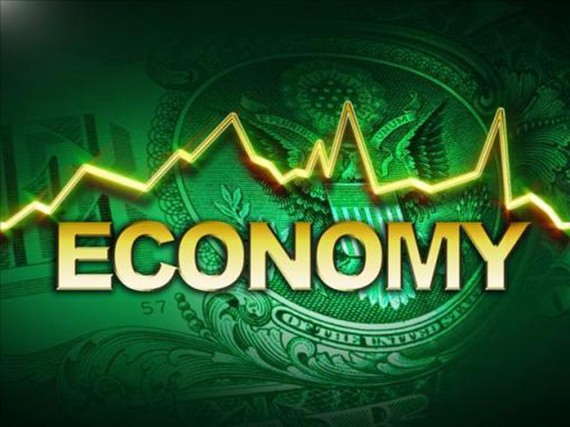 Yesterday, the Congressional Budget Office released a rather grim forecast for the nation's budget deficit and economic future:
The Congressional Budget Office on Tuesday predicted the deficit will rise to $1.08 trillion in 2012.

The office also projected the jobless rate would rise to 8.9 percent by the end of 2012, and to 9.2 percent in 2013.

These are much dimmer forecasts than in CBO's last report in August, when the office projected a $973 billion deficit. The report reflects weaker corporate tax revenue and the extension for two months of the payroll tax holiday.

A rising deficit and unemployment rate would hamper President Obama's reelection effort, which in recent weeks has seemed to be on stronger footing.

If the CBO estimate is correct, it would mean that the United States recorded a deficit of more than $1 trillion for every year of Obama's first term.

CBO Director Doug Elmendorf told reporters that Congress will have to make important choices this year regarding the supercommittee trigger and tax policy that will have huge effects on the deficit.

While unable to recommend choices, Elmendorf said that addressing the deficit sooner rather than later is easier.

The deficit was $1.4 trillion in 2009, $1.3 trillion in 2010 and $1.3 trillion in 2011. The largest deficit recorded before that was $458 billion in 2008.

CBO had forecast an 8.5 percent unemployment rate for the end of 2012 in its August report. It now expects the jobless rate to be higher and to still be at 7 percent in 2015.

The higher unemployment numbers are due to lower economic growth than previously estimated. Gross domestic product for 2011 is now estimated to have grown 1.6 percent in 2011, down from the 2.3 percent forecast in August. CBO a year ago had predicted 3.1 percent growth for 2011.

The outlook for 2012 has also worsened. GDP is forecast to grow only 2 percent this year, compared to a previous estimate of 2.7 percent.

Budget cuts from the August debt deal and projected tax increases set to kick in when the Bush tax rates expire at the end of the year, will "restrain economic growth this year and significantly restrain growth in 2013," according to CBO. But it says the fiscal prudence will help growth in the out years.
Under the CBO's projections, total Federal Debt would rise to $21.7 trillion under 2022. However, because of the assumption that the CBO operates under in making these types of projections, it's likely that the actual debt will be significantly higher absent serious and large cuts in the size and scope of government. For example, the CBO assumes that all of the Bush Tax cuts will be allowed to expire on December 31, 2012 and will not be extended or renewed at any point thereafter. Politically, that is simply not going to happen. The Obama Administration has already said that it wants to extend the cuts for everyone earning less than $250,000/year while Republicans want to extend the entire package, however that dispute gets resolved it's rather obvious that the cuts will be extended in some form. The CBO also assumes that Congress will not act yet again to pass the so-called "Doc Fix," which prevents Medicare reimbursements to physicians by 30%. Congress has passed that fix every time it's needed as a matter of course, and it's unlikely that they are going to change that any time soon, or that they are going to risk large numbers physicians dropping out of Medicare. The report also assumes that Congress will not continue to makes at adjustments to the Alternative Minimum Tax to prevent it from applying to even more middle class taxpayers. Again, that's a fix Congress has routinely passed and its not realistic to think it won't happen again. Finally, the report assumes that Congress will not touch the sequestration cuts that were part of August's debt ceiling deal, but there are already signs of bipartisan support for modifying the cuts to defense spending. In other words, the CBO's deficit estimates are overly optimistic because it doesn't factor political reality into the equation. If all of these mesuares are taken by Congress, the 2022 would inccrease to $29.2 trillion.
Peter Suderman expands on this point:
Now, it's true that current law, and thus CBO's "current law" baseline, calls for us to tax even more, and to cut some hundreds of billions in spending on physician payments out of Medicare: But that's because current law assumes that we'll cut payments to physicians by nearly 30 percent in a few months, despite years of both parties supporting overrides to such cuts. And it assumes that tax hikes, including allowing the Alternative Minimum Tax, which was originally designed to hit just 55 very wealthy earners, will eventually hit half the country (meaning much of the middle class)—something neither party is going to support.

As is now common, liberal wonks are pointing to the baseline scenario as evidence that we don't really have a deficit problem. After all, Congress just has to follow current policy in order to keep revenues nearly in line with expenditures. But even forgetting about the country's historical inability to raise tax levels substantially above 20 percent of GDP, there's simply no plausible near-future political environment in which this happens. It's a cute fantasy designed to comfort those who don't want to cut federal spending.

And ultimately, it's the increases in spending that kill us: "If that rising level of spending is coupled with revenues that are held close to the average share of GDP that they have represented for the past 40 years…", the CBO says, "the resulting deficits will increase federal debt to unsupportable levels."
The more worrisome part of the CBO forecast, though, are the GDP and unemployment numbers, which are largely in line with the forecasts we've seen from the Fed and private analysts. It portends a future of  a near-stagnant economy that would be in danger of being pushed into yet another recession by any number of possible events beyond the control of anyone in Washington, whether its an international crisis, more trouble in the Eurozone, or a spike in energy prices that sends shockwaves through the economy. With employment already near 9% and likely to stay there for two years or more, another recession would be disastrous, with unforeseeable political consequences. Thanks to our long term debt issues, there isn't a whole lot that Washington can do in the way of direct stimulus — both massive new spending and a massive new tax cut (without spending cuts) seem out of the question right now.  The Federal Reserve has kept interest rates near zero for years now, and apparently plans to continue doing so through 2014. It's hard to see what else there is left to do other than let things work themselves out. Of course, that's never the answer politicians want to hear.