Charlie Cook: Ignore The Electoral College Math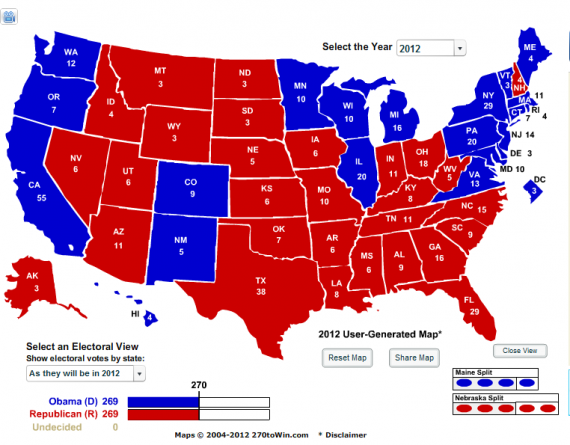 In his latest National Jounral column, Charlie Cook argues that we shouldn't be paying as much attention to the electoral math as many pundits like to do:
The simple fact is that our nation has had 56 presidential elections. In 53 of them (94.6 percent), the winner in the Electoral College also happened to be the one with the most popular votes. Of course, we all recall the 2000 presidential election in which Al Gore prevailed in the popular vote, while George W. Bush was the Electoral College victor. But few remember that the previous divergence between popular and electoral votes was 112 years earlier, in 1888. Incumbent Grover Cleveland was the popular-vote winner. However, challenger Benjamin Harrison carried the Electoral College and was declared the winner. The only other time that happened was in 1876, when Samuel Tilden prevailed in the popular vote but Rutherford B. Hayes won the Electoral College vote and the presidency.

Two points are worth keeping in mind: First, the chances are about 94.6 percent that the same person will win both the electoral and popular votes. So people are expending a lot of time and energy trying to figure out something that has about a 1-in-20 chance of happening.

But second, close races are just that: close races. Notwithstanding the almost daily e-mails that I get protesting that the election will be a slam dunk for either Obama or Romney, this race will be close. Obama has a high floor, meaning that he has a fervent base of support. He also has a low ceiling, meaning that he has large and adamant opposition. That high floor has prevented him from descending to the depths of low job-approval ratings that afflicted many of his predecessors. Obama's lowest Gallup job-approval rating was 40 percent, compared with George W. Bush's low point of 28 percent; Jimmy Carter's 29 percent; George H.W. Bush's 32 percent; Ronald Reagan's 37 percent; and Bill Clinton's 37 percent.

If a race is close nationally, it will be close in a lot of individual states, too. Given the dubious quality of most of the publicly available state polling, few of these two-bit surveys could offer unique insight into who is likely to win close contests—because, well, they're close.
Cook notes three exceptions, but there are actually four times when the winner of the popular vote did not become President;
Given the statistics, then, perhaps Cook does have a point that running through Electoral College scenarios doesn't really tells us much more than looking at the national polls would, although it is fun for anyone who happens to be a political geek.
Incidentally, the Electoral College map above is one I created at 270towin.com that lays out a path to a tied Electoral College, which would force the election into the House of Representatives. Now, wouldn't that be fun?