Chicago Tribune Editorial Board Member Calls On Obama To Forgo A Second Term
Yes, Barack Obama is running for a second term.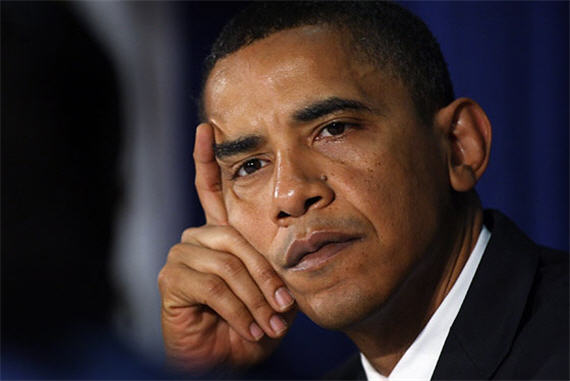 The blogosphere lit up yesterday over an Op-Ed column by Chicago Tribune Editorial Board Member Steve Chapman calling on President Obama to forgo running for President in 2012:
There is good news for the president. I checked the Constitution, and he is under no compulsion to run for re-election. He can scrap the campaign, bag the fundraising calls and never watch another Republican debate as long as he's willing to vacate the premises by Jan. 20, 2013.

That might be the sensible thing to do. It's hard for a president to win a second term when unemployment is painfully high. If the economy were in full rebound mode, Obama might win anyway. But it isn't, and it may fall into a second recession — in which case voters will decide his middle name is Hoover, not Hussein. Why not leave of his own volition instead of waiting to get the ax?

It's not as though there is much enticement to stick around. Presidents who win re-election have generally found, wrote John Fortier and Norman Ornstein in their 2007 book, "Second-Term Blues," that "their second terms did not measure up to their first."

Presidential encores are generally a bog of frustration, exhaustion and embarrassment. They are famous for lowest moments rather than finest hours. Richard Nixon was forced to resign in disgrace, Reagan had the Iran-Contra scandal, and Bill Clinton made the unfortunate acquaintance of Monica Lewinsky.

Administration officials get weary after four years and leave in droves. The junior varsity has to be put into service. New ideas are hard to come by.

Someone said that when a man is smitten with a beautiful woman, he should remember that somebody somewhere is tired of her. Likewise, the most inspiring presidents get stale after years of constant overexposure.
Ever helpful, Chapman even has a candidate in mind that would be ready to take Obama's place:
The ideal candidate would be a figure of stature and ability who can't be blamed for the  economy. That person should not be a member of Congress, since it has an even lower approval rating than the president's.

It would also help to be conspicuously associated with prosperity. Given Obama's reputation for being too quick to compromise, a reputation for toughness would be an asset.

As it happens, there is someone at hand who fits this description: Hillary Clinton. Her husband presided over a boom, she's been busy deposing dictators instead of destroying jobs, and she's never been accused of being a pushover.
This is all fun speculation, but that's all that it is. Hillary Clinton has already made it clear numerous times that she has no intention of running for President in 2012, or any time after that for that matter. The only person who has made their 2012 plans clearer is Chris Christie, and that's only because he's threatened suicide if the reporters keep asking him. Equally fanciful is the idea that Barack Obama is suddenly going to wake up one morning and decide to repeat Lyndon Johnson's March 1968 move and decline to run for a second term.  Say whatever you might about the President, but it's clear that he sought the Presidency because he wanted it. The idea that he'd walk away from it because of some bad poll numbers is simply silly. Already, no doubt, there are those whispering in his ear about George H.W. Bush's high approval ratings in 1991, and Harry Truman's come from behind in in 1948.  He's not going to give up now, and it's fundamentally silly to think that he's even giving a moment of thought to this proposal.
Some who have written about Chapman's piece have found significance in the idea that this comes from one of the President's hometown newspapers, but I think that betrays a bit of a simplistic way of looking at things. Yes, the Chicago Tribune endorsed Barack Obama for President in 2008. However, it's worth noting that President Obama was the first Democrat that the Tribune had endorsed since its founding in 1847.If this had appeared in the pages of The New York Times, I might be more impressed. Finding something like this in the pages of the Chicago Tribune? Not exactly earth shattering, especially considering that Chapman has previously written for magazines ranging from Reason to National Review to The Weekly Standard.
Over at his own place, Dave Schuler raises an interesting thought that comes out of Chapman's piece though:
I have a serious question arising from the column cited above. Can anyone think of a president's second term that was more successful, more distinguished than his first term? I can't think of one in my lifetime.

I can think of any number of less than distinguished, even disastrous second terms, however.
Barring another massive party switch in Congress, which seems unlikely, it's highly unlikely that a second Obama term would have the same domestic successes, if you can call them that, as the first. Hillary Clinton and Timothy Geithner would likely lead the exodus of first term Cabinet members. By 2014, if not earlier, Senators and Governors on both sides of the aisle would being maneuvering for 2016. If the Nixon, Reagan, and Clinton Administrations are any guide, the second term would be taken up with investigations by Congress. If Eisenhower is any guide, it will be taken up by a sense of drift. More likely than not, President Obama will look overseas for his legacy, perhaps with another quixotic effort at Middle East peace. The one possibility for an enduring legacy would be in Supreme Court appointments, but even there the prospect of a Republican Senate majority (or even a vocal minority) will restrain him from selecting nominees that stray very far from the middle of legal thought.  By 2015 or so, they'll start talking about planning the Presidential Library, and he'll only be 54 years old.
It makes one wonder if the Confederates might not have been on to something when they created a six-year single term Presidency.