Chief Of Staff Donald Trump?
Donald Trump may be getting ready to act as his own Chief of Staff. That would be a huge mistake.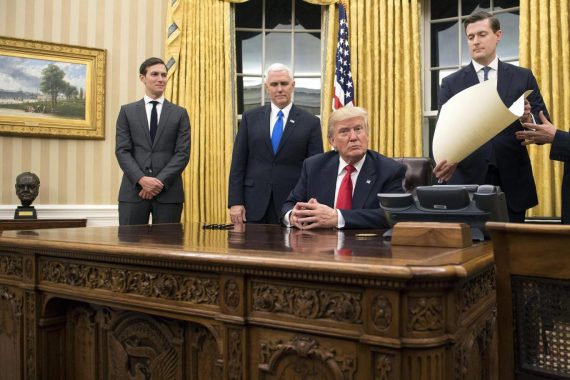 Amid all the White House staff turmoil, NBC News is reporting that President Trump has at least considered the idea of ousting Chief of Staff John Kelly and replacing him with, well, Donald Trump:
WASHINGTON — In the midst of a Cabinet shake-up and a possible staff upheaval, President Donald Trump considered firing his chief of staff this month and not naming a successor, according to three people familiar with the discussions. Trump has mused to close associates about running the West Wing as he did his business empire, essentially serving as his own chief of staff, these people said.

In conversations with allies outside the White House, the president envisioned a scenario in which a handful of top aides would report directly to him — bypassing the traditional gatekeeper position. The president hasn't publicly discussed his deliberations.

Trump, who is said to always be reimagining his staff positions, appears to have tabled the suggestion for now. His second chief of staff, John Kelly, remains in his role after intense speculation about his job security. But the president was intrigued by, and seriously considered, the idea of not replacing him had he left.

Trump liked the idea particularly because it would be more in line with how the former CEO conducted business in the private sector: with a more open-door policy that allowed him unfettered access to outsiders and fewer roadblocks to decision making. And he has privately pointed to precedent in the presidencies of Lyndon Johnson, John F. Kennedy and Jimmy Carter, people familiar with the discussions said.

Some allies grumbled about the feasibility of removing what in past administrations had been a critical position charged with managing the operations of staff in the White House, as well as the information flow, decision-making process and access to the president.

But several sources close to the administration argued it wouldn't be such a departure from the current status: "Donald Trump is the chief of staff. He already calls the shots," said one.

The president's former chief strategist, Steve Bannon, raised the prospect Thursday at a Financial Times forum, suggesting the president should become his own chief of staff if Kelly ever departed.

"I've actually argued that if General Kelly at any time does decide to leave — (or) the president decides it's time for him to move on — I don't believe there will be another chief of staff," Bannon said. "I think there will be five or six direct reports like there was in Trump Tower."
Given all the staff departures we've seen just since the start of the new year, culminating most recently with the departure of National Security Adviser H.R. McMaster and rumors that other officials may be on the way out, the idea of another high-level departure from this White House would not be surprising in the least. Indeed, rumors that John Kelly may be on his way out the door have been circulating in Washington for months, with the most recent such report coming just over six weeks ago. Many of these reports have indicated that the President, who was used to having an "open door" policy as businessmen in which aides and employees would be reporting directly to him in an office environment that many have described as chaotic even for the typically fast-moving world of high-stakes real estate development, has chaffed under the order that Kelly has sought to impose on White House operations since taking over from Reince Priebus last summer. In particular, it's also been reported that Kelly has clashed with the President's daughter, Ivanka Trump, and her husband Jared Kushner over control over access to the President. Additionally, it's worth noting that, with the notable exception of George W. Bush, who had only two Chiefs of Staff over eight years in office, the typical tenure for a Chief of Staff in the modern era has been roughly 13 to 15 months. (Source) Given this, the idea that Kelly might move on at some point is hardly surprising.
Much less conventional, of course, is the idea of a President essentially operating without a net and effectively serving as their own Chief of Staff. To some extent, this is what happened during the Presidencies of both Lyndon Johnson and Jimmy Carter, although both men at least had someone serving in the role to some extent or another. Additionally, it now seems to be the case that this was pretty much how things operated in the early days of the Trump Presidency when Reince Priebus was Chief of Staff by name but the White House was clearly one where Priebus was not serving in the same kind of gatekeeper role that previous Chiefs of Staff had performed. As with previous Presidents who operated their White Houses in this matter, this led to a rather chaotic situation in the early months of the Trump Administration that led to very little of substance actually getting done and a President who clearly had an inability to remain focused on a message for more than a day or two.
To a large degree, of course, the Chief of Staff position is a relatively new development in American government. Previous Presidents had operated with one or more persons who served in a role typically referred to as "Private Secretary," but it wasn't until the end of World War Two that the office that eventually came to be called "Chief of Staff" came into existence. To a large degree, such a position was made necessary due to the fact that the Federal Government had expanded to such a degree during the New Deal and the war that the idea of a President being able to sort out all the functions of the government and all the information that flows on a daily was clearly a fantasy. Since then, most of the Presidencies that have functioned well have done so thanks to the fact that there is a well-managed White House with a Chief of Staff who acts as a gatekeeper to the President and a superviser of a White House Staff that is often populated by people with clashing agendas and clashing interests. The idea of a Trump Presidency without someone even trying to play that role as Kelly has done since July should be of concern to everyone.