Chris Christie Hits Congress, President Over Shutdown
Chris Christie had some words about the crisis in D.C., and they almost sound like they could be part of a 2016 campaign message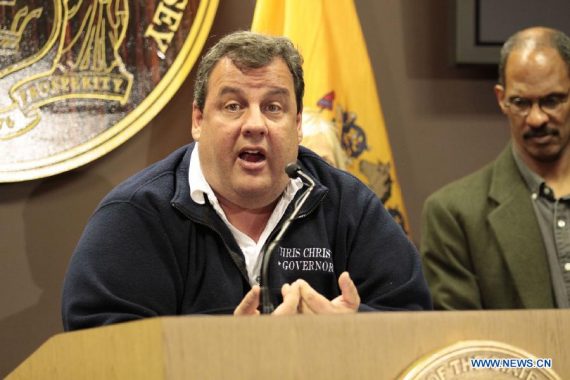 New Jersey Governor Chris Christie had few kind words to say for anyone on Capitol Hill:
New Jersey Gov. Chris Christie on Monday blamed President Barack Obama for "not bringing people together" during the government shutdown debate and said the president would be ultimately responsible for a funding stoppage.

"My approach would be, as the executive, is to call in the leaders of the Congress, the legislature, whatever you're dealing with, and say, 'We're not leaving this room until we fix this problem, because I'm the boss, I'm in charge," Christie said.

"When you're the executive, if you're waiting for leadership from the legislative branch of government, whether you're the governor, or whether you're the president or you're mayor, you are going to be waiting forever, forever because they're not built to lead and take risk."

Speaking at an event for the Jon Bon Jovi Soul Foundation just hours before the shutdown deadline loomed, the potential 2016 presidential contender said blame should also be placed on Republicans and Democrats in Congress. But, the tough-talking Garden State governor said, the chief executive is the one who needs to corral support, no matter how difficult it may be to come by.

Legislators, Christie said, are not "built to lead and take risk."

"What they are built to do is say, 'Ok how many votes do we have and how many do we need and do I have to give my vote now or can I hold back a little bit and wait to see which way the wind is blowing?" Christie said. "The only person that forces that in the end, to end that, is the executive."
These are comments that shouldn't come as a surprised to anyone who's been following Chris Christie since he took office in 2009. From the beginning, even though he was a Republican Governor in a state dominated by a Democratic Legislature, Christie has used both the force of his own personality and the power of one of the most powerful Governor's offices in the country to push through compromises with Democrats on issues ranging from education to property tax reform to budgets, and he's done so with a blunt style that has resonated very well both in the Garden State and around the country. For Christie what he's suggesting here is pretty much exactly how he's handled the conflicts that have arisen in New Jersey politics over the past four years and, for the most part, it has worked, especially in the sense that you certainly can't say that state government in New Jersey is gridlocked in the manner that the United States Government has been for the past four years. Yes, partly that is due to the fact that legislators at the state level seem to have a better to idea of how to work together, but it also helps to have a Chief Executive who can "knock heads" when needed. Just ask Presidents like Roosevelt, LBJ, Reagan, and Clinton.
The Washington Post's Jena McGregor, however, thinks Christie misses the point:
[W]here he's wrong—at least in this situation—is the idea that the president can force other leaders into a room, tell them they can't leave because he's the boss, and expect a solution. That's not only wishful thinking, it's a simplistic idea of leadership.

As we saw in the debt ceiling crisis in 2011, House Speaker John Boehnerwalked awayfrom negotiations with President Obama about a deal to raise the debt limit. The president may be the chief executive and have the bully pulpit, but he can't fire John Boehner or Eric Cantor or force them to negotiate with him. That may not be why Obama decided against engaging in talks this time—the president's position is that a functioning, funded government and paying the government's obligations are not the stuff of deal-making. But had he done so, the idea that Boehner or Cantor would keep their seats simply because the president told them to is far-fetched.

(…)

The final problem with a group session of party leaders to reach a compromise, of course, is that the forces dictating the terms of the debate would not be in attendance. Christie's approach might work if Boehner were really leading his party, but he's not. It's being led by the far right wing of his party. The idea that a group of leaders can work out a solution presumes that the people in the room are actually the ones in charge.
McGregor is right on this last point, and one suspects that even as powerful a force as Christie would find it difficult to ride herd on a House GOP Caucus that can't even seem to agree on a unified message at this point. Nonetheless, this idea of the President as the leader who gets in there and gets things done is one, I'd suggest that resonates well with many Americans and could serve well as the central theme of a Presidential campaign should Christie choose to run. At the very least, it seems clear to me that this past week has been bad news for potential Republican candidates in 2016 based in Washington, whether its Ted Cruz, Rand Paul, or Marco Rubio, and good news for those candidates who are Governors, such as Christie. Indeed, if the Republicans on Capitol Hill continue to see their stock diminish in the eyes of the general public then the GOP may find once again that its time to turn to a Governor as their Presidential candidate since, historically, that seems to be where they've had the most success.
Coincidentally, or perhaps not, Christie's re-election campaign released this ad today:
That could easily be an opening ad for a Presidential run.