Chris Christie Leads Republican Field In 2016 Poll
Chris Christie has had a very good month, and it's ending with him with a strong lead among potential Republican candidates for 2016.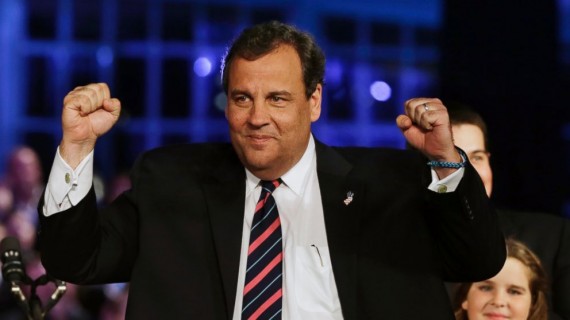 Chris Christie's overwhelming re-election win has paid off in the latest poll of potential candidates for the GOP nomination in 2016:
Washington (CNN) – A new national poll indicates, that for the first time, there may be an early frontrunner in the race for the 2016 Republican presidential nomination.

And according to a CNN/ORC International survey, if Hillary Clinton decides against making another bid for the White House, Vice President Joe Biden would be the initial favorite to capture the Democratic nomination.

The poll, released Friday morning, indicates that New Jersey Gov. Chris Christie, fresh off his Garden State re-election landslide victory and widespread national media attention, jumped to the top of the pack of potential contenders for the GOP nomination.

Twenty-four percent of Republicans and independents who lean towards the GOP questioned in the survey say they'd be likely to support Christie for the Republican nomination, up seven percentage points from a CNN poll in early September. Back then, Christie and Rep. Paul Ryan of Wisconsin, the House Budget chairman and the 2012 Republican vice presidential nominee, were virtually tied at the top of the GOP list, with Christie at 17% and Ryan at 16%.

But Ryan, who's stayed mostly away from the political spotlight the past few months, has dropped to 11%, putting him in third place, slightly behind Sen. Rand Paul of Kentucky, at 13%. Sen. Ted Cruz of Texas, who like Paul has made multiple trips this year to the states that kick off the presidential primary and caucus calendar, like Iowa, New Hampshire, and South Carolina, stands at 10% in the survey, the only other Republican White House hopeful to get double-digit support.

Sen. Marco Rubio of Florida is at 9% in the poll, with longtime Texas Gov. and 2012 Republican presidential candidate Rick Perry at 7%, and former two-term Florida Gov. Jeb Bush and former Sen. Rick Santorum of Pennsylvania, who battled eventual GOP nominee Mitt Romney deep into last year's primaries and caucuses, each at 6%.
As always, early polling like this ought to be taken with a grain of salt. With more than a year to go before we even start seeing the 2016 race start to coalesce in the summer of 2015, there's plenty that could happen that could reshuffle the Republican deck and, while it certainly seems apparent that Christie is setting a 2016 campaign into motion now that he has re-election behind him, there's always the possibility that, for one reason or another, he may decide not to run although that seems unlikely at this point.  At the same time, though, as many will point out the value of polling a Presidential campaign this early in the cycle is questionable best, as Presidents Giuliani and Hillary Clinton can tell you.
The most interesting thing about this poll, of course, is the fact that Christie has opened up a lead outside the margin of error over his nearest potential opponents, which is something we really haven't seen in many of the polls of Republican candidates up until now. Typically, if someone has had a lead, it's been a lead of between two or three points over a very packed field. Christie's seven point lead over his closest potential opponent is, at the very least, a strong indication that his reelection win, and the positive press that his gotten since then, has been a significant boost to his potential candidacy. Also interesting the change we've seen in this race in just about a month. Back in September, just as he was leading he Republican Party into what turned out to be an unwise, pointless, and politically stupid shutdown, Ted Cruz was leading the pack, albeit by a small margin, and Rand Paul wasn't far behind him. Now, it seems as though most of the Congressional candidates on the list of potential GOP candidates have fallen in the polls while those from outside Washington, like Christie, have risen. The one exception to that seems to be Paul Ryan, who stayed mostly in the background during the shutdown and has now ended up being the guy leading the GOP in the ongoing budget negotiations. No doubt, this is a reflection of the general disdain for Congress that the government shutdown created even among Republicans.
Republican poll respondents have proven themselves to be fickle in these polls, though. Christie has led in these match-ups before only to be supplanted at times by others such as Rand Paul and Cruz, usually in the wake of some high profile event like Rand Paul's filibuster in March, or Cruz leading the shutdown in late September. Additionally, of course, there's still the question of just how accepting conservatives would end up being of Christie as a candidate. In the beginning, obviously, they'll likely try to rally around Paul, Cruz, or some other conservative candidate in the hope that they will catch fire before Christie, who would likely have the weight of the GOP's business and "establishment" wings behind him. That's exactly what happened in 2012, when we saw conservatives cycle through Michele Bachmann, Rick Perry, Herman Cain, Newt Gingrich, and Rick Santorum before finally accepting the inevitability of Mitt Romney's nomination, and I think we can expect something similar with regard to Christie. Fairly or unfairly, Christie is seen as a "moderate" Republican simply because he comes from New Jersey, and there are still many on the right who haven't forgiven him for his "embrace" of President Obama after Hurricane Sandy or his attacks on Congressional Republicans at the end of 2012 over the issue of authorizing disaster aid. It's going to take some time, and some fence mending, for people to put that behind them and some are unlikely to ever really forgive him. At the same time, though, nothing succeeds like success, and if Christie manages to start pulling of the same kind of string of primary wins that Romney did in 2012, then it won't be long before they start rallying behind him for the General Election.
Again, all of this is purely speculative at this point. Six months from now, heck even six weeks from now, the polling for 2016 could be completely different. For the moment, though, Christie looks to be the strongest potential contender for the 2016 Republican nomination.