Clinton, Sanders, Cruz And Carson Won Fourth Quarter 2015 Money Race
Fundraising in the final three months of 2015 largely reflected the state of the race itself, but some candidates are better positioned going forward than others.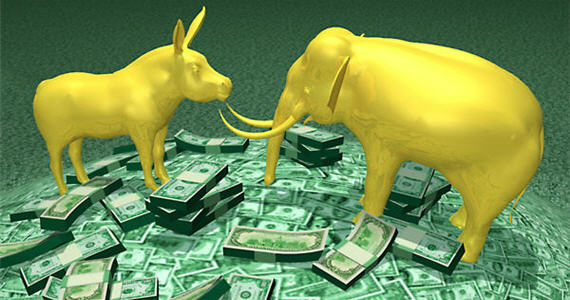 While everyone waits for tonight when Iowa voters head to their respective caucus locations to begin the process of selecting the next President of the United States, last night was the deadline for candidates to file their fundraising and disbursement reports for the final three months of 2015, and the numbers provide some good insight into the state of the race itself:
Altogether, the 12 remaining GOP candidates collected $90 million for their campaign committees in the last quarter of 2015. At the top was retired neurosurgeon Ben Carson, who brought in $22.6 million, followed by Sen. Ted Cruz (Tex.), who raised $20.5 million.

Sen. Marco Rubio (Fla.) collected $14.2 million, while real estate executive Donald Trump brought in $13.6 million. He lent his campaign $10.8 million and gave it another $113,000, part of the $2.8 million it raised in contributions.

Bush posted $7 million and Ohio Gov. John Kasich raised $3.2 million. New Jersey Gov. Chris Christie notched $2.9 million, former Hewlett-Packard chief executive Carly Fi­orina brought in $2.84 million and Sen. Rand Paul of Kentucky collected $2.1 million. Former Arkansas governor Mike Huckabee, former senator Rick Santorum and former Virginia governor Jim Gilmore were far behind, raising $703,000, $246,000 and $108,000 respectively.

Of them all, Cruz was best positioned financially heading into 2016. He had $18.7 million in the bank, while Rubio had $10.4 million, Bush had $7.58 million and Trump had nearly $7 million.
Not surprisingly, Ted Cruz did very well in fundraising in the final quarter of the year, a period of time that also happens to coincide with the time during which the Texas Senator began rising in the polls to become the principal challenger to Donald Trump in most of the country. To be fair, Cruz was doing quite well in fundraising prior to this period, but the fact that he was able to make it through a period of time during which a campaign is likely to spend a lot of money and still have nearly $20 million in the bank is a good sign for him going forward if he can maintain his position as the number two candidate in the race. If he can't then Cruz is likely to see fundraising dry up relatively quickly, and that $18 million will dry up pretty quickly. Ben Carson's numbers may seem like an anomaly given the fact his campaign basically collapsed during the tail end of 2015, but it appears that much of the money Carson raised in the fourth quarter came during the October to mid-November period when he was a strong second to Trump in most of the polls and, for a brief time, leading in Iowa. Marco Rubio's numbers are also respectable and, assuming he does well enough in the first two contests this month, should put him in a good position going forward. Finally, Donald Trump's numbers seem to finally give us the answer to the question of whether or not he would be willing to put his own money on the table in this race. The nearly $11 million Trump has invested in the race suggests that the campaign may indeed have a decent ground operation in Iowa and New Hampshire after all, and it also suggests that he'll be willing to continue spending his own money as long as he keeps winning.
On the other hand, there are several candidates whose numbers reflect campaigns that probably need to be counted among the walking dead. Perhaps the most disappointed campaign of all would be Jeb Bush's campaign, which did very well in the money race in the previous 2015 fundraising quarters, is obviously a reflection of the weakness of his campaign and the fact that he has failed to make any progress in the polls either nationally or in states such as New Hampshire, which seems like it would have been a good state for him to perform well in. The meager fundraising by Chris Christie and John Kasich, meanwhile, suggests that the talk of either one of them becoming a breakthrough candidate after New Hampshire is woefully premature since they would not appear to have the resources to mount credible campaigns anywhere outside the Granite State. The same can be said for Rand Paul and Carly Fiorina, neither of whom would seem to have a reason to stay in the race absent a surprisingly good performance in Iowa or New Hampshire. Finally, the numbers from Huckabee, Santorum, and Gilmore reveal their irrelevance in the race and suggest that all three of them will likely be out of the race by the time we have the results from New Hampshire, if not sooner.
On the Democratic side, the fundraising reflect the polling that shows a tight race between Hillary Clinton and Bernie Sanders:
On the Democratic side, the three remaining candidates together raised $72.5 million in the last quarter of the year. Sanders came close to matching former secretary of state Hillary Clinton's fundraising haul, raising $33.6 million to her $37 million. Clinton had $37.9 million on hand as the year began, while Sanders had $28 million. Former Maryland governor Martin O'Malley brought in $1.5 million and had less than $170,000 left in the bank.

Sanders has been buoyed by more than 3.25 million contributions since he launched his campaign, including 770,000 in January, the campaign said. Because most were small sums, more than 99.9 percent of his donors have not yet reached the maximum $2,700 they can give to him for the primaries.

Jeff Weaver, Sanders's campaign manager, said that the campaign is on pace to beat Clinton's goal of raising $50 million in the first quarter of the year.

"Working Americans chipping in a few dollars each month are not only challenging but beating the greatest fundraising machine ever assembled," he said in a statement.

While Sanders repeatedly boasts that he does not have an allied super PAC, he does have a network of independent groups supporting him, including a super PAC financed by National Nurses United, which reported raising $2.2 million in the last half of 2015.

The super PAC is financed by both mandatory and voluntary dues paid by its 185,000 members, officials told The Washington Post.

Meanwhile, Priorities USA Action, the main super PAC backing Clinton,announced Friday that it had raised $50.5 million through the end of January and had an additional $42 million in commitments.
If nothing else, these numbers indicate that Sanders will be able to continue to mount a campaign past New Hampshire regardless of what the results might be, but that doesn't mean that he can mount a campaign that has any real chance of winning the nomination. After New Hampshire, for example, Democrats head to Nevada and South Carolina, where Hillary Clinton's advantage in the polls currently seems insurmountable thanks in no small part to her overwhelming support among Latino and African-American voters. Even if Sanders manages to pull off a win in both Iowa tonight and New Hampshire next week, it's not easy to see how far he can go forward notwithstanding the fact that the race would be thrown into chaos for a period likely to last until at least Super Tuesday in early March, where Clinton would seem to have a good chance of running the table in every state except Sanders' home state of Vermont. All of that could change, of course, and the fact that Sanders is raising money to rival Clinton's means that he is positioned to stay in the race well into April at least and force Clinton to fight for delegates in much the same way she did with Barack Obama eight years ago, although this time I suspect Clinton will end up on the winning side of the ledger.