Congressional Control Still Too Close to Call
We likely won't know on Election Night.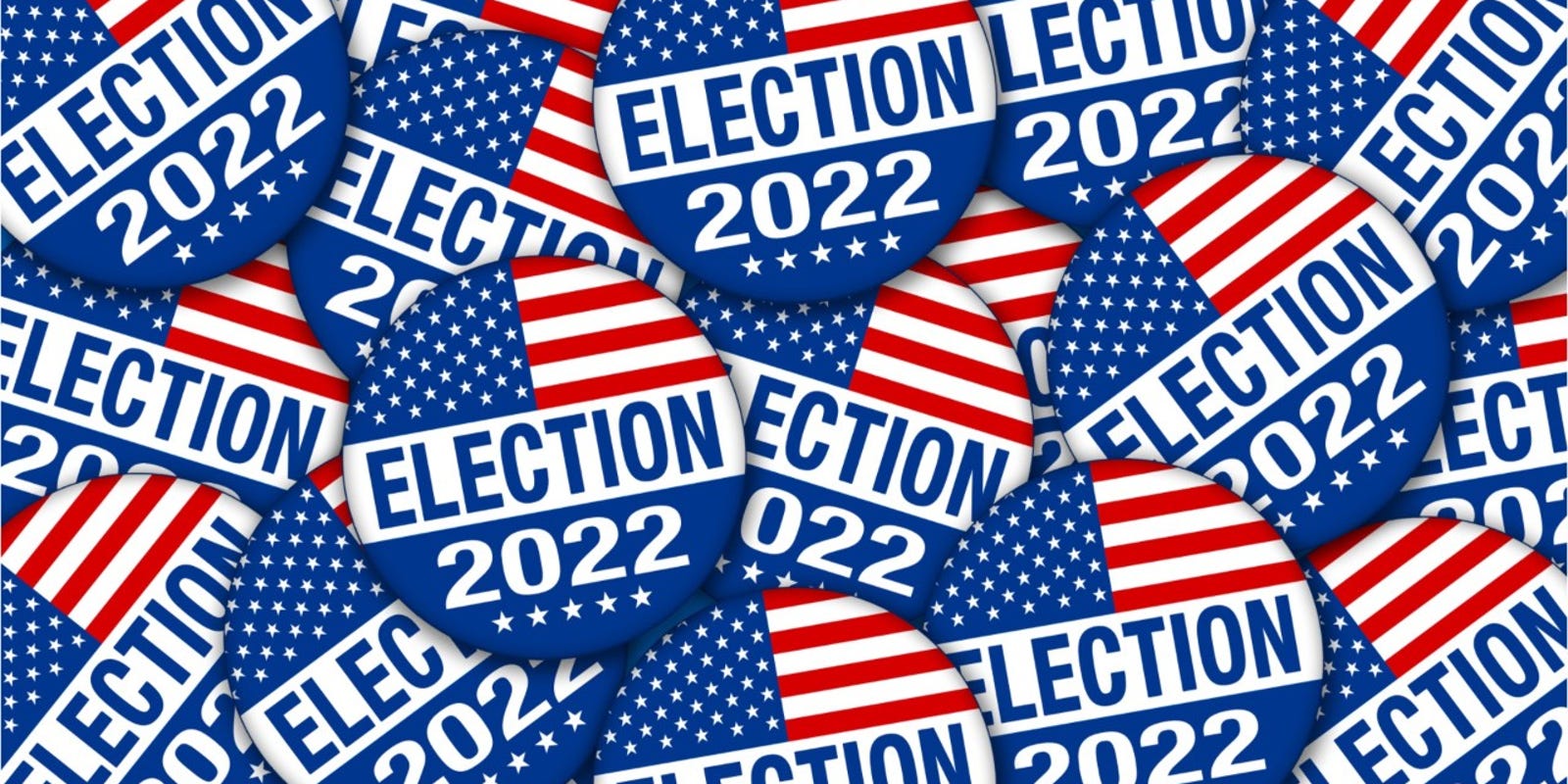 While voting has been going on for weeks in some races, the midterm Election Day is a week from tomorrow. We still have no idea who is going to win.
POLITICO ("Senate control could go either way despite Republican momentum"):
Democrats' hopes of holding onto the Senate and perhaps even bolstering their majority — which rose this summer after the national right to an abortion was eliminated and support for the party surged — are sagging under the weight of the dark mood of the nation.

The dynamic was evident last week in Pennsylvania where Democratic Lt. Gov. John Fetterman, after enjoying a comfortable lead over Donald Trump ally and celebrity doctor Mehmet Oz for much of the summer, went into a televised debate barely ahead in the polls. He stumbled, and his shaky performance came at perhaps the worst time, after he's been pummeled — like other Democrats around the country — with bad news about increases in inflation and crime.

[…]

With crime up in several big cities, inflation whirring, and many voters pinning the blame on President Joe Biden, GOP and even some Democratic strategists said Republicans now have the momentum in key races for the Senate. But the GOP hasn't put them away yet, and the contests are close enough that they could go either way.

Though it's too soon to know the impact of the debate, Fetterman's one-time advantage has all but evaporated, with him ahead by 1 percentage point or less in polling averages. Though Democrats remain on top in Arizona and New Hampshire, the Senate races there are tightening. In Wisconsin, GOP Sen. Ron Johnson has slowly grown his lead to a modest 3 points, while in Nevada, Democratic Sen. Catherine Cortez Masto is in a dead heat. And in Georgia, Democrats fear that Republican Herschel Walker is gaining despite his myriad personal scandals.

The GOP only needs to net a single seat to win back control of the Senate.

"Things have shifted, and the odds at least modestly favor Republican control of the Senate," said Sen. Pat Toomey (R-Pa.). "If Republicans hold every seat that we have now, which is the way it's looking, then the chances of picking up one of Nevada, Georgia, Arizona, even New Hampshire — the odds of picking up at least one — are really pretty good."

Political forecasters now say that either party could end up with the majority next year, with many strategists arguing the GOP has not yet taken a commanding lead because of its flawed candidates and the still-unknown effect that the transformed debate over abortion could have on voters. In Wisconsin, Pennsylvania, Georgia, Nevada — and even Ohio and North Carolina, which lean Republican — the candidates are separated by 3 percentage points or less in polling averages.
NYT ("Senate Control Hinges on Neck-and-Neck Races, Times/Siena Poll Finds"):
Control of the Senate rests on a knife's edge, according to new polls by The New York Times and Siena College, with Republican challengers in Nevada and Georgia neck-and-neck with Democratic incumbents, and the Democratic candidate in Pennsylvania clinging to what appears to be a tenuous advantage.

The bright spot for Democrats in the four key states polled was in Arizona, where Senator Mark Kelly is holding a small but steady lead over his Republican challenger, Blake Masters.

The results indicate a deeply volatile and unpredictable Senate contest: More people across three of the states surveyed said they wanted Republicans to gain control of the Senate, but they preferred the individual Democratic candidates in their states — a sign that Republicans may be hampered by the shortcomings of their nominees.

Midterm elections are typically referendums on the party in power, and Democrats must defy decades of that political history to win control of the Senate, an outcome that has not completely slipped out of the party's grasp according to the findings of the Times/Siena surveys. Democrats control the 50-50 Senate with Vice President Kamala Harris as the tiebreaking vote. To gain the majority, Republicans need to gain just one seat.

he polls surveyed likely voters across four key Senate races: Arizona, Georgia, Nevada and Pennsylvania. Mr. Kelly, the Democratic incumbent in Arizona, holds the biggest lead, ahead of Mr. Masters by a 51 percent to 45 percent margin. Nevada is the tightest of the races, with the Democratic incumbent, Senator Catherine Cortez Masto, and her Republican challenger, Adam Laxalt, locked in a dead-heat at 47 percent. In Georgia, Senator Raphael Warnock leads narrowly in a tight race over his Republican opponent, Herschel Walker, at 49 to 46 percent.

[…]

The midterms are unfolding in an unprecedented political climate, representing the first national assessment since the pandemic subsided, after the Jan. 6 attack on the Capitol and in a post-Roe environment. While Republicans benefit from a host of factors — a jittery economy, high inflation, worries about crime — the debate over abortion rights and concerns about gun violence have allowed Democrats to cling to some advantage in the Senate race.

With the House appearing to be slipping out of Democrats' reach, a central question for the party is whether the extraordinary environment can help it maintain some hold on congressional control. The president's party has lost seats in every midterm since the Bush administration in 2002.

For Democrats, much of their success will depend on whether their Senate candidates can continue to rise above President Biden's low approval ratings and the national environment. Mr. Biden's standing is at or below his national average in the four states, with the president at 36 percent in Arizona, 38 percent in Nevada, 39 percent in Georgia and 42 percent in Pennsylvania.

In all the races surveyed, the candidates outpace the president, with Mr. Kelly beating Mr. Biden's approval rating by 15 points and winning nearly one-quarter of the people who disapprove of Mr. Biden's job performance in the state. Mr. Fetterman is the closest to the president, but still ahead of him by eight points.
The good news is that Democrats hold a lead in there of the four key Senate races and are tied in the other. In all four cases, they're bolstered by having candidates who seem objectively more qualified for the job than their opponent. But that matters only at the margins and the general trend is for the President's party to lose seats in the midterms—and Biden's own popularity is low.
The FiveThirtyEight average, updated as of 8:21 last evening, looks like this: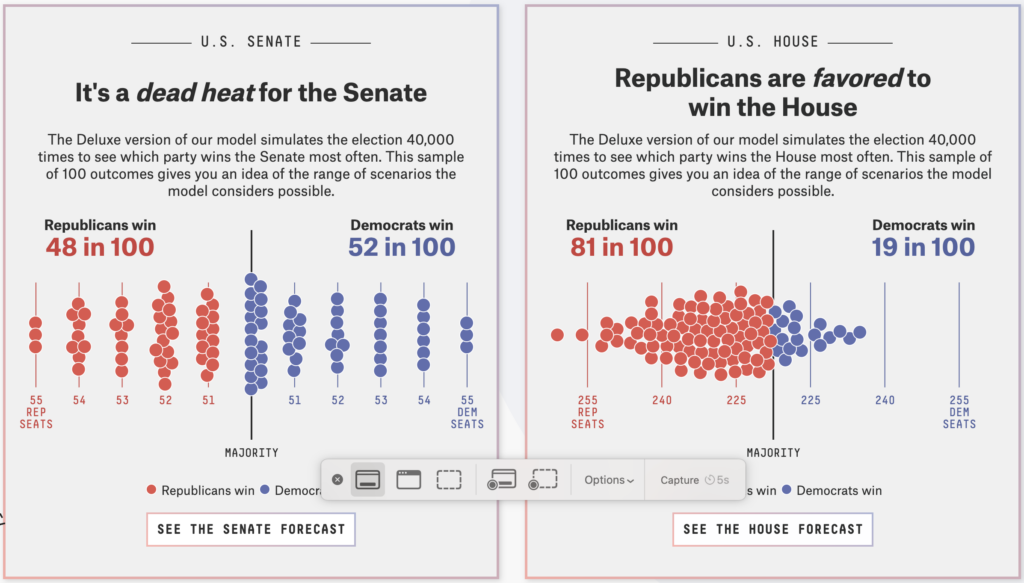 Democrats winning the House would be a sizable upset. The Senate looks very much like a tossup but, if I had to bet, I'd go with the Democrats retaining at least the 50-50 balance that allows them to retain leadership.
The combination of so many close races and votes being tabulated on live television as polls close will, alas, be a recipe for Republicans to claim chicanery if they lose.
NYT ("Why Early Results on Election Night May Be Misleading Again"):
If election night in 2020 was clouded by a so-called red mirage that misleadingly suggested Donald J. Trump was headed toward a landslide victory, early results on Nov. 8 may have a similarly exaggerated hue — distinctly pink, if not crimson.

For the second straight election, Republican votes are more likely to be counted and reported first in several battleground states, giving the party's candidates deceptively large early leads that will probably diminish as counting continues.

The pattern is the result of both a partisan divide in voting methods — Democrats continue to cast far more mail ballots than Republicans do — and state rules governing how votes are counted. In some states, mail ballots take longer to tally and are increasingly reported in the days after the election.

Although this has zero impact on the final results, Mr. Trump and his allies seized on the phenomenon two years ago to fuel false claims that the election had been stolen. Election experts are worried that some candidates and their allies might make similar false or premature assertions this year.

"In 2020, it had a big impact on the way that the election was perceived and sort of provided a window for disinformation and conspiracy theories," said Sean Morales-Doyle, the director of the voting rights program at the Brennan Center for Justice. "And I think that there's a risk of that happening again in some places in 2022."

In many places, Republican strength is likely to be very real in the election results. Polls nationwide show the party gaining momentum in the final stretch of the midterms, as anxiety about the economy dominates voters' thinking. But in close races in some states, misperceptions about what the early results show will almost certainly persist.

As in the 2020 election, Democrats have continued to embrace absentee and mail voting this cycle, while many Republicans have eschewed those methods, swayed in part by claims that they are less secure.

In many states, this disparity is not a problem when reporting results, because election officials are allowed to process ballots well before Election Day. But in critical states like Pennsylvania and Wisconsin, officials are not allowed to begin work on ballots until polls open on Election Day. In Michigan, officials are given just two days in advance to process ballots.

In Wisconsin and Michigan in 2020, the winner of the state's presidential election could not be called until the day after Election Day, when large numbers of absentee ballots were added to each state's overall total — in what Mr. Trump conspiratorially called a "dump" of votes as he sought to overturn the results. In Pennsylvania, the race was not called until four days after Election Day.
Obviously, the exploitation of this phenomenon by Republican politicians and the supporting infotainment establishment is a huge issue. But, because these elections are perceived as very high stakes and people root for their "teams" in ways almost identical to sports fans, Republican voters will need very little encouragement to believe that the "refs" have screwed them over if they have a big lead when they go to bed and see it evaporate overnight or even days later.
It's one of the many reasons that I instinctively prefer everyone cast their ballots on Election Day, even though I intellectually understand that allowing extended voting by mail and other means is more democratic. Even if the politicians were honorable and the reporting was all fair and nuanced, the mirage will seem real to voters and confidence in the outcome will be diminished.