Coroner Rules Death Of Handcuffed Man Was A Suicide
A corner has ruled the death of a handcuffed man in the back of a Jonesboro, AR police cruiser was a suicide. Needless to say, questions remain.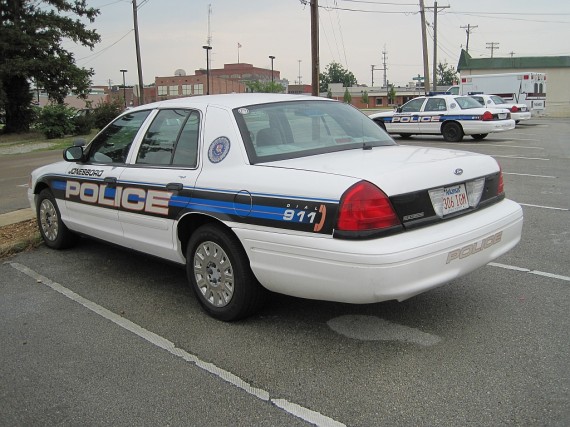 Earlier this month, I wrote about the case of Chavis Carter, the 21yo Arkansas resident who mysteriously died of a gunshot wound to the head while sitting alone and handcuffed with his hands behind his back in the back seat of a Jonesboro, AR patrol car. Yesterday, the Jonesboro corner released his final report and ruled Carter's death to have been a suicide:
(CBS) JONESBORO, Ark. – An Arkansas medical examiner has ruled that Chavis Carter, the 21-year-old man killed by a gunshot wound to the head while handcuffed in the back of a police car, committed suicide.

Toxicology findings show Carter tested positive for methamphetamine, anti-anxiety medication and other drugs.

According to the report by Deputy Chief Medical Examiner Stephen A. Erickson of the Arkansas State Crime Lab, the bullet that killed Carter entered his skull near his right temple, four inches from the top of his head.

"At the time of discharge, the muzzle of the gun was placed against the right temporal scalp," wrote Erickson.

He went on to state that, "The manner of death is based on both autopsy findings and the investigative conclusions of the Jonesboro Police Department."

The autopsy report released Monday included a drug analysis showing Carter hadn't been drinking the night of the July 28 shooting but his urine and blood indicated methamphetamine use. The report says Carter's blood also tested positive for at least trace amounts of the anti-anxiety medication diazepam and the painkiller oxycodone. His urine test also returned a positive result for marijuana.
I'm not a medical doctor so I'm not going to comment on whether or not the presence of drugs in Carter's system makes it more or less likely that he might have been put into a suicidal state of mind merely by being arrested. However, it's worth noting that at least two of these drugs are prescription drugs that Carter may have had a legal prescription for (of course, oxycodone is also a drug that is frequently sold illegally.) The point, though, is that I'm not sure we can draw any conclusion at all from the fact that Carter was on drugs. The real questions, as I noted in my original post, is (1) if Carter had a gun, how did the police miss it after frisking him twice? and (2) how, exactly, does a person who is handcuffed with his hands behind his back, and his left handed, shoot himself in the right side of his head?
As to that last question, Jonesboro police released an odd little video last week trying to explain that:
Last week, Jonesboro police released video of a police officer approximately the same size as Carter reenacting what may have happened the back of the police car on the night of July 28, when Carter and two other men were pulled over in a traffic stop. Police searched Carter twice but have said they did not find a gun.

The reenactment video shows the officer being cuffed, then sitting in the back seat, retrieving a fake gun from his pants, and bringing the barrel to his right temple. The video also shows still photographs of other officers handcuffed in the backseat of a car, with the fake gun pressed to their temple.
Here's that video, judge for yourself:
The autopsy report doesn't answer the first question, which strikes me as perhaps even more important than the second. Perhaps it's possible that Carter would be able to perform the manuevers in the video, but it's the atypical person who would be able to do so with enough dexterity to be able to fire a weapon with his non-favored hand. As the Associated Press notes, the report raises more questions than it answers:
Hours after police released an autopsy report that ruled the shooting death of a young man in the back of a patrol car was a suicide, dozens of the man's supporters and relatives gathered Monday night in Memphis for a candlelight vigil.
The report from the Arkansas state crime lab says Chavis Carter, 21, tested positive for methamphetamine, anti-anxiety medication and other drugs. It ruled his death a suicide and says the muzzle of a handgun he apparently concealed from arresting officers was placed against his right temple when it was fired.

Instead of focusing on the newly released report, some supporters at the vigil were asking more questions.

"How (did) he shoot himself in his right temple and he (was) left-handed? In handcuffs?" one of his friends, Bianca Tipton, asked.

The state crime lab report, released to The Associated Press and other news organizations under a public records request, didn't answer that question.

(…)

Benjamin Irwin, a Memphis-based lawyer representing Carter's family, declined to comment Monday afternoon on the specifics of the toxicology report, calling instead for police to release details of any gunpowder residue or other such tests.

"If those tests were taken … what were the results?" Irwin asked.
The gunpowder tests would indeed be interesting to see. If Carter had gunpowder residue on his right hand indicative of that which would be left if he had fired the weapon, then this might suggest that he did indeed commit suicide as improbable as the story may seem. For what it's worth, I've run this past a friend in law enforcement who says that it's certainly possible that someone could manipulate a gun in handcuffs like Carter was so it's not entirely beyond the realm of possibility that the police are telling the truth here. However, given the oddities in the case — the two frisks that found $10 worth of marijuana but failed to find a gun, the fact that Carter was left handed but shot in the right side of his head, and the fact that his family has said that he'd never displayed any suicidal tendencies — there's certainly reason to be suspicious. And, yes, the racial aspect of the story is another thing to take into consideration.
This case deserves more investigation. It also deserves more attention that it's getting and, perhaps, FBI involvement. At least to answer the legitimate questions out there and resolve the grief of Carter's family as best as can be done.