Covid-19 Deaths Rising
The trend line shifted this week.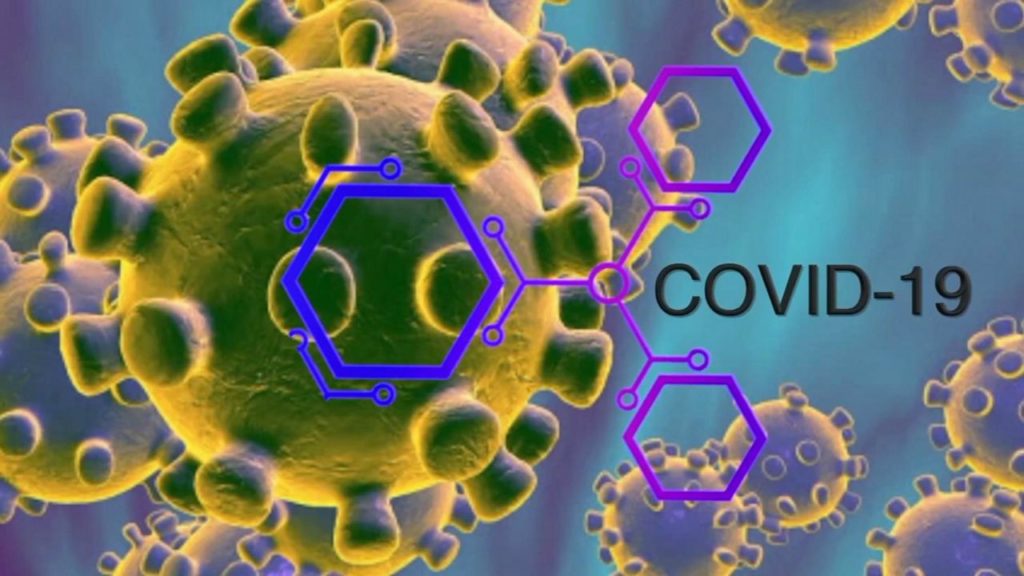 While it has been widely reported that Covid-19 cases have been setting daily records in the United States of later, the solace had been that the daily death rates had been steadily declining. Various theories have been floated, including the hope that younger Americans, the likely source of the record-breaking case count, were less likely to die from the disease (which is true) or that testing was just uncovering more cases. Alas, while we started this last week with some of the lowest reported death totals, the numbers have soared at the week closed out.
According to Worldometer, on July 6, the three-day moving average of death was 302 (granted, that was over a holiday weekend, which likely depressed reporting). Yesterday, July 10, the three-day average was 900.
The last four days of this week (the week of July 6th) were 993, 890, 960, and 849. That's the worst stretch in roughly a month.
Here's the graph: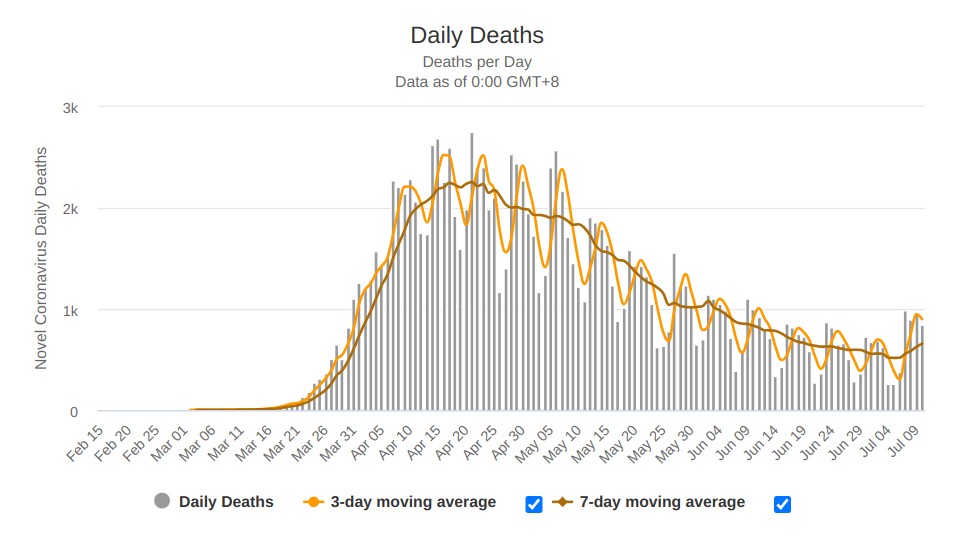 Death is, of course, a lagging indicator. States have been in various stages of opening up since late May/early June. It is logical to conclude that we are now seeing, in the death figures, the consequences of policy decisions across the country, as well as the lack of seriousness with which many in the population are treating the pandemic.
An AP headline is to the point: Coronavirus deaths take a long-expected turn for the worse.
The number of deaths per day from the virus had been falling for months, and even remained down as states like Florida and Texas saw explosions in cases and hospitalizations — and reported daily U.S. infections broke records several times in recent days.

Scientists warned it wouldn't last. A coronavirus death, when it occurs, typically comes several weeks after a person is first infected. And experts predicted states that saw increases in cases and hospitalizations would, at some point, see deaths rise too. Now that's happening.

[…]

According to an Associated Press analysis of data from Johns Hopkins University, the seven-day rolling average for daily reported deaths in the U.S. has increased from 578 two weeks ago to 664 on July 10 — still well below the heights hit in April. Daily reported deaths increased in 27 states over that time period, but the majority of those states are averaging under 15 new deaths per day. A smaller group of states has been driving the nationwide increase in deaths.
Likewise, WaPo reports: National Coronavirus update: U.S. death toll rises as new infections reach record levels
The daily coronavirus death toll in the United States increased this week after months of decline, as new infections soared to record levels and hospitals in the South and West faced a crush of patients.

More than 4,200 deaths were reported nationally in the past seven days, and experts warn that the trend could continue to get worse. Texas, Arizona and South Carolina have all seen their death toll rise by more than 100 percent in the past four weeks. Four more states — Mississippi, Tennessee, California and Louisiana — have seen at least a 20 percent jump in that time span.
The piece notes that Friday saw a record 67,211 new cases nationwide.
Hospitalizations are on the rise:
Coronavirus-related hospitalizations reached their highest level since early May, with 50,100 patients nationwide, according to the Covid Tracking Project.

In Texas, where roughly 10,000 coronavirus patients were hospitalized and more than 3,000 people have died of the virus, some counties were preparing for a wave of new deaths by requesting refrigerator trucks to store bodies that can't fit in overflowing morgues.
The situation in Texas had led Governor Abbot to issue a statewide mask order (after having balked at such actions earlier), but many local jurisdictions are rejecting it. For example, Nacogdoches County Sherrif, Jason Bridges stated in a Facebook video "I believe in our constitutional rights, and this is borderline infringing on some of those constitutional rights in my belief."
To be honest, I am utterly unclear as to what constitutional rights are violated by a mask order. Is "no shoes, no shirt, no service" unconstitutional? What about public decency laws? Is Nacogdoches now a nudist haven?
And since when is it the job of a county sheriff to interpret the constitutional powers of the governor of the state? Indeed, if he really thinks Abbott is acting illegally, he should take him to court.
Beyond that, I would argue that if there is a legal question about the powers of the governor in this matter then the remedy is to be found in either Texas statute, or the state's constitution, not the nebulous "constitutional rights" that many anti-maskers like to claim.
Ultimately, we are reaping what leadership in the White House, specifically President Trump, has sown. He has downplayed at best and dismissed at worse the significance of the virus. He has not led in any substantive way, not even on the simplest of measure, which would include touting, repeating, underscoring, and leading on CDC guidelines.
How much better would the case counts and death rates be if the President of the United States could have been bothered to support mask-wearing and social distancing? What if the president was engaged in a rational process of listening to public health experts on how to navigate this crisis?
What if we had a unified, bipartisan view on public health? And I don't mean unanimity as a country, that is impossible, but almost any other president would have found a way to make this into a national effort. George W. Bush was able to get approval ratings in the 90s after 9/11 despite his controversial win in 2000. We were significantly unified because the perception was that we were all under attack. Bush didn't make terrorism into a Blue state v. Red state issue. It was an American issue.
And the sad, frustrating irony is that Americans as a whole are far, far, more threatened individually by Covid-19 that they ever were from al Qaeda.
I do not know what the exact odds of dying from Covid-19 are in Mississippi of Wyoming, but I can guarantee you that they are higher than the odds of an al Qaeda attack in those locations in 2001.
Trump is currently trying to weaponize the federal government to force school openings and to punish universities for going online. This is all in service of his own re-election because he thinks that if he can force us all back to "normal" then the economy will snap back and he will have a shot at winning a second term. This is, of course, nonsensical since there is no normal with which to return. The virus remains in play, cases are going through the roof, and it appears that death is accelerating its march.
One of the grandest ironies of this current mess is that despite all the challenges, it was the best opportunity Trump had to "finally becomes president" by engaging in a national effort to combat the pandemic together. Instead, he proved once again that he is incapable of governing and is dispositional unfit to occupy the office he currently holds.
Forget partisan preferences, it is simply impossible to dispassionately assess Trump's performance on this matter in a positive manner.
In the simplest of terms: if the president was actively promoting mask-wearing, to pick a simple mitigation tool, it would make it easier for governors to impose mask-wearing in their states, and therefore for county and municipal leaders to do the same. This, then, would have a ripple effect on businesses and other public-facing entities. It would forestall (but, I understand, not eliminate) county sheriff's thinking they are constitutional arbiters or people ranting in stores about their rights being violated.
Trump's handling of this pandemic (indeed, lack thereof) has very much helped fuel cases and, therefore, deaths. This is an incontrovertible truth.
Again, let me share this graph:
That is a picture of policy failure that is directly linked to the current occupant of the White House.
And let me conclude on a sobering note note: cases have gotten worse since that graph was created. Worldometer's seven-day rolling average as of July 10 was 56,639–over twice what is shown in that graph.