Cracks in America's Election System?
Was Trump's attempt to overturn the outcome a one-off or a sign of things to come?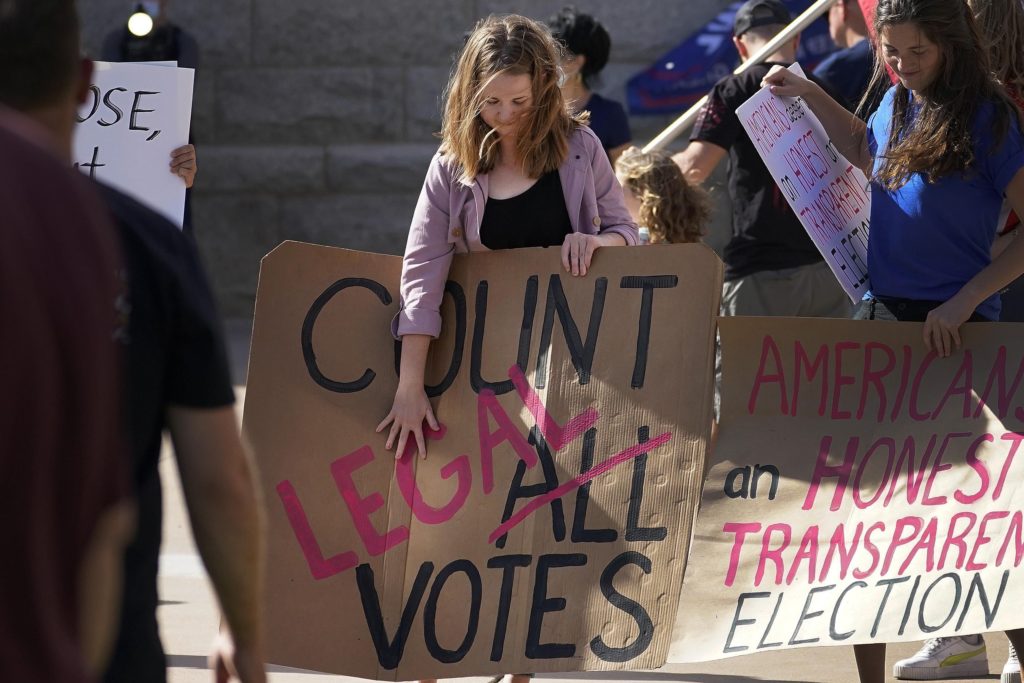 Now that the Trump Administration has formally acknowledged that Joe Biden won the 2020 election, it would seem that we've survived the outrageous assault on democracy perpetrated by Donald Trump and his Republican enablers in Congress. But some commenters believe he has revealed some real problems with our process that are ripe for exploitation.
At the New York Times, Alexander Burns argues "Trump Stress-Tested the Election System, and the Cracks Showed." After a few paragraphs outlining what has happened since the election, he observes,
While Mr. Trump's mission to subvert the election has so far failed at every turn, it has nevertheless exposed deep cracks in the edifice of American democracy and opened the way for future disruption and perhaps disaster. With the most amateurish of efforts, Mr. Trump managed to freeze the passage of power for most of a month, commanding submissive indulgence from Republicans and stirring fear and frustration among Democrats as he explored a range of wild options for thwarting Mr. Biden.
But, as the next few paragraphs remind us, it was all laughed out of court and unlikely to be seen as a playbook for future challenges. Still . . .
Ben Ginsberg, the most prominent Republican election lawyer of his generation, [believes] "the system was stress-tested as never before."

That test, he said, revealed enough vague provisions and holes in American election law to make a crisis all too plausible. He pointed in particular to the lack of uniform standards for the timely certification of elections by state authorities, and the uncertainty about whether state legislatures had the power to appoint their own electors in defiance of the popular vote. The 2020 election, he said, "should be a call for some consideration of those issues."

[…]

Still more important, legal and political experts said, is the way Mr. Trump identified perilous pressure points within the system. Those vulnerabilities, they said, could be manipulated to destabilizing effect by someone else, in a closer election — perhaps one that featured real evidence of tampering, or foreign interference, or an outcome that delivers a winner who was beaten handily in the popular vote but scored a razor-thin win in the Electoral College.

In those scenarios, it might not be such a long-shot gambit for a losing candidate to attempt to halt certification of results through low-profile state and county boards, or to bestir state legislators to appoint a slate of electors or to pressure political appointees in the federal government to block a presidential transition.
But, if there's actual evidence of vote tampering or foreign interference, there actually ought to be routes for challenging the results. That wouldn't be problematic.
Conversely, we've had two cases in the last two decades in which "a winner who was beaten handily in the popular vote but scored a razor-thin win in the Electoral College" conceded the outcome. Trump has shown that a sore loser can get away with not doing that. But he hasn't delivered a roadmap to overturning the result.
Barbara J. Pariente, the former chief justice of the Florida Supreme Court who oversaw the state-level battle over the 2000 vote, said it was essential for Congress to clarify the process by which elections are conducted and resolved or risk greater calamity in the coming years. Mr. Trump's team, she said, had already breached fundamental standards of legal conduct by filing cases seeking to throw out huge numbers of votes "without any evidence of impropriety, and then asking a court to look further into it."
While I think we should absolutely enact uniform standards for conducting elections, it's not obvious how we fix the problem of sore losers filing frivolous suits. Theoretically, I suppose, Congress has the power to tell courts they have no jurisdiction over election challenges. But courts are the venue democracies have for resolving disputes peacefully. Further, as Burns points out,
Even if Congress were to impose a clearer set of election procedures, however, there is reason to doubt whether the rules could reverse the total-war mind-set Mr. Trump has modeled. In failure, he has created a road map for his own party — or even, under certain circumstances, for a grievance-laden Democrat — to wage a bitter-end fight against an unfavorable election result, with the support of loud voices in the right-wing media and much of his party's conservative base.
Sure. Again, this is all unsporting and ugly. But that's a combination of a uniquely bad actor as President but also of an incredibly polarized political climate that makes a war-like footing possible. I don't see what structural cures there are for that.
Or for this:
Shawn Rosenberg, a professor of political and psychological science at the University of California, Irvine, who has written pessimistically about the trajectory of American democracy, said Mr. Trump has been highly effective at exploiting the gap between the complexity of the country's political system and the more rudimentary grasp most voters have of their government. For the average partisan, he said, issues of political norms and procedures were "very abstract" and far less important than simply winning — an impulse Mr. Trump stoked to the detriment of democratic institutions.
I not only pay far, far more attention to political news than the average American, I have a doctorate in political science and have taught American politics at the collegiate level. And I don't understand the ins-and-outs of how ballots are counted and recounted. It is incredibly easy to understand why ordinary happenings like boxes of ballots that weren't counted initially being "found" during the recount would look like fraud to motivated observers who that development disadvantaged.
A memo must have gone out because the Washington Post also had not one but two columns today on the same theme.
Edward B. Foley tells us "This unnerving election does not bode well for the next one."
Next time could be worse.

This year's presidential election came dangerously close to being stolen. The only reason it didn't happen was because, in the end, there were too many states for President Trump to try to steal, with margins that were too big for him to pull it off.

What if the differences between Trump and Joe Biden were fewer than 10,000 votes in just a few pivotal states, as easily could have been the case? The unsettling lesson of 2020 is that a presidential election does not need to be as close as George W. Bush vs. Vice President Al Gore in 2000 — 537 votes in a single state — to be susceptible to subversion of the electorate's will. The guardrails are flimsier than we understood.

The danger that America faces is not that the losing candidate will resort to litigation to overturn a clear election result. It's that a cynical and unpatriotic candidate will deploy litigation as part of a broader political strategy — upping the pressure on state and local election officials, state legislatures, and Congress to negate the outcome.
That's what happened this time. It just didn't work. But, Foley argues, the "courts have proved the most stalwart defenders of democracy" and thwarted Trump and his team at every turn.
The judicial shellacking of Trump's fact-free claims gave backbone to these other political actors to withstand Trump's all-out assault on letting the voters decide whom they wanted in the White House for the next four years.
And yet, it is important to recognize how vulnerable the electoral system remains to this kind of authoritarian pressure. Different individuals inhabiting the same political offices, or perhaps even the same individuals faced with just slightly less clear-cut circumstances, could have produced the opposite outcome this year — and could do so four years from now.
While, again, I think there are legitimate reasons to worry about what Trump has done the last three weeks, the system easily swatted down a Republican President, backed by a Republican-majority Senate and willing accomplices in key state legislatures, trying to undo the outcome.
Now, I suppose that, if the race hinged on Georgia alone, the pressures on the Republican Secretary of State—who has behaved incredibly admirably in the face of outrageous pressure—would have been tremendous. And, of course, his predecessor (now the state's governor) showed much less integrity in the role.
But, really, all of this just confirms my priors: the real problem isn't the way we conduct elections or count votes at the precinct level but rather that the Electoral College makes an outcome where the challenger won by six million votes (and counting) look somehow close.
Finally, Toluse Olorunnipa, Michelle Ye Hee Leem, and Rosalind S. Helderman contend "Trump's assault on the election could leave a lasting mark on American democracy."
Lingering damage to the U.S. electoral system could be among the most consequential legacies of the Trump presidency, said Michael Chertoff, a homeland security secretary under President George W. Bush.

Trump's effort to overturn the election results in the days after the race has so far proved unsuccessful, as Biden has moved ahead with hallmarks of a presidential transition such as building a Cabinet. But Chertoff and others said the harm inflicted on the democratic process since Nov. 3 should not be underestimated.

"We've now seen a blueprint, which has been road-tested in other parts of the world, being adopted by Donald Trump here in the U.S.," he said, adding that Trump's attempts have been ineffective in part because of their clumsiness. "But a more effective and a more skillful want-to-be autocrat could use the same playbook."
We have indeed had the good fortune that the most autocratic President has also been the least competent and most poorly staffed. Still, it's unclear how a competent President could have employed Trump's playbook successfully. The results were simply too decisive in too many states to overturn.
And, yes, this is highly problematic:
The lack of pushback from Republican lawmakers signaled a willingness by them to accept Trump's post-election denial despite the danger it poses, said Julian Zelizer, a presidential historian at Princeton University.

"This is the story of the Trump presidency," he said. "The GOP not only stood behind the president, regardless of what he did, but even as he used his power to attack the basic element of the democratic process, very few took action."

While a growing number of Republicans have publicly acknowledged Biden's victory, more have remained silent or echoed Trump's allegations of fraud. Some local Republicans have challenged the results of their own races as Trump has done, making post-election allegations about rigged voting a more mainstream proposition up and down the ballot.
This is indeed shameful and shows no signs of turnaround. And, yes, it's dangerous. Not so much because it's a playbook to overturning the results of future elections but because it undermines public confidence in the process itself.
Going back to at least 1992, large swaths of the losing party in the Presidential election refused to acknowledge the legitimacy of the winner. Republicans have been worse in this regard, mostly because they've more often lost. Further, Democrats were bolstered in their outrage over the elections of George W. Bush and, especially, Donald Trump because they both lost the popular vote.
The polarization of politics, created both by the sorting of the two major parties and information bubbles that pander to each (although, again, more severe on the Republican side than the Democratic) is unlikely to go anywhere. And the precedent Trump has created is likely to be used by losing candidates on both sides now that it's been normalized that concession is optional.
But, again, the Electoral College system makes it all worse. While Biden won the popular vote by double Hillary Clinton's margin, he won the Electoral College by exactly the margin Trump did the last go-round. And his margins in the decisive states was actually smaller: 45,000 votes across Arizona, Georgia, and Wisconsin compared to Trump's 77,000 in Michigan, Pennsylvania and Wisconsin.