Defense Secretary Mattis Joins Tillerson In Rebuking Trump Over Charlottesville
Another Cabinet member rebukes the President for his comments about Charlottesville.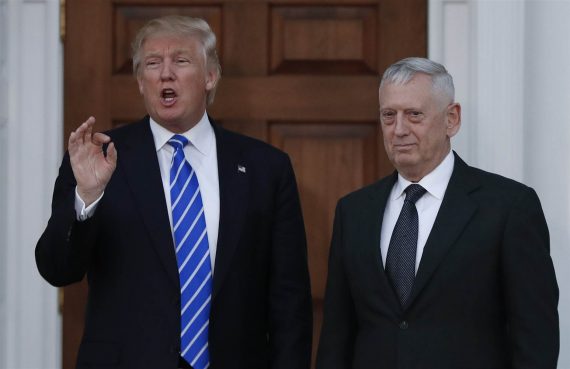 A video circulating on social media appears to show Secretary of Defense James Mattis obliquely rebuking President Trump in comments to U.S. forces stationed abroad:
Defense Secretary James Mattis gave a pep talk to U.S. troops stationed abroad during his trip to three countries last week.

In a video that has recently surfaced on social media, Mattis is seen speaking to U.S. troops in an unknown location. In his remarks to the troops, Mattis said the U.S. is facing "problems."

"Our country right now, it's got problems we don't have in the military," Mattis said. "You just hold the line until our country gets back to understanding and respecting each other and showing it."

Mattis said the U.S. has "two powers" — "inspiration" and "intimidation.""We've got the power of intimidation, and that's you, if someone wants to screw with our families, our country and our allies," Mattis said. "The power of inspiration — [and] we'll get the power of inspiration back."

He also thanked the troops for their service and said he came out of retirement to "serve alongside young people like you who are so selfless and, frankly, so rambunctious."

It's unclear where the video was taken, but Mattis traveled to Jordan, Turkey and Ukraine over the last week, meeting with top officials to discuss U.S. cooperation in the region. His comments likely came during a week of national turmoil following violence at a white supremacist rally in Charlottesville, Va.
Here's the video:
Slate's Fred Kaplan comments:
Mattis' remarks were far more damning and, because of that, disturbing. His statement was neither rehearsed nor meant to be public. He ambled over to a small group of service members on a base that he was visiting, and his remarks were captured on a phone camera, which someone was holding discreetly at waist level. The exact date and location of the conversation is unknown but it likely took place during Mattis' trip to Jordan, Turkey, and Ukraine last week. What he said, more potent than it might seem at first glance, is worth unpacking.

"You just hold the line until our country gets back to understanding and respecting each other and showing it."

I suppose that, if asked to explain himself, Mattis could say that he was addressing troubles and tensions in the country in general, quite apart from anything the president had said or provoked. But in the wake of Charlottesville, only a dolt would believe that explanation. The target was clearly Trump, and if you don't accept that, there was this:

"The power of inspiration—we'll get the power of inspiration back."

Mattis has referred to these "two powers" in many public forums before. In this instance, he says that we still have the power of intimidation ("that's you," he told the troops), but we've lost the power of inspiration for the moment ("we'll get [that] back"). The only way to interpret this is that Mattis was saying the president—who is usually the one who embodies this power through words, deeds, or preferably both—has through his words and deeds surrendered this power.

Here, then, was the secretary of defense—whose credibility and authority rest largely on his combat valor as a recently retired Marine four-star general—all but acknowledging to the servicemen and women he oversees that the country they serve is broken and that the commander in chief, whose lawful orders they have sworn to obey, has helped break it.

So where does that leave Mattis himself? On the one hand, many Americans are rightly thankful that someone of Mattis' experience and caliber is where he is, so that he might ward off catastrophe if Trump ever faces a foreign crisis that's not of his own making.

On the other hand, this isn't quite how American democracy is supposed to work. There's a reason the Founding Fathers stressed the need for civilian control of the military. There's a reason the founding documents of the Defense Department, created just 70 years ago, re-emphasized the principle. It's customary for the armed forces to serve as the bulwark against foreign enemies; it's something unusual, and disconcerting, for them to do so against the whims and outbursts of the country's elected commander in chief.

We've been down a similar road before. In the summer of 1974, as President Nixon raged and ranted in drunken bouts of anger and paranoia (he would be forced to resign, under pressures of likely impeachment, in August), then-Secretary of Defense James Schlesinger told the then-chairman of the Joint Chiefs of Staff, Gen. George Brown, to consult with him before executing any unusual orders from the White House.

Things never came to that crossroad. If they had, and if Brown had obeyed Schlesinger instead of Nixon, that would have amounted to an act of grave insubordination, even a coup d'etat—though an ultimately patriotic one.
The news about Mattis's comments come just days after Secretary of State Rex Tillerson distanced himself from the President in the wake of Trump's comments regarding the violence in Charlottesville and his failure to sufficiently rebuke the white supremacist alt-right movement and leaders that were responsible for the bulk of it. Late last week, Gary Cohn, the head of Trump's Council of Economic Advisers, responded to nearly a weeks worth of pressure from national Jewish organizations calling on him and other Jewish members of Trump's cabinet to take a stand against Trump's implicit endorsement of the neo-Nazi rhetoric of the marchers and organizers of the rally in Charlottesville where participants were videotaped chanting Nazi-like slogans such as "Blood and Soil!" and "Jews will not replace us!." Cohn finally responded last Friday with comments that clearly distanced himself from the President. Additionally, Trump was seemingly rebuked by the Joint Chiefs of Staff, who issued public statements via their official Twitter accounts saying that the U.S. military remains committed to standing against bigotry and hatred. Secretary of Defense James Mattis backed up his Chiefs in a public statement early last week.
On some level, I share Kaplan's concerns about the idea of the military leadership clearly rebuking the Commander in Chief even though they didn't directly invoke his name. The principle of civilian control of the military is an important and long-standing one, and even though Mattis is retired he is still a retired General who is arguably closer to the men and women in uniform than he is to the President and the civilians in the White House. Appearing to openly disparage the President in front of the troops is therefore highly unusual to say the very least. At the same time, though, it seems clear that Mattis and the Joint Chiefs are concerned that Trump's rhetoric and conduct may be sending the wrong message to the troops regarding both what constitutes proper behavior and the ultra-sensitive issues surrounding race relations. In that regard, of course, it's worth noting that this is something that the military has been concerned about since at least the Oklahoma City bombing in 1995 when it became apparent that Timothy McVeigh had come out of his brief time in uniform and fallen in line with the right-wing militia groups that had at least some links to disaffected veterans. Given that, the civilian and military leadership likely wanted to send a signal to the troops that there is no room in the military for racial prejudice, and that the comments that the President has made cannot be seen as a license to engage in discriminatory activity or use rhetoric that is racially derogatory.
So far at least there's been no sign that Trump is upset with Tillerson, Cohn or Mattis, at least not judging by anything he's said publicly. That could change at any time, of course, but it may well be that Trump believes he needs these men at his side if he's going to get anything accomplished, especially when it comes to issues like foreign and economic policy. Given that it's Trump we're talking about, that's something that could change at any time. And, of course, the comments about Charlottesville are unlikely to be the last time this President something that offends Americans values. At that point, it will be up to the men and women around him whether they still want to be seen as tacitly endorsing a man who is clearly out of control.