Democrats Dominate List Of Most Vulnerable Senate Seats In 2014
The 7 seats most likely to switch parties are held by Democrats.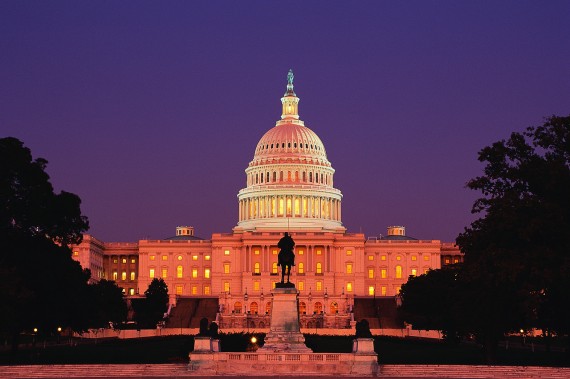 As the attention of political analysts starts to shift toward the 2014 midterms, now just over eleven months away, National Journal's Stephen Shepard and Kevin Brennan note that the list of vulnerable Senate seats is overwhelmingly Democratic:
A lot has happened since National Journal Hotline last surveyed the Senate landscape. Republicans took a significant hit when their efforts to derail the Affordable Care Act resulted in a federal government shutdown. But the struggles in implementing that law have swung the pendulum back in the GOP's favor in recent weeks.

Combined with a favorable map, Republican momentum has put control of the Senate firmly in play. In fact, the 7 seats most likely to switch parties in our latest Hotline Senate Rankings are only Democratic-held. If Republicans flip 6 of the 7 — without losing any of their own vulnerable seats — they would control the Senate in 2015.

Overall, 13 of the 15 most vulnerable seats are held by Democrats. Just two GOP-held seats are even somewhat in danger of flipping parties: Georgia, where Republicans could nominate a controversial candidate like Rep. Paul Broun, and Kentucky, where Senate Minority Leader Mitch McConnell isn't popular and faces well-funded primary and general-election challengers.
Shepard and Brennan then go on to list the 15 seats that are considered vulnerable, and they range from seats like South Dakota and West Virginia which, absent some extreme circumstances, are likely to switch to the GOP next November at the top of the list to Minnesota, New Hampshire, and Oregon, which are typically not seats that come up in any conversation about possible GOP pickups next year absent a wave election that would make 2010 seem tame by comparison, and there's not really any sign of that occurring at this point. Indeed, the seats that are generally considered the main battleground for control of the Senate are South Dakota, West Virginia, Montana, Arkansas, Alaska, Louisiana, and North Carolina. The one thing that these states all have in common, of course, is that they are states that Mitt Romney won in the 2012 Election. If Republicans manage to win all seven of these states then they will flip the Senate and have a majority of 52-48. Outside of these seven, there are some people who consider a handful of other states, such as Iowa, Michigan, and New Hampshire, all states that the President won in 2012, as possible targets next year. However while the GOP has some success in recruiting in some of these states, such as Michigan, the odds of a Republican winning statewide in any of them seems doubtful looking at the numbers this far out. The one possibility on this list that could prove most interesting in New Hampshire, where the possibility of former Massachusetts Senator Scott Brown mounting a challenge to Senate Jean Shaheen seems to be moving closer to reality. Beyond that, the idea of the GOP being competitive in Obama states like Colorado, Iowa, Oregon, or Minnesota strikes me as being pretty far fetched absent a pretty tremendous GOP wave that crests at just the right time next year. Assuming that happened, though, the GOP is looking at the potential of a Senate majority as large as 57 seats.
While the probability of such a waive seems unlikely at this point, The Washington Post's Reid Wilson does note that it's far from an impossibility at this point:
Democrats will say the Republican Party is in even worse shape than they are, and they have a point: In the October Washington Post/ABC News poll, just 32 percent of voters said they had a favorable impression of the GOP, compared with 46 percent who had a favorable impression of the Democratic Party. And Republicans still have not articulated a clear governing vision for the country, even a year after failure to do so emerged as a central criticism of Mitt Romney's 2012 campaign.

But back in 2010, 40 percent told Post pollsters they viewed Republicans in a favorable light, 10 points lower than those who said they saw Democrats favorably. Republicans feigned a national platform, akin to the Contract With America, but their pitch to voters was more about what they were against — namely, Democrats and ObamaCare — than what they were for. Voters have backed the unpopular party with few ideas over the slightly-more-popular party with unpopular ideas before.

The stakes are highest for Democratic senators seeking re-election in red states, where the Affordable Care Act is even more widely despised than it is nationally. Democratic incumbents in Arkansas, Louisiana, North Carolina and Alaska will face added headwinds unless the political climate changes.

And there aren't many opportunities for Democrats to change that climate.

The one opportunity that Democrats do have lies in negotiations over the federal budget. October's government shutdown gave Democrats a temporary advantage, and if Republican hardliners pursue the same path, they could hand Democrats an opening. But with Republican anger at Sen. Ted Cruz (R-Texas) and others who led the shutdown crusade at such pitched levels, it seems unlikely Republicans would repeat their political mistakes of this fall.

That leaves Democrats weighed down by an unpopular president and an unpopular (and malfunctioning) law, running in unfavorable terrain. A major political wave hasn't developed yet, but a Republican sweep looks more likely now than it has since the waning weeks of the 2010 campaign.
Democrats will respond, of course, that most of the factors that Wilson cites could change. Public opinion about the PPACA could improve and that would likely assist in repairing at least some of the poll damage that the President and Congressional and Senate Democrats have suffered over the past two months. Upcoming budget battles could end up causing the GOP to fall into public disfavor again. And, of course, there is always the unknown factor of something that could happen on the foreign or domestic front that would throw everything into chaos in much the same way that yesterday's day of college football has thrown the BCS projections into chaos. As things stand at the moment, though, things don't look so good for Democrats, and the groundwork for what could be a GOP wave has already started.
As Shepard and Brennan note, of course, the GOP has two seats of it own that are potentially vulnerable. The Kentucky race between Mitch McConnell and Kentucky Secretary of State Alison Lundergan Grimes is likely to get a lot of national media attention simply for its potential to unseat the sitting Senate GOP Leader. However, the thing to remember about Mitch McConnell is that he's faced strong General Election Challengers in the past and always managed to pull off a victory. His first win in 1984 came down to 0.4% of the vote, his last win in 2008 came down to 6% of the vote, which is pretty low for a long-serving Senator of either party. In other words, McConnell knows what its like to fight in a tight race in Kentucky and win and, given the fact that he is sitting on a huge amount of cash on hand and facing a Tea Party primary challenger who is, at best, a complete amateur who has been very skilled at damaging his own campaign, it would be a mistake to write the Senate Minority Leader off. Indeed, I'd say he has the advantage in that race right now notwithstanding what current poll numbers. The other state the GOP has to worry about is Georgia, where much will depend on which candidate wins the Republican primary early in the year. At the same time, though, Georgia is still enough of a red state that I'd say that whoever wins that nomination will start out the General Election with a clear advantage even if the name on the other side of the ballot is as storied as Nunn. Obviously, though, losing one or both of these seats would make it almost impossible for the GOP to hold on to the Senate.
Nonetheless, courtesy of our friends at 270towin, here's where I see the Senate being after the 2014 elections, given the way things stand today:
This assumes GOP pickups in Montana, South Dakota, and West Virginia, which seem almost a given right now, along with Arkansas, Louisiana, and Alaska, as well as GOP holds in Kentucky and Georgia, and gives the GOP a 51-49 majority. Razor thin, but enough to do the job. It also assumes that North Carolina will stay Democratic, although its worth noting that Kay Hagen's poll numbers are slipping in the Tarheel State.  An analysis by Tom Dougherty from mid-November puts the GOP in an even better position than I'm projecting, and is worth reading in full. We'll see where this stands in a couple months when the polling starts becoming more rigorous.