Despite Gridlock, Americans Prefer Divided Government To One-Party Rule
Divided government is the worst political system ever, except for all the others.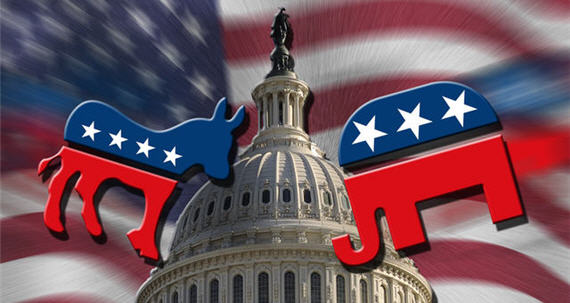 While the American people continue to state via the polls that they are frustrated by the gridlock on Capitol Hill as evidenced most recently by the government shutdown/debt ceiling crises, there doesn't seem to be any evidence that they prefer the alternative to the divided government that has contributed to gridlock:
PRINCETON, NJ — Even as the division of power in Washington between Republicans and Democrats is wreaking havoc with the federal government, Americans' preference for having one political party run both the White House and Congress is at a record low.

At, 25%, the percentage of Americans today favoring one-party control in Washington is virtually equivalent to the 28% who favor splitting power between the two parties. The plurality, 38%, say it makes no difference.

The latest figures are from an Oct. 3-6 Gallup poll, conducted within the first week of the partial federal government shutdown. The freeze on non-essential services resulted from the failure of President Barack Obama and the Republican-led House of Representatives to agree on the latest continuing resolution needed to fund the government.
The chart tells the story of how these attitudes have changed over the past decade: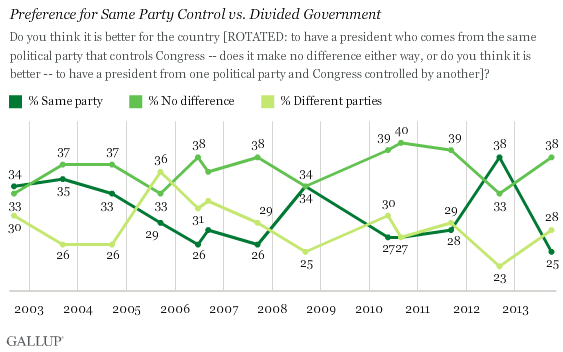 It's worth noting, of course, that the largest number of respondent right now are of the opinion that it makes no difference whether we have divided government or one-party control. While I don't have access to poll internals, I'd suggest that this is largely a reflection of the fact that public trust in government as a whole is at all time lows at the moment. Therefore, the cynical position is to simply say that it really doesn't matter whose in charge. It's also interesting to note the spike in respondents in support of one-party control that seems to have happened shortly after the 2012 elections. The fact that it dropped off so quickly suggests that this was little more than post-election euphoria among people who supported Barack Obama in that election.
Breaking it down by party, it's clear that, at least at the moment, Democrats are  more amenable to the idea of one-party government than any other political demographic:
With a Democratic president in office, Democrats currently favor one-party control over divided control by 40% to 14%, with 36% saying it makes no difference. Democrats' resulting +26 net support for single-party control over divided control is down from +36 in 2012 amid the heat of the presidential election campaign, but is still strong relative to their views during Republican George W. Bush's presidency. At that time, from 2002 through 2008, Democrats showed at most a slight preference for single-party power, with their net support for it ranging from -24 to +13.

Republicans, on the other hand, currently believe that having different parties control the presidency and Congress is the better scenario: 19% favor one-party control and 37% favor divided control, with 33% saying it makes no difference. Republicans' -18 net support for one-party control today is a sharp change from 2011 and 2012, when they held a slight preference for one-party control. Republicans showed even higher net support for one-party control across Bush's two terms, ranging from +14 to +38.

Independents are the most likely of the three party groups to say neither scenario is necessarily better for the country, at 41%. However, the remainder currently lean more heavily in favor of divided government than single-party control, 33% vs. 18%, for a net -15. That represents lower support for single-party control than in 2012, but is similar to the average among independents from 2002 through 2011.
Of course, as Gallup notes, these divides tend to be very cyclical depending upon which party controls the White House: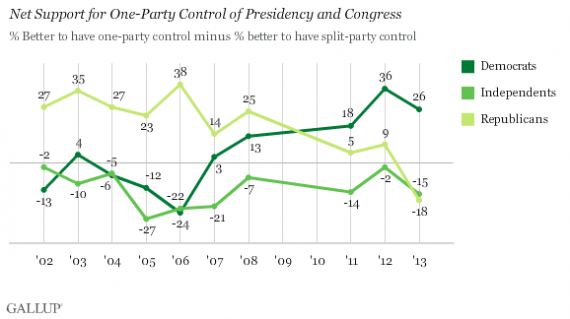 Quite obviously, Republicans generally favored the idea of one-party control of Executive and Legislative Branches of the Bush Administration, while Democrats largely and Independents opposed it. Once the Democrats took control of Congress in 2006, and then to a greater extent after President Obama took office while Republican support for the idea of one-party control dipped significantly. One interesting data point apparent in the chart above is the dip in support for one-party rule among Republicans that took place after the 2006 elections. Arguably, this was both a reaction to the fact of Democratic control of Congress, and the potential that a Democrat could be elected President in 2008, and of the sudden drop in support for George W. Bush in the final years of his Presidency. The one constant, of course, can be seen in the self-described Independents who have largely consistently opposed the idea of one-party rule regardless of who controls which branch of the Federal Government. Yes, there have been fluctuations, such as a massive dip in support for one-party government at the beginning of Bush's second term, but as a general rule this cohort of respondents have remained expressly supportive of the idea of divided government, which, of course, we've had since the GOP won the House in 2011.
Much has been written about the wisdom of a system such as ours which makes divided government possible as opposed to Parliamentary systems where, generally, Executive and Legislative authority end up being completely in the hands of whichever faction(s) happen to control the majority. Obviously, it is far easier in such a situation for the majority party to get their agenda through, as well as to deal with issues such as passing budgets and other regular functions of government. At the same time, though, these systems lack the same kind of checks and balances against majority rule that the Constitution contains. Those checks and balances exist in no small part because the Founders wished to avoid the problems that they saw in places like Great Britain where Parliamentary majorities and the Sovereign were able to run roughshod over the rights of minorities, most specifically the Colonies.
For the most part, I'd argue that those checks and balances have served the nation well over the years. For every example of frustrating "partisan gridlock" one can point to, there have been plenty of times when Congress has admirably performed its task of blocking an overreaching Executive, or vice versa. It was, for example, a Democratic Senate that forced Franklin Roosevelt to abandon his ill-advised, power-grabbing, Court Packing scheme. It was a Democratic Congress that pushed back against Richard Nixon's overreach as Watergate became to unfold. And, it was a Republican Congress that made it clear to President Clinton that he would have to move to the right on issues like welfare reform and abandon the overreaching that had occurred during the first two years of his Presidency. Finally, to bring this discussion into the contemporary era, it is worth noting that the Federal Government was shutdown for more days during Jimmy Carter's Presidency (a total of 57 days in only four years) than under any other President since 1976.1 That's a sign that gridlock isn't always necessarily a partisan issue.
Leaving aside the theoretical arguments that can be made for and against a system similar to our Constitution and for or against a Parliamentary system, though, this poll says the same thing that previous polls have said. For all its faults, the American people tend to prefer a system where power in Washington, D.C. is in the hands of different parties. In some sense this seems to contradict other polling that shows that the public wants their representatives on Capitol Hill and in the White House to work together to solve the nation's problems, but I'd suggest that there's a certain wisdom to it. Clearly, the public recognizes that a system that forces both sides in a sharply divided nation to come together and work out the nation's problems is preferable to one where one side is able to impose its will without much regard for the objections or opinions of the minority. That, after all, is what our Constitution, the very concept of Federalism, and the Bill of Rights are all about and, quite clearly, the public believes that this is how it should be. For the most part, I think they're right.
1 The Government was shutdown for ten days during Gerald Ford's Presidency, 14 days during the eight years of Ronald Reagan's Presidency, 3 days during George H.W. Bush's four year Presidency, and 26 days during the eight years of Bill Clinton's Presidency, all of which is attributable to the two shutdowns in 1995 and early 1996. There were no government shutdowns during the Bush 43 Presidency. (Source)