Do Voters Really Want A "Big Picture" Election?
Both campaigns seem to be focusing on an argument that the voters don't want to hear.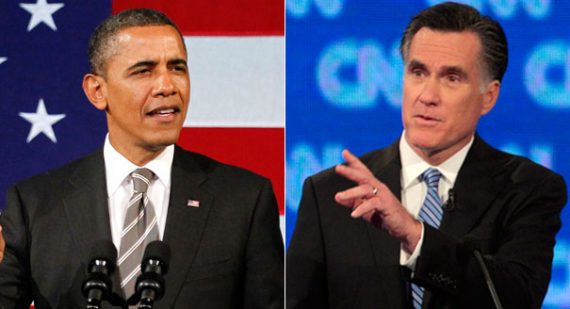 With Paul Ryan now part of the Republican Presidential ticket, both campaigns are now telling voters that this election is about "big ideas" and a choice between two different visions of America's future. Leaving aside the question of whether or not this is really true, given the fact that the next four years are unlikely to be substantively different in terms of policy initiatives regardless of who wins the election, this is how the campaigns are framing the election now, and it's how the media is starting to characterize. In some sense then, this "choice" meme will be driving force of the campaign absent some outside event that intervenes and forces both campaigns to change course. As I noted yesterday, this involves something of a change for the Romney campaign, which had been attempting to focus the election solely on the economy, and it seems to play into the strategy the Obama campaign has been following for months now.
The more important question, though, is whether this "grand debate" is what the voters want. ABC News's Amy Walter argues that it isn't:
In picking Rep. Paul Ryan, whose eponymous budget plan has become synonymous with political polarization, Mitt Romney assured an ideological campaign where a debate over the role of government will be front and center. It is a debate the Obama campaign and partisans on both sides are also eager to have. But it's not a debate that swing voters want.

They aren't as interested in choosing whether government should be more active or less. They are more interested in simply having it work.

(…)

Both President Obama and Mitt Romney argue that this election provides voters with a very stark choice between two competing ideologies. One that says that government can be part of the solution (Obama) and one that says that government is getting in the way of the solution (Romney).

But there are plenty of voters out there who are more concerned about function than ideology. They aren't spending their evenings debating the benefits of Hayek or Keynesian economic models. They are just trying to figure out which candidate is capable of getting something done. They will reward the politician who succeeds in getting things moving again. But that shouldn't be taken as proof that voters are endorsing the philosophical underpinnings of that success.

In other words, voters are looking less at ideology and more at competency. And that's not something that either side has been able to show that can deliver.
Walter is on to something here, I think. In each of the past three national elections, voters have acted in a manner that, to pundits, looked as if they were making an ideological choice. In 2006, frustrated largely by a President who was sustaining an unpopular war, they gave control of Congress back to the Democrats for the first time since the early 1990s. In 2008, thanks to an economic crisis and a lack of leadership in Washington, they gave the Democrats complete control of both branches of government. At this point, no doubt, many Democrats assumed that the voters were effectively endorsing their vision of government but that was a mistaken conclusion because, two years later, the continued economic crisis combined with the perception that President Obama and the Democratic Congress had overstepped their bounds, led to Republicans taking control of the House and making substantial inroads in the Senate.
To look at these three elections in the space of only four years from the perspective of those who want elections to be about the "big things," you'd probably come to the conclusion that the American people are schizophrenic when it comes to political ideology. After all, what sense is there in giving power to the Democrats in two successive wave elections, only to give it the Republicans in an unprecedented third consecutive wave election?
The answer to the question is that, to a large degree, these election results have little to do with ideology and everything to do with the sense  among voters that Washington isn't working properly and that the answer is to "vote the bums out." Viewed from that perspective, the elections of 2006, 2008, and 2010 can be seen not as endorsements of a specific ideology about the proper role of government but a sign that voters are sick of what they see in the news day after day about how their elected leaders are seemingly incapable of getting anything done. The most recent example of that, of course, was last years's debt ceiling debacle. After that was over, the only real impact it had on public attitudes was to increase the frustration the public has witheveryone in Washington, regardless of political party. You can see manifestations of that attitude all over the place. The approval ratings for institutions of government at all levels are at or near historic lows, with Congress at one point recently garnering a pathetically low 9% approval rating, and the bellwether right track/wrong track poll has been in negative territory since before the 2008 election. Given how the last six years have gone, it's easy to understand why that's the case, and why voters are increasingly frustrated with politics at all levels to the point where many of them simply tune it out.
I would submit that voters aren't looking for the "big picture" debate that both campaigns now seem committed to for the 2012 election. They're more concerned with finding out what can be done to get back to a point where Congress is able to do things that it needs to without making every little argument a major partisan battle. They're concerned with finding out who's going to get the country back on the right track, and they don't really care if that person read Keynes, Hayek, or Ayn Rand. And, they're concerned about fixing an economy that appears to be broken. As Matthew Yglesias notes, the "big picture" debate doesn't answer any of these questions:
[F]ocusing attention on the big-picture disagreement between Democrats and Republicans about long-term fiscal policy means we won't be focusing attention on what ought to be the most pressing economic policy issue of our time—mass unemployment and the tragic waste of human and economic potential it represents. To be sure, politicians will still talkabout this. But obviously Obama would prefer at this point to talk about long-term vision and the contrast between his "balanced approach" and the GOP's cut-cut-cut approach. With Ryan on the ticket, he more and more gets his way. Which means conservatives also get their way. Romney doesn't just run as "Mr Fix-It" who'll clean up the mess, he's running as an ideological candidate with a major vision for changing the country. But that means the terrible economic performance since 2009 and the large jobs deficit built up during that period are going to receed further into the rearview mirror.
Additionally, as David Frum points out, contrary to popular belief on the right, the great conservative hero Ronald Reagan did not run an ideological campaign when he was victorious in 1980:
Although Ronald Reagan was a highly ideological candidate, he did not run a highly ideological campaign. Quite the contrary! Precisely because party conservatives trusted Reagan's ideological commitment, they allowed him space to move to the center.

Seeking the GOP nomination in 1976, Reagan had pledged large immediate cuts in federal spending ($90 billion, at a time when that was a lot of money). In 1980, Reagan emphasized an easier-to-swallow message of tax cuts, not spending cuts — and indeed promised that he'd protect the Medicare program he'd opposed when it was created in the mid-1960s.
The results for Reagan were different in 1980 than they were in 1976 for many reasons, not the least of them being the state of the economy and the fact that the nation was further removed from the Watergate scandal that had tainted the Republican Party, but chief among them was the fact that he understood an important truth. That truth is that the American public does not tend to vote for highly ideological reasons. That's one of the reasons that highly ideological parties don't succeed in the United States except under exceptional circumstances (such as the anti-slavery Republican Party in 1860). That's still true today, and it's the reason that both parties are arguably missing the boat by focusing on arguments that the public doesn't want to hear.