Donald Trump Clinches Republican Nomination
Donald Trump now has enough delegates to win the Republican nomination on the first ballot.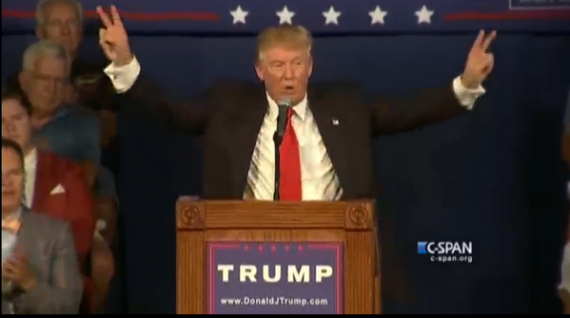 Thanks to a group of uncommitted delegates declaring their support, the Associated Press has calculated that Donald Trump now has enough delegates to clinch the Republican nomination for President:
Trump, a political neophyte who for years delivered caustic commentary on the state of the nation from the sidelines but had never run for office, fought off 16 other Republican contenders in an often ugly primary race.

Many on the right have been slow to warm to Trump, wary of his conservative bona fides. Others worry about his crass personality and the lewd comments he's made about women.

But millions of grass-roots activists, many of them outsiders to the political process, have embraced him as a plain-speaking populist.

Steve House, chairman of the Colorado Republican Party and an unbound delegate who confirmed his support of Trump to the AP, said he likes the billionaire's background as a businessman.

"Leadership is leadership," House said. "If he can surround himself with the political talent, I think he will be fine."

(…)

Cameron Linton of Pittsburgh said he will back Trump on the first ballot since he won the presidential primary vote in Linton's congressional district.

"If there's a second ballot I won't vote for Donald Trump," Linton said. "He's ridiculous. There's no other way to say it."

Trump's path to the Republican presidential nomination began with an escalator ride.

Trump and his wife, Melania, descended an escalator into the basement lobby of the Trump Tower on June 16, 2015, for an announcement many observers had said would never come: The celebrity real estate developer had flirted with running for office in the past.

His speech then set the tone for his ability to dominate the headlines with provocative statements, insults and hyperbole. He called Mexicans "rapists," promised to build a wall between the U.S. and Mexico and proposed banning most Muslims from the U.S. for an indeterminate time.

He criticized women for their looks. And he unleashed an uncanny marketing ability in which he deduced his critics' weak points and distilled them to nicknames that stuck. "Little Marco" Rubio, "Weak" Jeb Bush and "Lyin' Ted" Cruz, among others, all were forced into reacting to Trump. They fell one-by-one — leaving Trump the sole survivor of a riotous Republican primary.

His rallies became magnets for free publicity. Onstage, he dispensed populism that drew thousands of supporters, many wearing his trademark "Make America Great Again" hats and chanting, "Build the wall!"

The events drew protests too— with demonstrators sometimes forcibly ejected.

When voting started, Trump was not so fast out of the gate.

He lost the Iowa caucuses in February, falling behind Cruz and barely edging Rubio for second. He recovered in New Hampshire. From there he and Cruz fiercely engaged, with Trump winning some and losing some but one way or another dominating the rest of the primary season — in votes or at least in attention — and ultimately in delegates.

He incurred relatively low campaign costs — just $57 million through the end of April. He covered most of it with at least $43 million of his own money loaned to the campaign.
This is hardly a surprise, of course. With all of his opponents out of the race, it was only a matter of time before Trump went over the top in the delegate count. After his victory on Tuesday in the Washington primary, Trump was just 28 delegates away from clIf this recalculation based on the commitment of unbound delegates not happened, then he would have gone over the top when he won the New Jersey primary and the Garden State's  51 delegates on June 7th. As things stand now, it's likely that Trump's final total will be well north of the majority he spent the past year pursuing and that he'll have nearly 1,000 more delegates than his closest competitor Ted Cruz and that, in the end, Trump will be nominated by unanimous acclimation as has been the case at the past several GOP conventions when the identity of the winner was clear, rather than a formal ballot battle with Ted Cruz, who would be the only other candidate who would qualify to have his name put in for nomination on the first ballot. From there, we head to a General Election race that will no doubt be one of the most contentious and vitriolic that we've seen in quite a long time.
Leaving aside just for a moment all of the negative things about Trump, and as I've noted for the past year there are plenty of those worth keeping in mind, his victory here is certainly something that political scientists will be talking about for years to come. He is the first person since Dwight Eisenhower to win a major party Presidential nomination without having previously held elective office, and the first without any record of government service since Wendell Willkie in 1940. His campaign broke the mold of traditional campaign into so many pieces that one wonders if it will ever be put back together again by managing to win despite the fact that he raised and spent less money than his primary opponents, barely relied upon traditional advertising, and relied upon free media and large rallies in central locations rather than the more traditional forms of primary campaigning to pull off victories in, so far, thirty states, garnering more popular votes over the course of the primary season than any previous Republican candidate for President. That's quite an accomplishment, and regardless of what happens in the General Election the 2016 Trump campaign is one that will be studied for years to come, not the least because it's not clear that anyone who lacked the pre-existing media experience and skill that Trump has developed over the past 30 years could have pulled off.