Donald Trump Jr. Subpoened By Senate Intelligence Committee
The President's eldest son has been subpoenaed to appear before the Senate Intelligence Committee regarding Trump campaign contacts with Russia.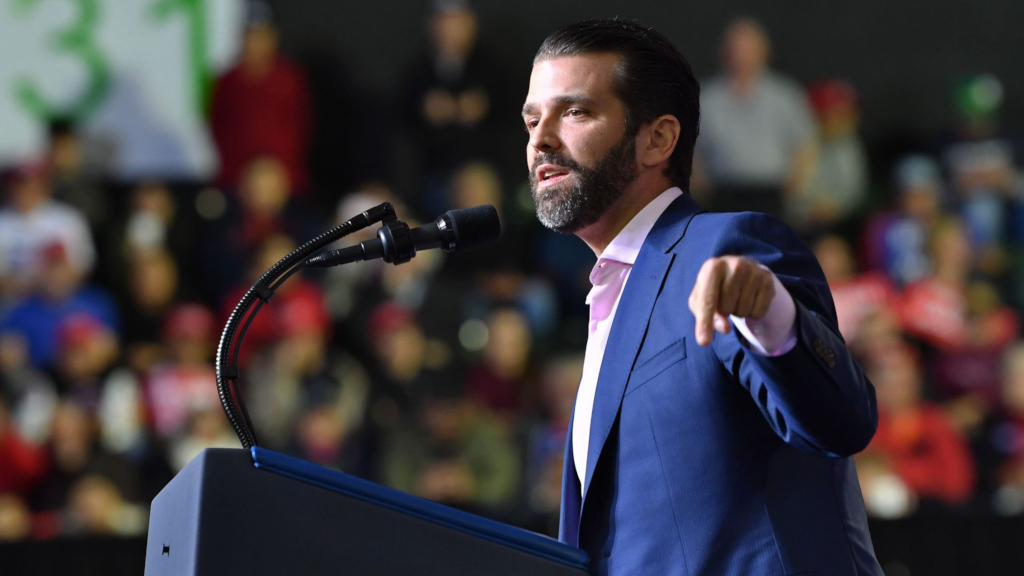 The Senate Intelligence Committee, which is at least ostensibly controlled by Republicans, has subpoenaed the President's eldest son Donald Trump Jr. to testify regarding contacts with Russian officials or agents during the 2016 Presidential campaign:
WASHINGTON — The Senate Intelligence Committee has subpoenaed Donald Trump Jr., the president's eldest son, who met with Russians in June 2016 after being promised political dirt about Hillary Clinton, according to people familiar with the committee's decision.

The younger Mr. Trump is the first of President Trump's children to be subpoenaed in the continuing congressional investigations into Russia's 2016 election interference, and the move by the Republican-led committee is a sign that some members of the president's party are not aligned with his desire for a swift end to all of the Russia inquiries.

News of the subpoena came a day after Senator Mitch McConnell, Republican of Kentucky and the majority leader, sought to lower the curtain on the drama in Congress surrounding Russia's efforts to sabotage the 2016 election. The end of the Mueller investigation, he said, meant "case closed."

But the subpoena of the younger Mr. Trump shows that the Intelligence Committee, which is under Mr. McConnell's jurisdiction, is proceeding with its vigorous investigation that — for the most part — has not degenerated into a partisan morass like a parallel investigation by the House.

The committee is particularly interested in the younger Mr. Trump's account of the events surrounding the Trump Tower meeting — as well as his role in his father's efforts to build a skyscraper in Moscow — and comparing the testimony to his previous answers to Senate investigators in 2017. Mr. Trump is a scion of President Trump's global business empire and was one of his father's close advisers during the election.
Republicans expressed frustration with news of the subpoena. Representative Kevin McCarthy of California, the House minority leader, posted on Twitter that the younger Mr. Trump "has already spent dozens of hours testifying in front of Congressional committees."


"Endless investigations—by either party—won't change the fact that there was NO collusion," he added. "It's time to move on. It's time to focus on ISSUES, not investigations."


A lawyer for Donald Trump Jr. declined to comment, as did spokespeople for the committee's leaders.


The decision to subpoena the president's son is an aggressive move, and appears to have come after discussions broke down about whether the younger Mr. Trump might appear voluntarily before the panel. Mr. Trump was highly unlikely to appear before the panel in person, three people close to him said, and one person said that he could invoke his Fifth Amendment rights in a written response.
CNN's Kaitlin Collins reports that the President's inner circle is "frustrated" by the committee's decision to subpoena the younger Trump, but there doesn't appear to be much they can do to stop it from going forward:
Members of President Donald Trump's inner circle are frustrated that the Republican-led Senate Intelligence Committee subpoenaed Donald Trump Jr., multiple sources tell CNN.

Those close to Trump are exasperated that Republican Sen. Richard Burr, in their minds, just handed Democrats a talking point. Multiple Republicans had coalesced around Senate Majority Leader Mitch McConnell's talking point of "case closed" in recent days, but now Democrats can argue that even members of the President's own party don't agree that all Russia inquiries should end immediately.

The subpoena was issued more than two weeks ago, according to a source familiar with the matter, and it compelled Trump Jr. to testify before the committee, the source said.


The subpoena for Trump Jr.'s testimony marks an escalation of the Senate Intelligence Committee's probe into Russian election interference. The panel's investigation, led by Burr, has been running for more than two years, and the committee has interviewed many of the same witnesses who spoke to special counsel Robert Mueller's team. The committee has recently begun re-interviewing witnesses, including Trump's son-in-law, Jared Kushner, who appeared for a second time earlier this year.

White House chief of staff Mick Mulvaney said in an interview Wednesday he was caught off guard by the news of the subpoena and only found out when news reports broke. But people familiar with the matter say that's more a reflection on Mulvaney's role in the West Wing. As CNN's Jeremy Herb reported, the subpoena was issued two weeks ago, and sources say the president was aware of it.


For now, Trump Jr. feels emboldened by this fight, people close to him say. He spent the end of last year building up relationships with Republican lawmakers who solicited his endorsement and asked him to campaign for them on the trail.
Trump Jr's most well-known contact with Russian officials became known to the public when The New York Times first reported about a heretofore secret meeting in June 2016 that included Trump Jt., Jared Kushner, and Paul Manafort, Trump's campaign manager at the time, and a Russian lawyer named Natalia Veselnitskaya. Veselnitskaya had previously been linked to the Russian government and has since admitted to being an informant for the Russian Government. As we learned several days after the initial Times report when Trump Jr. made the emails he had exchanged with campaign officials prior to the meeting public, the meeting was scheduled after Trump Jr. and others in the campaign were told that Veselnitskaya had access to damaging information about Hillary Clinton. In one of those emails, Trump Jr. responded "That's great" when informed that the lawyer had access to damaging information about Clinton and the Democrats. Later, Veselnitskaya said in interviews that Trump Jr. offered a quid pro quo in exchange for information about Clinton.
When the meeting was first reported, though, both Trump Jr. and the White House claimed that its purpose was to discuss issues such as the adoption of Russian orphans by Americans as well as sanctions imposed by Russia in the wake of its seizure of the Crimean Peninsula from Ukraine. That claim was made most prominently in a statement released by the White House while the President was returning from a visit to Europe. As we learned when the younger Trump released the email chain discussed above, this claim was false. This is significant because the President himself participated in drafting that initial statement that falsely stated the original purpose for the meeting. The fact that we now know it was false makes the President's involvement in what may constitute an attempted cover-up extremely significant. It is worth noting that Trump had previously stated that the meeting's initial purpose was "opposition research," however that admission came before we knew about the President's role in drafting the White House statement that attempted to cover-up the motivation for the meeting.
There were also questions raised about the meeting and the subsequent effort to apparently cover-up the initial purpose for scheduling it raised by Trump Jr.'s closed-door testimony before Senate Intelligence Committee which raised more questions than it answered. For example, the President's oldest son stated that he could not recall if he ever communicated with his father regarding the Trump Tower meeting. However, phone records apparently show that Trump Jr. spoke at length to someone on a blocked number both immediately and immediately following the meeting. It is well-known that Trump Sr. typically uses a phone with a blocked number for privacy reasons so this raises the rather obvious questions of who, other than his father, Trump Jr. would have been talking to so close to the meeting itself. Additionally, it's been widely reported that Trump Jr. was in frequent contact with his father regarding what was going on during the campaign and that it would have been unusual for him to not discuss a matter such as this meeting with his father either before or after it took place. This is especially notable given the fact that, in a speech just days before the meeting, Trump said in a stump speech that there would be some damaging information about Clinton released within days. Most recently, of course, is has been reported that Trump's personal attorney and "fixer" Michael Cohen is prepared to tell investigators that President Trump knew about the meeting, and its purported purpose, prior to the time that it actually took place. This final revelation, along with the recent release of a report on that meeting released by the Senate Intelligence Committee, leads to several interesting conclusions and potentially points to significant evidence that could implicate Trump directly in a cover-up and could cause even more serious legal liability for his son.
As I have noted before, what all of this tells us is that the Trump campaign was so eager to get "dirt" on Hillary Clinton that it was willing to send three of its senior representatives, including the Campaign Manager, the President's son, and the President's son-in-law to meet with a lawyer with connections to the Russian government. While the Trump Administration and its supporters are quick to dismiss this particular revelation on the ground that "opposition research" is a standard part of any campaign. While this is true, it's also the case that Federal law prohibits foreign nationals or officials of foreign governments from making any kind of donation, whether monetary or otherwise, to a campaign for Federal office and forbids campaigns from soliciting such donations. Without question, the kind of "opposition research" spoken of here would be included in the kind of donations that foreign nationals or officials are forbidden from making. Additionally, Federal law also prohibits persons from conspiring to violate Federal law or to defraud the United States. Arguably, that's exactly what was going on here notwithstanding the fact that, apparently, nothing of value came of the meeting.
Trump Jr. has previously spoken with committee representatives in the House and Senate regarding this meeting and other issues pertaining to contact between the Trump campaign and Russian representatives, but he has never testified under oath, publicly or otherwise. It has been suggested on several occasions, though, that at least parts of what Trump Jr. may have said during these Capitol Hill appearances was untrue, misleading, or at the very least incomplete. This appears to be the reason why Committee member from both parties are eager to bring him back and get him under oath. It also means that the younger Trump is likely to be subpoenaed by other Congressional committees, including House committees controlled by Democrats. Suffice it to say all of this should be very interesting.