Donald Trump's National Security Speech Was As Substance-Free As The Rest Of His Campaign
What was promoted as major foreign policy speech by Donald Trump turned out to be more substance-free stream-of-consciousness rambling from an egomaniac.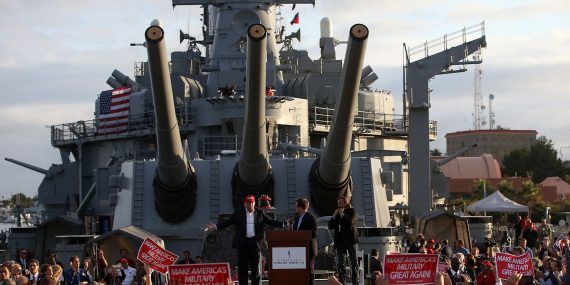 Last night in California, Donald Trump gave what was billed beforehand as a major national security speech that, not surprisingly, turned out to be as substance-free as the rest of his Presidential campaign:
LOS ANGELES — Republican presidential contender Donald Trump vowed Tuesday to offer frustrated veterans subsidized private health care, charging that immigrants in the country illegally receive better care than the nation's wounded soldiers.

The comments, delivered aboard a retired World War II battleship in Los Angeles harbor, came on the eve of the second Republican presidential debate in nearby Simi Valley, where some of the billionaire businessman's GOP rivals are expected to challenge his fiery rhetoric on immigration.

"We have illegal immigrants that are treated better by far than our veterans," Trump declared, the USS Iowa's massive 16-inch guns behind him. "It's not going to happen anymore."

The Republican front-runner gave no details on how he would pay for an expansion in the armed forces — or veterans' health care — leaving his foreign policy agenda still mostly a blank slate.

He called for a military buildup so broad that no foe would challenge the U.S., as well as a new health care deal for veterans stuck on waiting lists in hospitals run by the Department of Veterans Affairs. In doing so, he again swiped at people who are in the country illegally, a refrain that has powered his campaign since the start.

"There's tremendous crime, there's tremendous drugs pouring across the border," Trump said. "We're going to build a wall."
As The Los Angeles Times goes on to note, there was almost no substances to Trump's speech, although that's not entirely surprising considering that it was really more of a campaign rally in front of the retired battleship USS Iowa than something that could be taken seriously. In the past, candidates who have wished to make serious foreign policy speeches have gone to serious places, such as The Citadel or another university, a prominent foreign policy think tank, or even one of the service academies. In Trump's case, he went to tourist destination and gave a fifteen minute speech after having been introduced by former game show host Wink Martindale. At the end of the speech, he spent several minutes tossing some of his "Make America Great Again" baseball caps out to the obsequiously adoring audience. Anyone who thought that this was going to be a serious address from Trump was basically kidding themselves. Even CNN's Anderson Cooper ended up cutting away from the network's live coverage of the speech when it became clear that there was no substance involved. Why anyone should have been shocked by that, of course, is another question.
Daniel Larison has his own comments:
[T]here were almost no arguments or proposals in the speech to be described or judged one way or the other. He repeated various falsehoods about the nuclear deal, including the canard that Iran will be permitted to "self-inspect," and made many of the same broad, unfounded assertions about the agreement that he made at the rally in Washington last week. Trump's event was newsworthy mainly because he received the endorsement of the event's organizers, the group called Veterans for a Strong America, and told us absolutely nothing useful about what he would in office or how he would propose to pay for any of it. It was nothing more than a string of fanciful assertions that various problems would be solved because Trump claims it will be so, and the assembled crowd ate it up. Trump is hardly the only candidate in the 2016 field with a poor grasp of foreign policy, but he is unusual in that he repeatedly advertises how little he knows and takes pride in his simplistic statements.
None of this should be a surprise, of course, because Trump's entire campaign has been nothing more than substance-free, stream-of-consciousness rambling during which the candidate tells how horrible his opponents, how horrible the country is, and how great things will be when he's elected President. His immigration plan, the one area where he has released something that at least seems on the surface to be substantive, is little more that boilerplate stuff that we've seen from the anti-immigrant "border security" wing of the Republican Party for years now. The rest of his rhetoric just involves appealing to the worst aspects of the people he's talking to and American politics in general. Furthermore, his past statements on foreign policy haven't revealed that he has any real understanding of what's going on the world, what international diplomacy actually involves, and how he could even accomplish any of the things that are included in the vague promises he tosses out voters. Last night's speech at the USS Iowa, then, was just par for the course when it comes to Trump. The fact that so many people in the Republican Party seem to be attracted says far more about the state of the GOP than it does about anything else.