Economic Warning Signs Starting To Become Apparent
A key economic statistic that rarely gets widespread public attention is showing that the manufacturing sector has been in recession for four months now.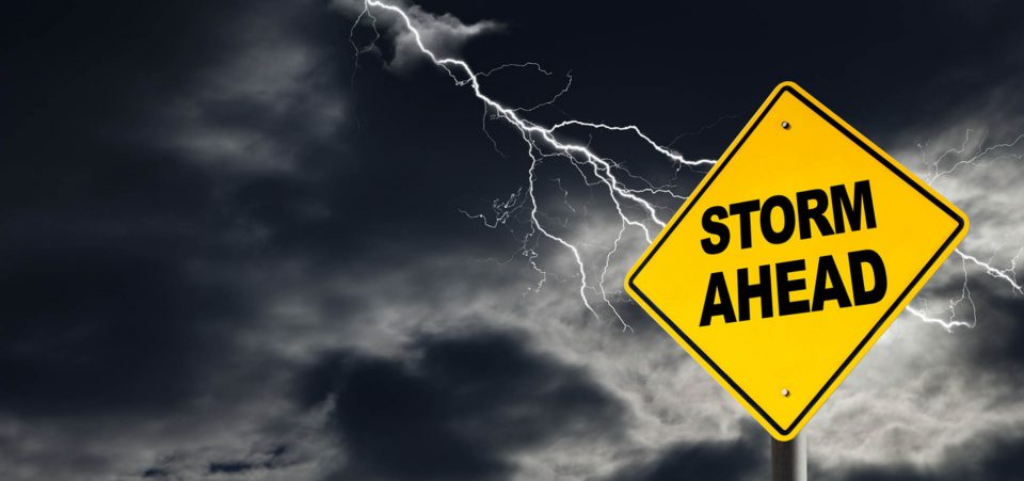 While the economic indicators that most people pay attention to such as Gross Domestic Product growth and the monthly employment report continue to be mostly positive, the manufacturing sector of the economy is sending warning signals that could indicate an economic downturn is closer than many may think:
Manufacturing activity continued to lag in November amid a decline in inventories and new orders, according to the latest ISM Manufacturing reading released Monday

The reading came in at 48.1 vs. an expectation of 49.4 and the previous month's reading of 48.3.

Though the level is usually reported as a simple number, it actually denotes the percentage of manufacturers planning to expand operations. A reading below 50 represents contraction; November was the fourth straight month below the expansion level.

Stocks fell on the report, with the Dow Jones Industrial Average off more than 200 points in late morning trading.

New orders slumped to 47.2, down 1.9 percentage points from October's 49.1. Inventories, which are a key input for gross domestic product, came in at 45.5, down 3.4 points from the previous month.

The numbers come amid speculation about the pace of U.S. growth.

Recession worries have ebbed from earlier in the year, when the Treasury yield curve was inverted and flashing what has been a reliable 12-month recession indicator for the past 50 years. GDP growth has averaged around 2.4% in 2019, with the third quarter coming in at 2.1%. However, most forecasters expect the fourth quarter to come in under 2%.

The report shows that manufacturing "is stuck in a mild recession with little prospect of a real near-term revival. This will weigh on job growth and capex over the next few months, to the point where we are not ready to rule out a further [Federal Reserve] easing in January," Ian Shepherdson, chief economist at Pantheon Macroeconomics, said in a note.

Manufacturing is considered a reliable bellwether for how the rest of the economy is doing, though it accounts for only about one-fifth of GDP.
Nearly all of the key ISM indicators were at contraction levels in November.

Employment was at 46.6, down 1.1 point for the month, while export orders fell 2.5 points to 47.9 as the U.S. and China continue to look for a resolution to a trade dispute that began more than a year and a half ago.
Supplier deliveries was one of the few metrics in expansion, rising 2.5 points to 52.
The main reason for the American manufacturing slowdown, of course, is the President's trade war. In addition to making the cost of raw materials such as steel and aluminum, these policies have resulted in previously reliable markets for finished goods to be closed off to American competition as China and other nations retaliate for the tariffs that the President has placed on China and other nations over the course of the past year-and-a-half. Ironically, this news also comes in the wake of promises that the President made during the course of the 2016 campaign that he would help bring about a revitalization of American manufacturing, claiming that existing businesses would build new factories and that American manufacturers would begin moving back to the United States. Neither of these things has happened. Instead, we've seen many manufacturers, including iconic American brands such as Harley-Davidson, announce plans to move some manufacturing overseas so they can avoid the impact of the trade war while simultaneously taking advantage of having manufacturing overseas to cater to consumers in other nations.
As noted, manufacturing is not as big a part of the economy as it used to be, so the immediate impact of this downturn in the sector isn't entirely clear. Nonetheless, the fact that this key index has fallen for four consecutive months and done so relatively unnoticed by those outside financial markets and the manufacturing industry itself could be a strong indication that the broader economy is in far weaker shape than some of the more well-known statistics are indicating. Additionally, the fact that this manufacturing recession is continuing notwithstanding the fact that the Federal Reserve Board has been on a track whereby it is lowering interest rates in an ostensible effort to revive what many had perceived to be a somewhat stagnant economy.
Of course, it's worth noting the potential political impact of this manufacturing downturn:
President Donald Trump won over Rust Belt states in 2016 on pledges to revive American manufacturing, arguing that tariffs would ultimately help win fairer policies for the sector. Select factories benefited from those measures in 2017, but the support was only temporary.

A spate of manufacturing companies has over the past two years requested relief from those tariffs, which have raised costs for importers and disrupted global supply chains. Manufacturers shed 2,000 jobs in September, with those losses concentrated in swing states like Pennsylvania, Ohio, Michigan, and Wisconsin.

"We doubt the gap will close anytime soon, absent a resolution to the trade war," said Ian Shepherdson, the chief economist at Pantheon Macroeconomics.
If the current situation in manufacturing continues, it could imperil the President's chances of repeating wins in states like Wisconsin, Michigan, and Pennsylvania, that were crucial to his Electoral College win three years ago. This is one reason why Democrats would be smart to select a candidate that can appeal to the working-class voters in the Midwest, many of whom supported the Obama/Biden ticket in 2008 and 2012 only to vote for the President in 2016.
As it stands it has always been clear that we are currently closer to a recession than we have been in the past. The current economic expansion recently entered its 125th month, and while it looks like it will remain healthy enough to stay positive for the rest of this year and, in all likelihood, well into this year. That being said, it's seemingly inevitable that we will start seeing signs of a slowdown at some point, especially if the President allows this idiotic trade war to continue as he has promised. If it happens just as we're heading into an election year, though, it could be bad news for the President and his party.