Election Night Might Be Over Early
Brookings Institute scholar William Galston says election night might end early this year even if the race remains tight.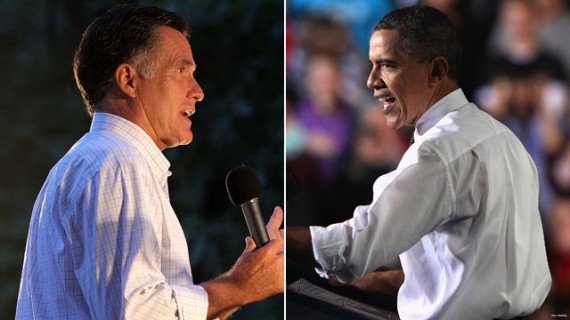 Brookings Institute scholar William Galston says election night might end early this year even if the race remains tight.
TNR ("An Early Electoral College Guide: Which States Will and Won't Matter in 2012"):
Let's begin with the Electoral College foundation on which each candidate will build.  A very conservative assessment gives Obama a base of 201 electoral votes, and Romney 181. These numbers exclude one state—Pennsylvania, with 20 electoral votes—that most observers are putting in Obama's column, and one state—Missouri (10)—that is likely to go for Romney. Factoring in these probable outcomes, Obama's base rises to 221 electoral votes, Romney's to 191.

The next tier contains three states that Romney must win and two more that Obama must hold. The Romney 3 are Florida (29), North Carolina (15), and Ohio (18), in each of which Obama's share of the popular vote in 2008 was well below his national share. No Republican has ever won the presidency without Ohio, and Romney is unlikely to be the first. There's no road to 270 electoral votes for the Republican ticket that doesn't run through Florida. And losing North Carolina, which Obama won by only 0.3 percent, would force Romney to flip a major Midwestern state where Obama won by a much greater margin.

[…]

This scenario means that we're likely to know quite a bit about the outcome fairly early on election night. If Romney loses Florida, the contest is over. If Obama loses Virginia, he needs to run the table. And if he goes down to defeat in both Virginia and New Hampshire, he'd be on track to lose the election—unless he could replace their electoral votes by hanging onto North Carolina.  If not, Obama's reelection would hinge on the most traditional of all pivots—the Buckeye state. This year, we may well know the name of the next president before we cross the Mississippi.
I've maintained for a long time now that this remains Obama's election to lose. Re-electing presidents is our default position and the country still likes Obama. Nobody, not even Republican stalwarts—hell, especially Republican stalwarts—are enthusiastic about Romney.
The only reason, then, that it's even a contest is because the economy is so awful. And, not only do a lot of people not blame Obama for that—he did, after all, inherit a global recession—but those who do don't necessarily think Romney can do better.
Right now, Romney is behind in most polls in almost every "swing" state. The margin is slight and erasable by a good sales job at the convention, winning the ad wars, or an impressive showing at the debates. But Romney pretty much needs to take Florida, North Carolina, Virginia, and Ohio; Obama only needs one of them.
As a side note, I watched Election Night 2000 in Steven Taylor's living room. We both thought the night was over very early when all the networks announced that Gore had won Florida–very early in the evening and before the western two-thirds of the country had come in. It turned out, of course, that the announcement was premature.
While I think it unlikely, it's not unthinkable that a reverse 2000 will happen this year: Mitt Romney could well edge the president in the popular vote and yet lose—even lose big—in the Electoral College vote.
Hat tip: Taegan Goddard