Election Night Scenarios
Thinking about what we might know on the night of the election.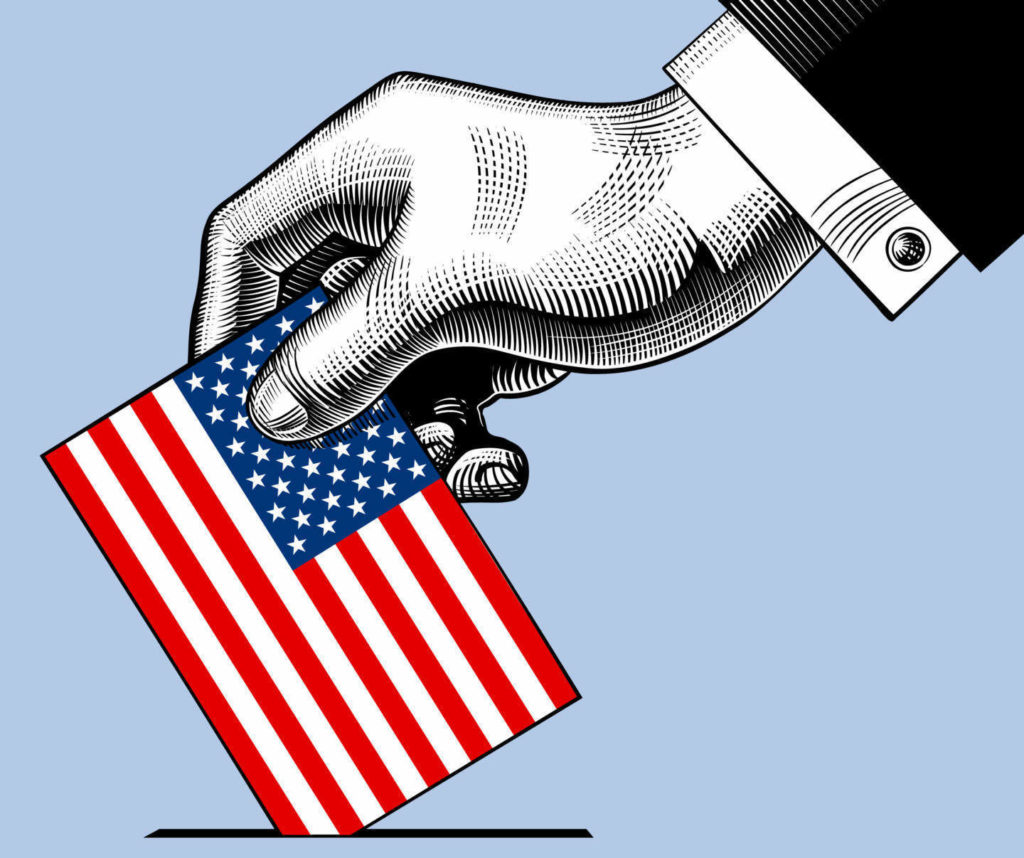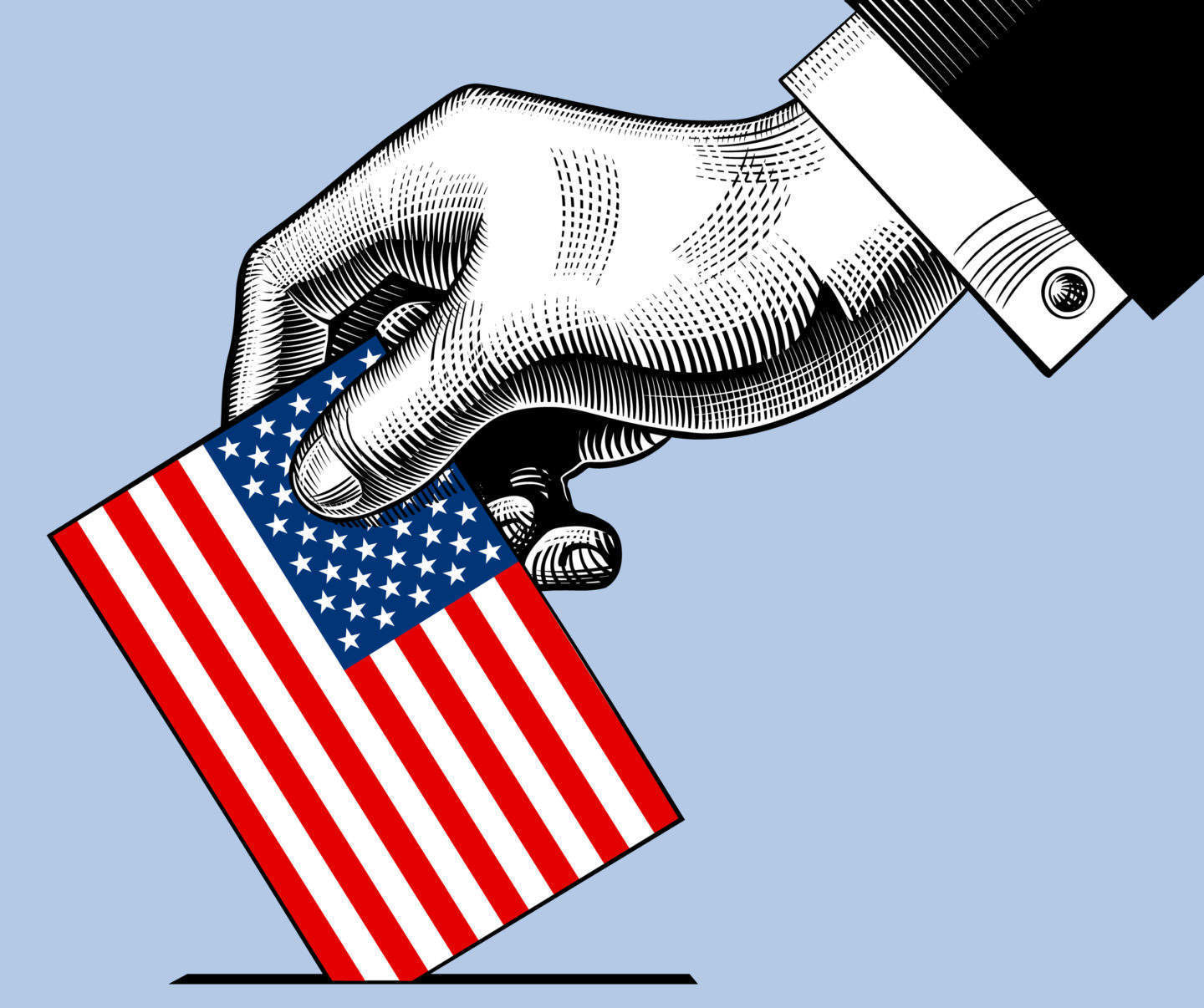 There is a lot of understandable anxiety about election night. For a lot of folks who voted Democratic in 2016, it is a sort of PTSD to be associated with Trump pulling out unexpected wins in Michigan, Wisconsin, and Pennsylvania. For others is it the cumulative effects of Trump attacking our electoral democracy couple with the fears that Covid-19 or some other issue will damage the process.
On top of all of that are concerns about how the onslaught of voting by mail will either slow the counts or open the door for legal challenges. While I always council patience when it comes to letting voter be properly counted, I think there is actually a greater chance that we will some level of clarity on Election Night than we might have thought some weeks back. This is especially true if Biden continues to lead Trump by double-digits in national polling (and even if he can stay in the upper single digits, should any narrowing take place).
Fundamentally, the process of calling election results is based on projecting likely outcomes based on partial results (both what has been counted and what hasn't in terms of known partisan lean) and historical understanding of the jurisdiction in question. There is also exit poll data and other metrics used to make the calls.
Some of it is easy. Known historical patterns backed up exit poll data and statistical trends will make it pretty easy to call Alabama. Indeed, it would hardly be a stretch to call Alabama for Trump today (and, for that matter, not all that big of a leap to call it in 2024 for whomever the GOP nominee is).
Here is my current educated guess of what we might finally go to sleep to early Wednesday morning. It would be an inconclusive map, but one that would clearly be in Biden's favor, a mere 32 EVs away from a clear victory and with several pathways in front of him: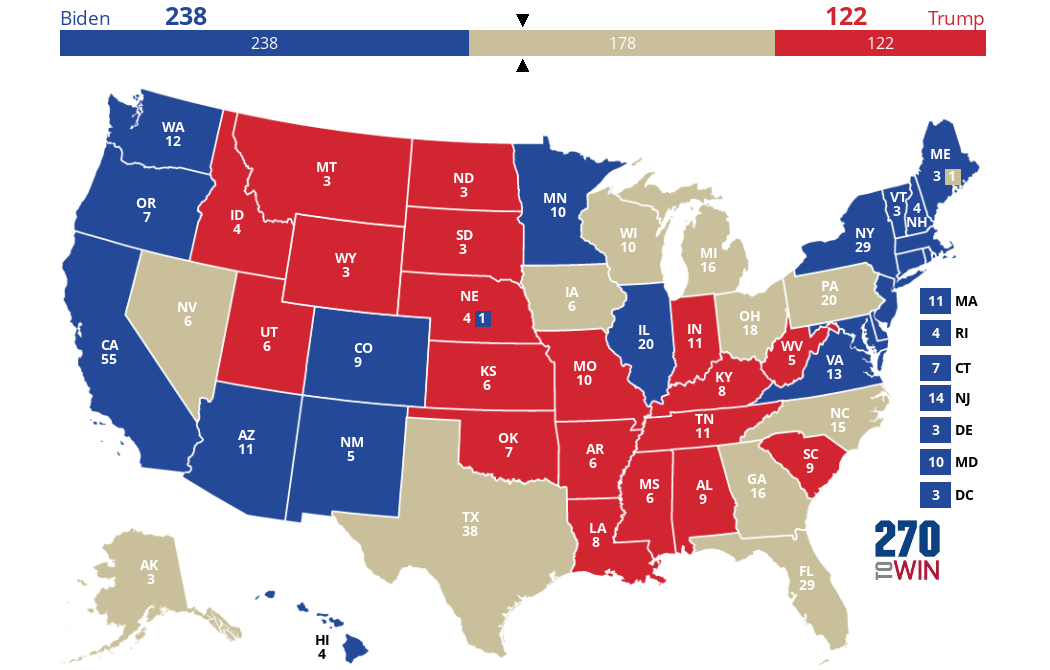 This is a conservative guestimate based on which states are likely to be easy to call versus those that might take longer to count due to a combination of closeness and dealing with a deluge of mail-in ballots.
At a minimum, I think it will be difficult for Trump and his supporters to get the media to construct a narrative that gives him a real chance of winning with a map like this. Even if Texas is called that night for Trump, it would still only have him at 160–over a hundred EVs away from a win.
Such a scenario would preclude an Election Night concession, but that is fine. (Indeed, unless he is crushed, I do not expect a concession that night–and even then, it would not shock me if he didn't concede).
In regards to the ones that could take a while, I would point to this piece via the NYT: How Quickly Will Your Absentee Vote Be Counted? A State-by-State Timeline.
This graphic is of special interest. It seems wildly unlikely we will know PA and WI on election night. Several others could drag out.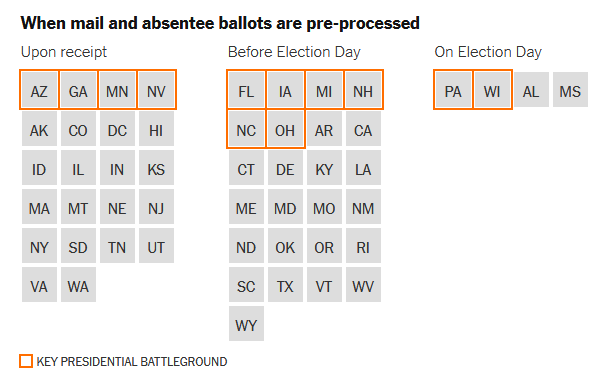 Nevada might be able to resolve things in a reasonably quick fashion, since they are allowing processing as they go and they should, theoretically, be able to therefore count ballots fairly quickly (indeed, the NYT piece states that they can start tabulating on October 20th). The only reason I left them off my election night guestimate is that this is the first time the state has engaged in mail-in voting at this scale.
A result with at least 270 being called for Biden on Election Night would require Nevada handling the mail-in ballots without any problems and Michigan doing so as well and then either North Carolina being called on election night (which strikes me as possible) or Wisconsin coutning its mail-in ballots quickly (which strikes me as less likely). (In this scenario I am assuming Biden wins those states).
We can discuss the potentiality of Election Day chicanery or post-election legal challenges later, but at the moment it seems to me that we should have a pretty solid idea of who is winning that night, with a winner being clear relatively quickly (barring some black swan event).
For anyone interested, here is the timeline of the AP's calls in 2016.