End Presidential Term Limits?
A third term for any of these guys? Don't count on it.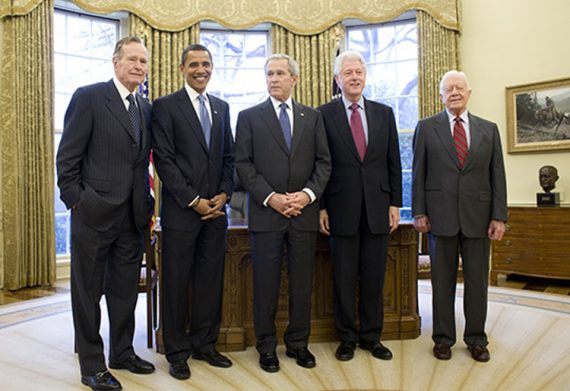 New York University History Professor Jonathan Zimmerman argues in an Op-Ed at The Washington Post that we ought to repeal the 22nd Amendment, which since its ratification in 1951 has served to limit the time that one person can serve as President:
Ratified by the states in 1951, the 22nd Amendment was an "undisguised slap at the memory of Franklin D. Roosevelt," wrote Clinton Rossiter, one of the era's leading political scientists. It also reflected "a shocking lack of faith in the common sense and good judgment of the people," Rossiter said.

He was right. Every Republican in Congress voted for the amendment, while its handful of Democratic supporters were mostly legislators who had broken with FDR and his New Deal. When they succeeded in limiting the presidency to two terms, they limited democracy itself.

"I think our people are to be safely trusted with their own destiny," Sen. Claude Pepper (D-Fla.) argued in 1947. "We do not need to protect the American people with a prohibition against a president whom they do not wish to elect; and if they wanted to elect him, have we the right to deny them the power?"

It's time to put that power back where it belongs. When Ronald Reagan was serving his second term, some Republicans briefly floated the idea of removing term limits so he could run again. The effort went nowhere, but it was right on principle. Barack Obama should be allowed to stand for re election just as citizens should be allowed to vote for — or against — him. Anything less diminishes our leaders and ourselves.
One thing worth noting off the top about these discussions about repealing the 22nd Amendment is that it strikes me as unlikely that any such effort could succeed in today's political environment unless it explicitly provided that it would not apply to the person currently sitting in the White House. Given the requirements for a 2/3 vote in Congress and the support of 3/4 of the states, it's simply not practical to believe that you'd get bipartisan support for something that could potentially keep Barack Obama in office another four years, or longer, after 2017. The same would be true if the President were a Republican. Therefore, I'd expect that a repeal Amendment would only succeed if it included language providing that it does not apply to person serving as President at the time it's ratified, much like the 22nd Amendment has language that provided it would not apply to whomever was in office when it was ratified. That would alleviate concerns of those on the right like Stephen Green about a third Obama term.
That said, repealing the 22nd Amendment isn't a new idea, of course. In the opening years of President Reagan's second term, some Republicans expressed the wish that The Gipper could run for a third term when 1988 rolled around. Notwithstanding the Lewinsky scandal, there was talk late in Bill Clinton's second term along the same lines. Even some George W. Bush fans talked about it as the 43rd President began his second term, but that talk quickly faded as Bush's popularity began to sink over dissatisfaction regarding the Iraq War and, later, the financial crisis that gripped his last year in office. In the end, though, that has all been talk. At no point during the 62 years it has been part of the Constitution has there been any serious movement in Congress or the states to repeal the Amendment, and sitting Presidents have mostly stayed out of the discussion, mostly no doubt to avoid being seen as someone desiring to hold on to power. There has been a single Congressman, Jose Serrano a Democrat out of New York City, who has introduced a bill to repeal the Amendment at the start of every new Congress starting in 1997 but it has always died with no action being taken after being referred to the Judiciary Committee.
Historically, of course, the United States effectively had a two-term limit on Presidents going all the way back to George Washington, who stepped aside after his Second Term ended in 1797, establishing a custom that soon became common place. It wasn't until the 20th Century that anyone dared challenge that custom. That came in 1912 when Theodore Roosevelt, who had been out of office only four years, ran for the what would have been a non-consecutive third term in the Election of 1912, but only succeeded in splitting enough of the Anti-Wilson vote to put Woodrow Wilson in the White House. In 1920, Wilson himself attempted to maneuver the Democratic convention in such a way that delegates would potentially turn to him to run again even though he was seriously incapacitated, something that was not known either to most Democrats or to the nation as a whole. Additionally, there was some talk in the run up to that 1920 election about the GOP turning to TR, but his death in January 1919 precluded that from happening. It wasn't until 1940, amid an ongoing economic depression and escalating crisis in Europe that a President successfully ran for a third term, and then a fourth in 1944, although as with Wilson few people knew just how ill Franklin Roosevelt was by the time he ran for a fourth term in office. Even with the 22nd Amendment, Harry Truman could have run for another full term in 1952 but he ended up withdrawing after performing poorly in the New Hampshire Primary, just like Lyndon Johnson would sixteen years later amid the Vietnam War.
Since then, it's hard to say which Presidents would have had a realistic shot at a third term had the Amendment not existed. Eisenhower remained relatively popular at the end of his Second Term, but he had experienced several health issues during that term that might have precluded him from running even though he did remain relatively healthy until his death in March 1969. Perhaps both Ronald Reagan and Bill Clinton might have been successful had they sought a third term, although its worth noting that Reagan in particular was likely experiencing early symptoms of the Alzheimer's that would be revealed to the world in 1994 and that Clinton experienced heart issues requiring bypass surgery during what would have been the final year of a third term had he been re-elected in 2004. So, perhaps, neither of these men would have stood for reelection a third time, although I honestly couldn't see Bill Clinton turning down the opportunity had it presented itself.
All that said, I've got to say that Zimmerman doesn't make a particularly strong case for repeal of the Amendment. He repeats the standard general arguments against Term Limits that we've heard for quite a long time now, and goes on to argue that, paradoxically, that the inability to run again in 2016 both increases and decreases Presidential power. In the end, though, it seems clear to me that eight years, or ten years in the case of a Vice-President who succeeds to the Presidency within no more than two years of the end of President's term, is more than enough time for any one man or woman to serve in the highest office in the land. Indeed, given the extent to which recent Presidents have tended to gather more and more power into the hands of the Executive Branch that is then utilized by their successors, it is perhaps a good thing for the nation that no one person can serve for more than two terms. Indeed, I've come to believe that the concept of term limits should be expanded beyond the Presidency and into the House and Senate, but that is a topic for another day.